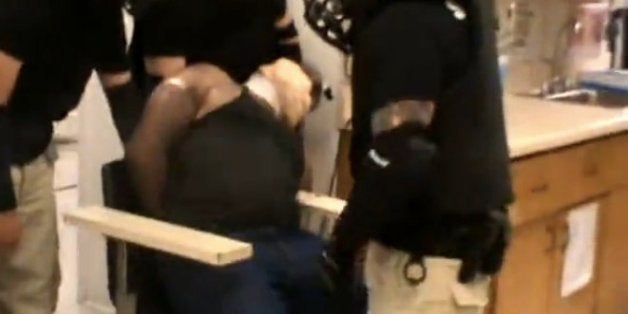 Sgt. James Brown was an active-duty soldier who had served two tours of duty in Iraq.
But he didn't survive a two-day DWI sentence in 2012.
New graphic video from El Paso County Jail in Texas shows the confusing and terrifying last minutes of Brown's life, KFOX reports. Brown, who reportedly suffered from post-traumatic stress disorder, can be seen thrashing in his cell as officers in riot gear subdue him. About 35 minutes later, he repeatedly tells officers he can't breathe and loses consciousness.
Brown, 26, an Army combat veteran stationed at Fort Bliss, Texas, surrendered for a two-day sentence at the county jail in July 2012, KFOR reports. After one night behind bars, Brown reportedly called his mother to pay his fine so he wouldn't have to serve any more time in jail. His mother paid the fine before morning. But by then, Brown was dead.
Details surrounding Brown's death remain confusing. The video -- 20 minutes of which was released to KFOX -- begins with Brown smashing his body and arms against his cell door, to the point where he begins to bleed. It's unclear what sparks the rampage began.
Officers in riot gear subdue him, and he repeatedly tells them he can't breathe. He appears to offer little resistance as officers hold him down. Eventually, the officers lift Brown over their shoulders and carry him into another room, where his face is covered with a "spit mask," according to CNN.
Officers inject him with two shots of lorazepam, a sedative, according to KFOX. Brown begs for water, telling officers, "I've got problems." They eventually give him a small cup half-filled with water. After the officers take Brown back to his cell, his breathing worsens. He can be seen on the floor, unresponsive. He was declared dead a short time later.
CNN's Jake Tapper said the video raises questions that include whether officers used excessive force. Did they offer him enough water, or help him when he couldn't breathe? Why weren't emergency medical personnel called until after Brown lost consciousness, 35 minutes after the incident began?
The El Paso County Sheriff's Office released a statement to CNN, blaming Brown's death on natural causes.
"Mr. Brown's death was an unfortunate tragedy… after a thorough investigation it was determined that his death was caused by a pre-existing medical condition."
Brown may have been suffering from a sickle cell crisis, KFOX reports. Brown's lawyer said the usually dormant condition may have been triggered by dehydration and stress.
Brown's mother, Dinette Robinson-Scott, told KFOX she doesn't understand why her son was in the county jail instead of a military jail in the first place.
"I pray that new laws protecting soldiers in custody will be implemented, that the military adopt new policy procedures in regards to their soldiers being held in custody by an outside agency," Robinson-Scott told the station in a statement. "If these changes can be made and our soldiers are protected, and another family never has to experience what my family has, then my son's death would not been in vain."
Brown reportedly had no criminal history. His family is suing the jail, seeking unspecified damages.
Popular in the Community