Seizing peoples' attention on Sunset Boulevard in Los Angeles is no easy feat. But a billboard depicting a U.S. soldier and a Muslim woman has managed to do just that.
The ad for SnoreStop sleep aids is meant to emphasize how the product can save couples. Between the hashtag #betogether and the slogan "Keeping you together" is a soldier embracing the woman, who's wearing a wedding ring.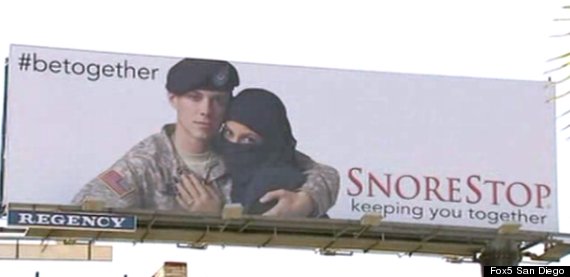 "We want to show couples that you normally don't see in advertising," SnoreStop spokeswoman Melody Devemark told the station. "People feel that we are trying to misuse the image of military servicemen. I think they don't understand that there are couples like this that do exist."
"If you have Muslims in an ad for a product that's not about religion or not a PSA, it's a sign that we're accepted as a cultural norm," a spokeswoman for the organization told The Huffington Post.
More of the billboards are going up in San Diego, Houston, Salt Lake City, New York City and elsewhere.
Check out an interview with the ad's models, U.S. soldier Paul Evans and actress Lexy Panterra, below.
Popular in the Community