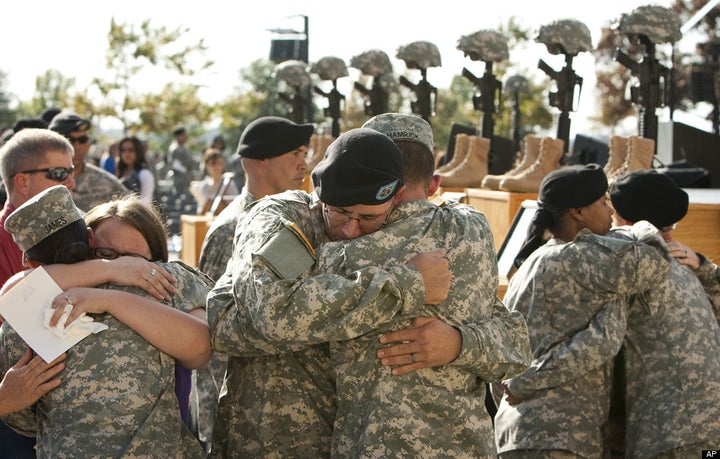 The views (and poetry) published here are those of Lt. Col. Edward Ledford - they do not reflect the policies of the U.S. Army or NATO.
The following is a conversation between an officer in the United States Army stationed in Afghanistan and a citizen of the United States. A conversation between a soldier, Lt. Colonel Edward Ledford -- and a poet, Carol Muske-Dukes. The Huffington Post has generously provided a forum for this timely exchange -- comments are welcome.
The conversation will be "spontaneous" to the degree that the participants have no pre-planned talking points or agenda. The only "disclaimer" is an official one -- the Army has asked that all comments and opinions offered by Lt. Colonel Ledford be identified as entirely his own personal perspective. Thus: "The views (and poetry) published here are those of Lt. Colonel Edward Ledford -- they do not reflect the policies of the U.S. Army or NATO."
This is the first in a series of exchanges between the two of us, Soldier to Poet, to be published on the Huffington Post.
Entries preceded by CMD are written by Carol Muske-Dukes; those beginning EL are by Lt. Col. Edward Ledford
CMD -- We met at West Point in 1997. I wrote a quasi-humorous piece for the New York Times Book Review not long afterwards called "Shakespeare Meets the Long Gray Line" about what it felt like to be invited to the U.S. Military Academy to read one's poetry to a class of 600 or so plebes and answer their questions about poetry -- not to mention the thrill of hearing women's voices calling out orders on The Plain! I brought my teen-age daughter, Annie, with me to witness West Point. You (then a Captain) were our official escort and I described you this way:
"After landing in Newark, we easily located Captain Ledford, our escort (he proved to be the only gentleman standing at attention dressed in olive drab with blindingly bright medals and shoes). Captain Ed, as we called him, was a helicopter pilot who had recently seen combat in the Persian Gulf; he was a 'jump-master' who stepped out of airplanes for fun (when he wasn't doing it under orders) and he also raced motorcycles. Typical young hot-shot officer profile, I thought. But there was something else. Captain Ed loved literature. Ever since he'd entered the service -- even before -- he'd wanted to teach English. Now he was doing it at West Point: 'My dream is fulfilled,' he told me."
Ed, this is a portrait of you in 1997. I know that your distinguished military career has taken you to many other places -- including the Pentagon and beyond -- could I ask you to please fill in your background for us? I think that you flew helicopters in some conflicts and also were in the Pentagon when it was hit by the plane on 9/11. You are modest and reluctant to present yourself as a representative "achiever," as I also know, but could I pressure you a little to talk about what it's like to be in war zones and what it's like to ascend through the ranks of the U.S. Military?
My hope is that you will be able to answer my questions freely and candidly here -- failing that (and because the Army has asked that it be made clear that your "views" and your "poems" are entirely your own --) I'd like to request that when you don't feel comfortable expressing your opinions in prose, that we move into poetry occasionally? You are a poet (as we will discuss later) -- and a self-described "cynic and pessimist" -- if you feel yourself perhaps leaning too much toward "official rhetoric," would you try verse?
Autumn: West Point speech.
Our Commander smiles, leaves fall.
Cadets nod. More war.

EL -- Of course, I never made it to West Point as a cadet-- instead, it was the Virginia Military Institute, almost The Citadel, both so southern, so apparently brutal in that first year. Teaching at West Point was something of a dream come true. And it was both the end of the first part of my career and an inadvertent springboard for much of the second part.
In Part the First, it was excitement -- joining in 1987, I went straight to flight school at Fort Rucker, Alabama, a remarkable place in the middle of nowhere much, but a great place to be a young man, just out of military school, going wild. Back then, and even now, I'm amazed at how flight school proceeded along -- from the ground school, into what were then the training helicopters, TH-55's (one day, they tell us, OK, you're ready to solo -- essentially give us the keys to the thing and send us on our way around the stage field ... the keys to a helicopter? C'mon). Later, we progress to flying from base out to the stagefields, and back in at the end of the morning -- frankly, I didn't quite get all the traffic pattern stuff, so I just followed the guy ahead of me ... in hindsight, that was craziness.
But graduated, moved to my first assignment, flying UH-1 Hueys (not because they were the most advanced aircraft; indeed, they were remnants from Vietnam, but it seemed to me the iconic airframe going. Most people were begging to get into Apaches or Chinooks or the AeroScouts, but I was very happy with the historic Huey, so I stuck with them for a long time to come ... not a great career move, however).
In any case, Fort Campbell and the 101st Airborne Division took me to places of which a white trash boy from the Appalachians could only dream: Honduras in 89-90, and a few trips into El Salvador. Back in the States, I remember buying my first television a few days into August of 1990 -- some guy had invaded Kuwait, a little country that I missed on a geography test in 7th grade (failed geography) -- so, I bought a television to keep up (I was trying to live an ascetic lifestyle, reading a lot of Kerouac and Burroughs and Hemingway).
You have to understand, in my ignorant innocent mind, there was no such thing as war: it was something we read about in books, and even in the Army, I never expected we would go to war ... to war? No. Even when things began to unfold, I couldn't believe we were going to move the entire 101st Airborne Division to Saudi Arabia, and never really believed it until we flew the Hueys down to Florida to load on the slow boat to the Persian Gulf.
Desert Shield was a lot of waiting -- we lived in a parking garage at the King Fahd International Airport, each getting a parking slot all his or her own. I got the ascetic lifestyle I was seeking. Eventually, we flew up to the border of Iraq and, finally, flew on in (my navigation skills had improved some since flight school ... only some).
Desert Storm was an adventure, though a short one -- the logistics and ground convoys could not keep up, of course, so we ate and slept in the helicopters (I actually usually slept on top of mine, to see the incredible skies unimpeded by any sort of man-made ambient light). In the Hueys, we flew a lot of single ship missions, so I got to fly the 2nd Brigade Commander around some, got to fly the Division Commander, then MG Binford Peay (now the Superintendant of VMI and retired 4-star), and we flew to bunker complexes and all sorts of crazy places. We had wired the helo up with a tape player, so we could listen to music as we flew along -- and while comparisons to Vietnam are way out of vogue right now, of course flying a Huey listening to Credence Clearwater Revival was a little reminiscent.

That war ended.
We came home.
It set a bad precedent.
Wars are not the same.
After that, I commanded a Headquarters company, and eventually and as quickly as possible made my way to the University of Alabama Department of English, on my way to West Point. Civilian clothes, no formations, nothing military about it, those 18 months studying were some of the most grueling I'd ever experienced. Terrified of failure, I studied pretty much every free minute, stayed in the library stacks every night until they closed around three in the morning, and studied under some great professors like Pat Hermann, Richard Rand, Don Noble, Harold Weber, Hank Lazer (a fantastic poet and teacher), got married to a girl I'd known since she was 12, and proceeded to West Point.
There, of course, I met you, learned how little I knew about teaching, and especially about teaching composition and apparently impenetrable poetry to sometimes cynical and suspicious cadets who firmly believed that they would, by design, fail the first paper, fail the second, pass barely the third, and move to the B-range on the fourth and fifth: the time they invested was too often commensurate with that, as it often turned out, self-fulfilling mythology.
The first key was to communicate to them, to let them see, how poetry moves, its power to open and expand and reinterpret what we always already thought that we knew.
I loved teaching Dickey's "The Sheep Child" after showing them a Skittles commercial that portrayed a couple of "sheep-boys" eating Skittles on a stump. They didn't get the implications of the commercial -- I wonder if the Skittles people did -- until after we read the poem, and then I'd show them the commercial, again: different interpretation. So then we could talk about myth and the purposes it serves. They got it. Most of them. One of those moments.

Farm boys wild to couple
With anything with soft-wooded trees
With mounds of earth mounds
Of pinestraw will keep themselves off
Animals by legends of their own ...
And, of course, given my youth, I could identify with Dickey and most all that he wrote. [N.B. The acclaimed American poet, James Dickey, served in the Army Air Corps in World War II and flew 39 missions in the 418th Night Fighter Squadron, based in the South Pacific. -- CMD] But there I met another great teacher by the name of Scott Krawczyk, with whom I became friends.
After West Point, it was Korea -- great first move for a new family, a year away in Korea. Korea was like coming home to someone raised on Donald Sutherland and M*A*S*H* and its off-shoot series (that was good until Henry Blake left). There, again, I was essentially tied up in language, as an Inspector General: we dealt with policies and regulations and interpretations against the actions of Soldiers and civilians and how they all played out. It was about research, often; it was about human stories and dilemmas and temptations and machinations, too often; it was a great drama, most of the time.
Korea took me back to Fort Campbell, back to the Aviation Brigade, this time in the UH-60 Blackhawk, the current premier lift helicopter in The Army (it is what you see on television now all the time): much more advanced, more complex, more powerful, more dangerous if you did not know what you were doing. I didn't, for very long -- if you do not fly it constantly, you lose the expertise that Warrant Officers grow: these are spectacularly talented men and women who plan complex missions involving numerous serials of numerous helicopters executed at night, in the rain, hitting every target plus or minus about thirty second -- this is precision excellence, and you cannot do that unless you do it every day.
They are magicians; they are contemporary knights in many ways.
In any case, a fairly unremarkable tour at Fort Campbell led me, fortunately, to Sarajevo in Bosnia for six months. I was there as an aviation liaison with the 3rd Infantry Division, but I did more writing than liaising, just by nature of the requirements in the headquarters in Sarajevo. I did whatever was needed.
There, I got the e-mail -- Scott Krawcyzk.
Scott: Do you want to write speeches for the Chief of Staff of the Army, General Erik K. Shinseki?
EL: Yes.
Scott: We'll fly you here for an interview.
EL: I'm in Bosnia.
Scott: That doesn't matter.
EL: You're going to fly me to DC from Bosnia to interview for a job?
Scott: Yes.
EL: I haven't finished the Command and General Staff correspondence course.
Scott: He doesn't care. He wants someone who can write.
EL: I can do that.
So I went. Ultimately, I got the job, which put me square in the Pentagon on the 11th of September.
That day remains incomprehensible -- both in the magnitude of the events and the ways in which it changed all of our lives. The cloud went in front of the sun that day, literally, and it remains there, figuratively, and there remains this inexplicable heaviness about life that will not go away. That day and the action and reactions after it redefine every thing, cause a re-evaluation of every thing, from personal philosophies to humor: nothing is funny in the same way, though things are still funny, but for different reasons. Cynicism is a justifiable disease that eats away at the margins of any joy.
We watched the second plane hit the Twin Towers; we felt the foundation of the Pentagon shake, heard glass break, and made furious phone calls out to our families on the way out the door. Then we heard about the towers collapsing, but would not see it until that night, late, when we got home -- you just cannot watch that and get your mind around it completely. We watched the walls of the Pentagon sheer off cleanly, leaving that one dictionary standing on the edge of the precipice, open, apparently untouched, the lexicon that would, in many ways, become one of the innumerable victims of that day:
Pathogens injected Trojan-horse style; temple walls crumble before a small
Lexicon, altered and stable, unsullied, too briefly a miracle
[N.B. The lines above are an excerpt from Ed Ledford's contribution to the Great American Renga, "Crossing State Lines" -- a "conversation" poem among 53 American poets and one poet-soldier -- soon to be published as part of the AMERICA: Now & Here national arts project. -- CMD]
We continued to write speeches and letters, and then helped the Chief with letters of condolence, each one personally from him, in fact. And we heard Iraq mentioned, and knew right then we were going to war, again, with Iraq. We knew that. Once that word was thrown out there, there was simply no turning back. We knew that. I don't know how we knew it so thoroughly, but we knew it as well as I knew I would marry that girl from camp some day -- and I did.
And so we watched it unfold from the front row.
After that, presuming the war would end quickly, I returned to West Point, to teach again, expecting that to be my last tour of duty before retirement. But things dragged on in Iraq, got worse, and a friend, philosopher, and cycling mentor killed himself over there.
I felt the tug. You cannot turn away. Marian and I both agreed that I should get back to a Division and offer myself up, whatever they wanted me to do. It turned out to be the 82nd Airborne Division, first as the Division Aviation Officer and, leaving that job for those much more capable in aviation related matters, working engagements, correspondence, speeches and such for the Division Commander.
Working engagements, of course, introduced me, ultimately, to some of the key players here in Afghanistan, allowed me to see them up close, and hear them; it allowed me in the shadows to see people like then-Vice President Dick Cheney -- our Airbase was suicide-bombed the evening he was there, interestingly -- and others.
Ultimately, it allowed me, with my retirement paperwork on my desk and ready to head to Portland, Maine and, hopefully, their Law School, to come back to Afghanistan, again, working with engagements, helping with speeches and articles and correspondence ... whatever I can do.
This tour in Afghanistan is the last, to be sure, before retirement, and it is a privileged way to go out, working with the Combined Operational Engagement Cell here at the ISAF Joint Command in Kabul, assisting with speeches and engagements with dignitaries from across the globe in an international headquarters representing some forty-three nations.

CMD -- Thanks for this background, Ed. I find your candor, your bravery, and in telling your story, your lack of self-centeredness -- combined with what can only be described as grace under pressure, extraordinary. After Iraq, and 9/11 -- and your survival after the plane crash into the Pentagon, the image (as in your poem above) of the lectern with a dictionary on it left standing in the rubble, remains. That image, of the book of words rising out of the ruins, is as eloquent and near-biblical as your image of the "cloud" covering the sun. That cloud that has blocked our source of light and sense of direction for a long time now, I believe. You say that "the lexicon" has been one of the victims of national catastrophe -- and, if we are speaking in an Orwellian sense, about the damage done to language, its collective meaning -- I absolutely agree.
Speaking of the meaning of words, could we return to West Point for a moment? I have a memory from the time of my visit -- about the poetry that was being discussed there, for example -- a line from Shakespeare that seems still relevant (in that way that Poetry stays relevant) to current world politics.
By the way, when I stood in the cemetery at West Point, I tried hard to connect to a tradition not only military, rather "our" collective history. West Point was Robert E. Lee's alma mater and the alma mater of Ulysses S. Grant -- it was the classroom of MacArthur and Patton and Eisenhower and Westmoreland.
But it was also the college of Timothy Leary, James McNeill Whistler and Edgar Allen Poe. (Poe -- one of ours, a poet -- was third in his class until he was thrown out for drinking brandy and refusing to drill.)"I sing of arms and the man" was written by a poet who wanted his readers to understand war as epic -- but the nature of war, how we define it and sanction it -- how do we talk about this?
EL -- We cannot get away from the romanticism of war -- indeed, we romanticize it every day, even as we curse the notion. And this war is epic, to be sure -- think back to the first act in this play: the 11th of September (certainly, there was lead up to that day, but that was our first conscious recognition of the whole thing, I think), and think of all the lives that one day brought together, all the lives that day allowed to begin actualization that might not have happened otherwise; think of the characters and caricatures and the way the story has unfolded over these nearly ten years, and the multitude of stories -- not just the ones reported, but the stories we never hear of the father who dies before he gets home to see his child born, or the father or mother who leave the children behind and die, or are maimed, permanently disfigured, transformed into the monstrous that the children will have to contend with psychologically, or the crippled who will never run again, or who will run again, or the Soldier who loses a leg and then comes back to continue the fight, or the father who goes home to bury his son, killed in battle, and then returns back here to Afghanistan. These are the stories that happen, most every day, and we miss them. And then there are those larger than life leaders -- some good, some bad, some indifferent. But once you understand these stories, then epic poetry is not unbelievable; in fact, it tells of the same sorts of truths, and we sometimes call it fiction, but it isn't really fiction at all, not completely.
I guess now is a good time to pick that back up, the singing of arms and of man and this very human struggle.

CMD -- Yet the line I heard that West Point literature instructors addressed, with their students, is the following line from Shakespeare's Hamlet: "Conscience does make cowards of us all."
Hamlet's character and inability to act has been discussed endlessly -- and Shakespeare's irony in this line is powerful, in that Hamlet kills three people -- Polonius, and Rosencrantz and Guildenstern -- though he cannot seem to confront, face to face, the man who he believes has murdered his father.
Shakespeare's "paradox" here is ironic -- he seems to be saying that what keeps our behavior "moral" (conscience) leads to moral condemnation (coward). And what is a coward? If everyone acted by the dictates of conscience, perhaps we would "all be cowards" -- cowardliness construed as pacifism, anti-war.
What is the "conscience" of a soldier? And is it distinct from his/her individual conscience -- or (if not an oxymoron) the conscience of the State?
EL: You present a nice line here, and I remember working through this with the cadets on some occasions: "Conscience does make cowards of us all."
Actually, from a soldier's perspective, the line is a bit paradoxical -- the notion that one's conscience makes one a coward seems contradictory. I associate conscience with something that controls, something that prevents one from acting in a way one believes dishonorable, shameful, immoral or unethical.
Contrary to soldier-Hamlet's position, I'd argue that it is a soldier's conscience that encourages -- literally, that makes or gives one courage. Though I have been in Desert Shield, Desert Storm, Bosnia, and Afghanistan twice, now, I've never been in what I would call combat or outrageously dangerous situations -- not the kind of actions some of these Soldiers experience and that we've all read about. But I've listened to many of them -- old and young -- who have been in the gritty white knuckle fighting; they have all told just about the same story: they move in the face of fire, they risk their own lives, to save the lives of those to their left and to their right because of a sense of commitment to one another, because they will not let one another down, even in the most dire circumstances. Indeed, under those circumstances is when a sense of loyalty is most vital: not loyalty to nation or some intangible ideal, but loyalty to your buddy, the guy on whom you depend to live. That is what drives them forward, I think.
So, why get up and charge the proverbial machine gun nest? I understand it is because people are counting on you, and worse than dying would be failing, letting your buddy down, living with that. To turn and to run and have to live with that would be hell for anyone with the kind of powerful conscience we are describing.
Hamlet's fear is fear of dying, or of what comes after; he fears that the pain and suffering after death might be worse than that he is now enduring: he wonders, "But that dread of something after death- / / / ... puzzles the will, / And makes us rather bear those ills we have / Than fly to others that we know not of?" It is that fear of the unknown that warns him away from death. For a combat Soldier, it is the fear of the known and shameful consequences, not a fear of death, that drives forward to confront death, that encourages to action, or inaction, depending on the situation, the requirement, the orders.
We in the military all take an oath. I think too many of us do not really consider the nature of that action -- in short and overly simplified, we swear to obey lawful orders. I've heard some contemplate the things that they would absolutely not do, heard them strategize about lawful orders they would ignore in particular situations, even after having taken the oath.
In my view, that oath is the Soldiers' shared conscience. When you stop and think about it, there really is no need for an oath if one is engaging in an activity with which one agrees, no need for an oath if one is pursuing a cause in which one fervently believes. You don't need an oath for that. You do it.
The oath is only valuable, wields its greatest power, when you are commanded lawfully to do that which might completely contradict your nature, your character, your personal beliefs, morals and ethics. That might be charging up a hill, or that might be standing fast when you feel like charging; that might be leaving home and family to go overseas to a war you might question. And that might be going again. And again. And again.
You do it because you have to -- because you took an oath, because people count on you, because they are going ahead of you, because your conscience, that great, critical, judgmental all-knowing memory and all-seeing eye, demands it, allows nothing else.
CMD -- Your phrase, "lawfully commanded" -- that's a difficult one for some citizens to grasp, if it is indeed comprehensible at all. There are those who think that all war is unlawful, there are those who question the "lawfulness" of some wars -- not all wars. I take your point -- that you don't go there, unless you're "there" in your mind, and your conscience, by taking that soldier's oath. But the other elements of how you construct "conscience", as a soldier, seem less derived from the authority of any State -- and more personally derived. That people are "counting on you", that the burden of loyalty in the buddy system, the soldier's collective "family", is on each individual solider -- that charging the artillery nest may have more to do with preserving the society of honor and loyalty that extends to the homefront, to those you protect, and for whom you are willing to die. What I'm saying is obvious, I guess. There is no real "abstract" notion of conscience unless you are the author of the oath of loyalty or a politician.
Let's talk about our own contemporary battlefield: the war in Afghanistan, where you are stationed. The New York Times has reported that after 8 years of struggle, more than 800 American lives are lost, more than 200 billion taxpayer dollars are spent -- and what progress do we claim? We are dealing with a government that is corrupt, bribed by us to shore up against the Taliban -- yet the Taliban seems hardly affected.
You are stationed in Afghanistan. Most Americans, including me, are grateful that you are there. Yet, given the recent commitment by our President (and your Commander-in-Chief) to new troop buildup -- where do we position our "plain" of conscience?
From the Aeneid (which I know they read at West Point as well) -- the translator is Robert Fagles:
Time and again
the Greeks had yearned to abandon Troy -- bone-tired
from a long hard war -- to put it far behind and
beat a clean retreat. Would to god they had.

EL -- In Hamlet's view, the conscience with which he is dealing threatens to make him a coward, not a hero -- he turns away from the unknown. So, given Hamlet's words as a backdrop, you ask, "Where do we position our 'plain' of conscience" as we move forward?
In Act III Hamlet would turn from this place: his logic "makes us rather bear those ills we have / Than fly to others that we know not of ... ." This is a status-quo-Hamlet unwilling or unable to take risks, even if those risks might improve his situation.
I am not satisfied with "those ills we have" as they relate to Afghanistan, its people, and the region. We can do better here; we must do better here, and I'm convinced -- and I am a cynic and pessimist -- that the comprehensive counterinsurgency strategy that we have adopted, a strategy that makes protecting the Afghan people a first priority, will succeed. Indeed, in my view, we could continue with the status quo here, bring no more resources, continue down the former path, and watch the environment continue to degrade.
One of the more apt descriptions of the results of failure here was reported in The Times Online in September: British Army General Sir David Richards "warned that defeat for the international coalition would have an 'intoxicating impact' on extremists around the world. Failure for an alliance as powerful as the NATO presence in Afghanistan would convince terrorists that 'anything might be possible.'"
For whatever it is worth, I tend to agree with General Richards' assessment.
President Obama described in his remarks at West Point that with our engagement in Afghanistan "a place that had known decades of fear now had reason to hope." That is what we are about -- giving the people hope, giving them what an Afghan friend of Sarah Chayes' called "the courage of flight." In my view, that's a high plain of conscience that is not easy to accommodate -- it takes some courage and risk.
SOLDIER TO POET: end of Part the First. To be continued.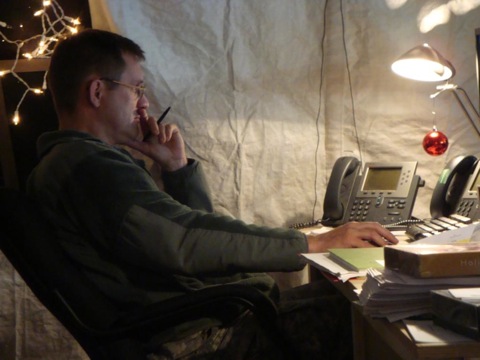 Lt. Col. Ed Ledford at his desk

Left to right: Lt. Col. Matt Jones, Lt. Col. Ed Ledford, and Lt. Col. Matt Sult
Popular in the Community