When 1st Lt. Brandon Harker returned home from Afghanistan recently, he discovered that the friend who was supposed to be watching his dog while he was deployed had given the animal away. Now, the soldier has turned to Craigslist for help finding his beloved pet.
"Every time, while I was gone, I asked about him," Harker told CNN. His supposed friend would insist the dog was fine and was "acting like his regular self."
"I'd ask for a picture every now and then," he said. "But I never got any pictures sent to me."
He decided to turn to social media for help finding his dog. Numerous people contacted him saying they had seen Oakley listed for sale in a February ad on Craigslist. The Joint Base Lewis-McChord soldier has since been reaching out to local veterinarians and shelters as he searches for Oakley, who is micro-chipped and registered.
I just recently returned from a 9 month deployment. And upon arrival back into the area I found out my yellow labrador retriever was either given away or sold while I was gone. I was told this happened in May, but it could have happened anytime from February till June. He is good with kids and other dogs. He has a unique coat, on his face he has spots of a darker yellow (champagne) he also has spots of the same color going down his sides and legs. If anyone has any information on this and can help me please do. I am just trying to get him back to me since he was wrongfully given away or sold with out my permission while I was deployed. I will also be able to verify the dog is mine because he is micro-chipped and registered to me. Once again thank you to everyone who sees this and tries to help. If you could spread the word about this issues that would be great as well [all sic].
KING 5 reports the soldier has not heard anything regarding the whereabouts of his pooch, despite his many postings. Various Facebook groups, like Dogs on Deployment, are trying to help locate the dog, BuzzFeed notes. The group is working to reach out to military members across the nation in an attempt to stop the sale of military pets on sites like Craigslist. This practice, done mainly because of deployment and military commitments, can be dangerous for the animals.
Anyone with information is asked to contact Harker through his Craiglist post.
Before You Go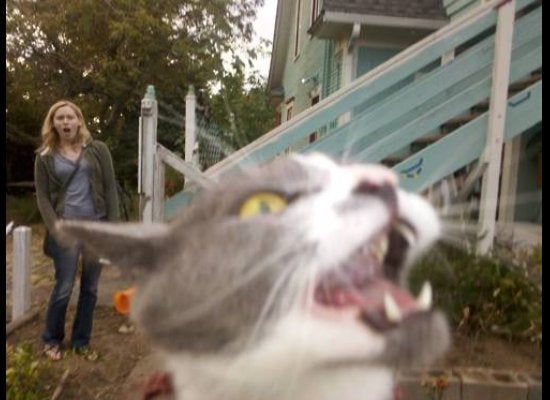 125 Animal Photobombs
Popular in the Community