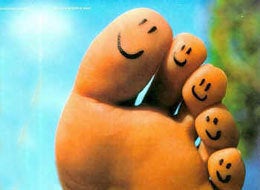 Even though I have a feminine side, which I'm usually sitting on, I am proud to say that I'm the very model of the modern, middle-age man. In fact, I am so secure in my masculinity that I recently helped get a fundraiser off on the right foot, followed by the left, when I went to a beauty salon for a dueling pedicure with my wife.
The event, which raised money for the Scoliosis Association, was held at Charmed Salon & Spa in Miller Place, N.Y., where I get my hair cut.
While Sue gets pedicures all the time, this was only the second time I had gotten one. The first time was in 2006, when I was father of the bride and wanted my feet to feel good when I walked my older daughter, Katie, down the aisle. It worked: I didn't fall on my face.
When Sue and I arrived at the catered affair, which featured vendors who were donating their services, salon owner Maria Vieira introduced us to Nicole McConnach, a licensed and very nice pedicurist who didn't know what she was getting herself into. That was obvious when I showed Nicole my tan, navy and white argyles and said, "I'm not wearing socks. The doctor thinks this rash will clear up in a few days. Still want to give me a pedicure?" Sue, Maria and Nicole simultaneously rolled their eyes.
Before going in the back to the private pedicure room, Nicole asked what color nail polish I wanted. "Well," I said, "the beach season is coming up and I want to look good when I dig my toes into the sand. I'd also like to impress the fish when I'm in the water. How about red?" "Clear," suggested Nicole, who said guys shouldn't wear red, which Sue picked, or even black, which is considered a hot color. "I guess red would attract sharks," I noted. "And black would make me look like I had some sort of foot disease. Clear it is."
The well-appointed pedicure room contained two plush chairs and all kinds of lotions, towels and equipment -- except, curiously, a gas mask, which I figured Nicole would need when I removed my shoes and the aforementioned hosiery.
As Sue and I settled into our respective chairs, rolled up our pant legs and stuck our bare tootsies into small whirlpool tubs that were filled with hot water and mint-scented foot soak, Nicole asked who wanted to go first. "Me!" chirped my sole mate. "You can save the worst for last," I told Nicole. "You have very pretty and delicate feet," Nicole said to Sue, who wears a size 6 shoe. "Wait until you see Jerry's," replied Sue, who thinks I have the ugliest feet on earth. "My shoes ought to come with oars," I said, noting that I'm a size 11. "My feet look like two huge Limburger cheeses with really long toes."
When Nicole finished giving Sue the deluxe treatment, capped with an application of bright red nail polish, she turned her attention to me. "Your feet aren't so bad," Nicole said as she examined them. "I've seen worse."

After Nicole applied lotion to my toes, she pushed back the cuticles with something that looked like a surgical instrument. "What do you call that thing?" I asked. "A cuticle pusher," Nicole answered. "It's all very simple."
She said that most men don't understand why women love to pamper themselves by getting pedicures, adding: "Usually, guys pamper themselves by buying more expensive beer."

After applying an exfoliant to my feet and calves, Nicole started buffing and rubbing until I exploded in a paroxysm of giggles that must have made the people out front wonder what the heck was going on. "You're ticklish," said Nicole, giggling herself.

The rest of my pedicure was so heavenly that I vowed not to wait until my younger daughter, Lauren, gets married to have another one. After Nicole applied clear polish to my nails, I walked out front wearing the largest flip-flops in the salon to show off my glowingly pink feet.

"They look beautiful," Sue admitted.

For a donation of $10 each, Sue and I helped raise nearly $1,000 for the Scoliosis Association. The fundraiser was so successful that Maria is hoping to have a benefit for breast cancer in October.
"I'll be there," I promised. "And this time, I'm going to put the 'man' in manicure."