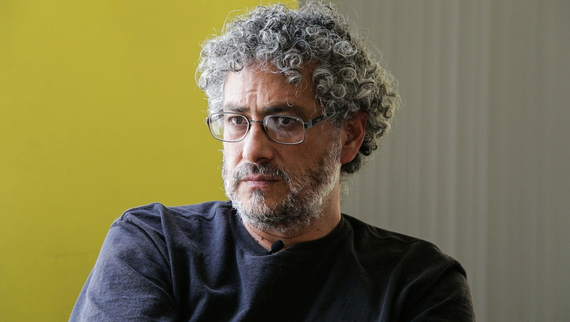 The armed men who burst into the house of Honduran Indigenous leader Berta Cáceres on March 3 had a simple plan: find her, kill her, and leave.
What they didn't expect, however, is for Gustavo Castro, a human rights activist working with Friends of the Earth Mexico and a close friend of Berta's, to be in the next room.
"I was working on a presentation when I heard a loud bang," said Gustavo, who is now in Mexico. "I thought something had fallen, but when Berta screamed, 'Who's there?', I knew it was bad, that it was the end."
When they heard him, one of the armed men rushed to Gustavo's room. He pointed a gun at his face, shot him and ran.
"Everything happened so quickly, I didn't have time to think," said Gustavo. "When the hitman arrived, I covered my face. He was three metres away. I moved as he fired, and the bullet passed my ear. He thought he'd killed me. It's a miracle I survived."
When the gunmen left, Gustavo hurried to Berta's room. She was on the floor, bleeding heavily, barely able to talk but calling out for him.
"I felt helpless, there was nobody around," said Gustavo "I tried to help her. I asked her to stay with me as I started making calls on my cellphone but everything happened too fast."
Berta died just after midnight on March 3, minutes after being shot. Her murder shines a spotlight on the risks faced by thousands of people who work to defend human rights and the environment in Honduras. According to the organization Global Witness, Honduras is the deadliest and most dangerous country in the world for environmental activists -- 109 of whom have been killed between 2010 and 2015.
The leader and co-founder of the Council of Indigenous Peoples of Honduras (COPINH), Berta Cáceres had spent decades campaigning against projects that threatened local communities and their rights.
More recently, she was one of the most vocal voices opposing the construction of the Agua Zarca dam in Río Blanco. The proposed dam threatens the flow of the Gualcarque river, which is sacred to the Lenca Indigenous community and provides them with food and drinking water. COPINH says that if built, it would force the community to relocate as life in the area would be virtually impossible.
Berta led a campaign against the dam, to complain against the fact that the community was never properly consulted over it. She helped the community organize peaceful protests, file complaints, and tell the world what was happening.
But their vocal and peaceful activism didn't sit well with the authorities nor those with interests in the project. The opponents of the project reported being harassed and threatened with death. However, the authorities failed to offer the activists with effective protection.
'A disaster waiting to happen'
Gustavo arrived in La Esperanza a day before Berta's murder. He was meant to take part in a meeting with local leaders and community members to discuss alternatives to the hydro-electric project in the area.
"We had a great meeting with around 80 members of local communities," he said. "Our dream is to build a different world, to generate life amid so much violence and death, but they do not even allow us to do that."
After the meeting, Berta suggested Gustavo stay with her for the night, as her place had a better internet connection than his accommodation. They had dinner with Berta's mother, as well as a chance to catch up on the work they had been doing and on the many death threats Berta had received in the preceding weeks.
"It was clear that Berta was going to be killed at some point," Gustavo said.
They ate rice and beans, talked, debated. Then Berta suggested they leave for her house. It was late, and they were not in an area where you would want to walk around after dark.
Gustavo remembers warning Berta she was not safe as they arrived at her three-bedroom house, a small building with nothing but a thin mesh protecting it from uninvited guests. But Berta reassured him, telling him she did not always stay at the same place.
Gustavo had a couple of cigarettes outside as they talked, before each went to their room, excited about their plans for the following day.
But tragedy struck that night, killing a human rights defender and dimming the hopes of the communities that have been campaigning for their rights.
Gustavo says Berta's murder was a disaster waiting to happen. He describes her as the latest victim of a country that does nothing to protect those who dare confront the powerful.
'I felt like a scapegoat'
The brutal murder of his friend was only the beginning of Gustavo's ordeal.
The Honduran authorities failed to offer him adequate protection, despite the danger he faced as the sole witness to Berta's murder, and despite having narrowly escaped being killed himself.
Instead, he was paraded through ministries and court houses, ordered to tell his story over and over again. He was prevented from leaving the country for a month and effectively treated as a suspect in the case.
"After a month, the judge in charge of the case suspended my lawyer. They violated all my rights. I was very scared every day. I thought that something could happen to me at any time. I felt like a scapegoat."
Nearly two months have passed since Berta's murder, but the authorities have done little to find those responsible or to set up measures to effectively protect other human rights defenders at risk like her, who are at the frontlines of an unequal fight.
On Monday, authorities in Honduras arrested four men in relation to Berta's murder - one of them has links with the company in charge of the construction of the dam. The four will be taken in front of the judge on Monday.
Neither Berta's relatives nor their lawyers were informed of the arrests and said the investigation is not being transparent.
Many suspect that Berta was murdered because she was campaigning against the dam. The Agua Zarca project issued a statement denying any involvement in the crime. The authorities focused their initial investigation into members of Berta's organization. It took a month after her murder for them to announce they had carry out a search into DESA's offices and take testimonies from the company's employees 10 days after Berta was killed.
Gustavo says the solution lies in generating mechanisms that can "guarantee justice" and "protect human rights defenders and the best interests of the people across Honduras", independently of economic interests.
And he recalls one of Berta's favorite expressions: "They are afraid of us because we are not afraid of them."
Foto crédito: Sergio Ortiz Borbolla/Amnesty International
Support HuffPost
The Stakes Have Never Been Higher
Related
Popular in the Community