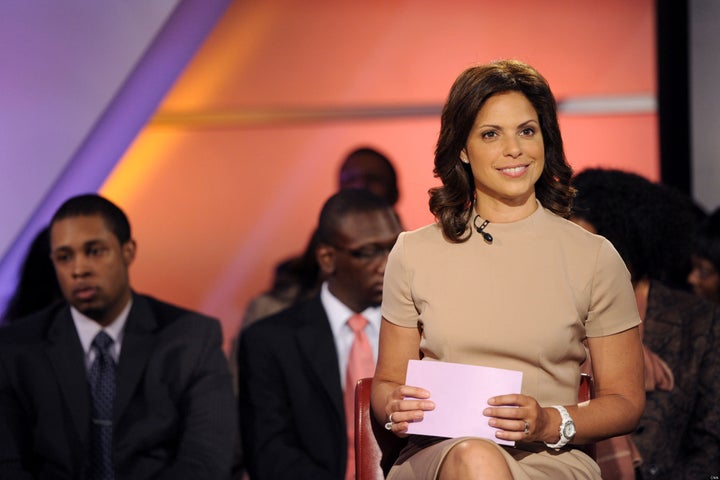 CNN's Soledad O'Brien had already taken a broad look at black families and community leaders in two previous volumes of her "Black In America" documentary series. For the third installment, "Almighty Debt"-- which airs Oct. 21st at 9 P.M. Eastern -- she chose to zero in on a particular institution: the black church.
"If you're going to look at the black community, one of the biggest and most important institutions in the black community is the black church," O'Brien said in an interview with the Huffington Post.
For months, she and her CNN team looked for particular pastors and churches to cover. Then they found Pastor DeForest Soaries, who leads the 7,000-member First Baptist Church in New Jersey, and who has made getting people out of debt and helping them with their finances one of his main causes. Soaries is also a veteran of the civil rights movement who, O'Brien said, believes that "the next front in civil rights is figuring out how to bring financial parity to African Americans."
For O'Brien, Soaries was an excellent lens through which to examine the impact of the recession, which has hit black communities particularly hard. His church's efforts to combat debt and financial meltdown amongst its members also provided her with the opportunity to examine the role of the black church today -- specifically, she said, "how relevant is it, what is it doing in this economic crisis for African Americans who have been hit hard, and how has the civil rights agenda changed."
When O'Brien sat down with Soaries, he said something that startled her: that debt was a bigger problem for black people than racism, that it was almost a modern-day form of slavery. It is something she said she heard repeatedly when she talked to other people.
"I was stunned," she said. "And yet when Pastor Soaries says debt is worse than slavery, that debt is a kind of bondage, [others I talked to] would nod and say, 'yep. I feel like I'm in bondage because I can't pay my mortgage.' So as much as I think he was being provocative and a little bit over the top, I think he also believes that racism is something that is external to you and that debt is something that you can manage all on your own."
O'Brien talks to Soaries about debt:
O'Brien also examined something called the "wealth gap" -- that is, the gap between the accumulated wealth of whites and African Americans. It is a gap with roots in slavery, Jim Crow and systemic racism, which left black people with comparatively little wealth to pass on to their descendants. It is also part of the reason that economic crises hit black communities harder than white communities.
O'Brien said that she had never been able to look at the impact of slavery in her other "Black In America" specials, but that in the third installment, the issue was very pertinent to the subject she was exploring.
"In this case, the impact of slavery and Jim Crow and unfair hiring practices over decades are all being reaped today," she said. "The wealth gap is due to those very things, due to a lack of accumulation of wealth for African Americans as opposed to their white counterparts. So to me it was very interesting to look at the root causes for why, when you have a massive recession, African Americans are hurt much more than [whites]."
O'Brien talks to economist Julianne Malveaux about "the wealth gap":
To personalize these larger topics, O'Brien focused on three sets of characters for the special: Fred Philps, a 17-year-old from a poor background who is trying to raise $16,000 so he can go to college; Doug and Mary Jeffries, whose home is on the verge of foreclosure; and Carl and Lynette Fields, who are desperately looking for a new source of income after Carl is fired from the company he has worked at for 30 years. All of them had turned to the First Baptist Church for help.
O'Brien talks to Carl Fields about his job applications:
In each case, O'Brien said, she wanted to find out what role the church played in helping these people. For instance, First Baptist helped the Jeffries family as they dealt with banks and lenders and tried to figure out where they were going to live.
She said she was lucky that Philps and the two couples were so open with her.
"They had to reveal some very embarrassing and difficult things," she said. "At one point, Carl talks about how, when his wife goes off to her job he feels like less of a man...that takes a lot of guts to say. The Jeffries, who allowed us in on every meeting tat they were having with their bank and their counselors, that's tough."
Even so, she said, the people she talked to were hopeful. She stressed that the special was not depressing, but focused on how people got themselves out of incredibly difficult financial situations.
"Sometimes the best solution if you're losing your home is to move to a smaller home," she said. "Sometimes the best solution for a young man going off to college is to get in and take out a loan and get a job...I think hope is where you find it."
Pastor Soaries prays with the Jeffries family:
Though "Almighty Debt" took about a year to complete, O'Brien is by no means taking a break. She works on five or six documentaries at a time; the next will focus on Muslims in America. For her, she said, she can think of nothing better to do.
"I love to interview people," she said. "I love telling peoples' stories."