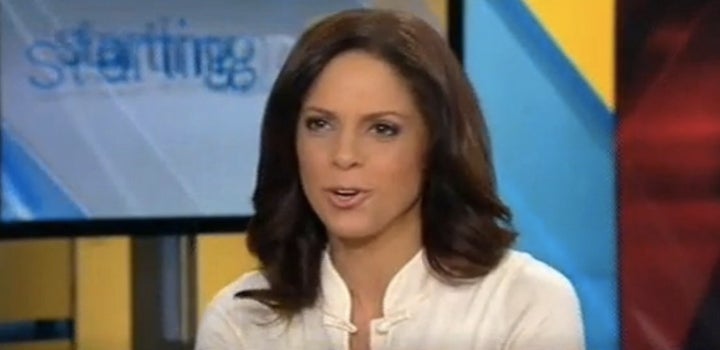 Soledad O'Brien may have just lost her job as CNN's morning show host, and she will no longer have a daily presence on the network. But, in an interview with The Huffington Post on Friday, O'Brien insisted that she is "really happy" with the way things have turned out for her.
After she steps down from "Starting Point" in a couple of months, O'Brien will enter into a production partnership with CNN, providing documentaries and other programs for the network -- including her long-running "In America" series. O'Brien's new production company, Starfish Media, will also begin developing other scripted and non-scripted programming for other outlets.
Meanwhile, Chris Cuomo -- and, likely, Erin Burnett -- will take her place.
O'Brien said that the deal was a "win-win" for her. "I think it has worked out best for everyone," she said.
She said the writing was on the wall for "Starting Point" as soon as Jeff Zucker took over the reins at CNN. (Ironically, in an interview with the New York Times just before his arrival, she expressed excitement about his upcoming tenure.)
"Jeff made it clear that he had a very different vision," she said, "and we're going to see how that unfolds. It was never about would I stay or would I go."
O'Brien was blunt about the lack of assistance "Starting Point" had received from CNN.
"We did not get a lot of promotion. We did not get a lot of marketing. We weren't fully staffed," she said. "That's just what happened."
But she firmly said she does not look back "wistfully" on what might have been. After all, "Starting Point" set the 2012 campaign agenda over and over again.
"I don't look at things as, 'was I disappointed to have a show that didn't have a lot of support,'" she said. "We did a really good job."
CNN has come under some attack in the wake of the news about O'Brien. Media critic Jay Rosen, for instance, said that favoring Burnett over O'Brien was "journalistically insane," and a dark harbinger for the kind of direction CNN is taking. O'Brien dismissed these concerns.
"I am not wringing my hands about it," she said. "I don't feel overwrought, or that good journalism is being abandoned."
Calling all HuffPost superfans!
Sign up for membership to become a founding member and help shape HuffPost's next chapter
BEFORE YOU GO
PHOTO GALLERY
Soledad O'Brien Style Evolution