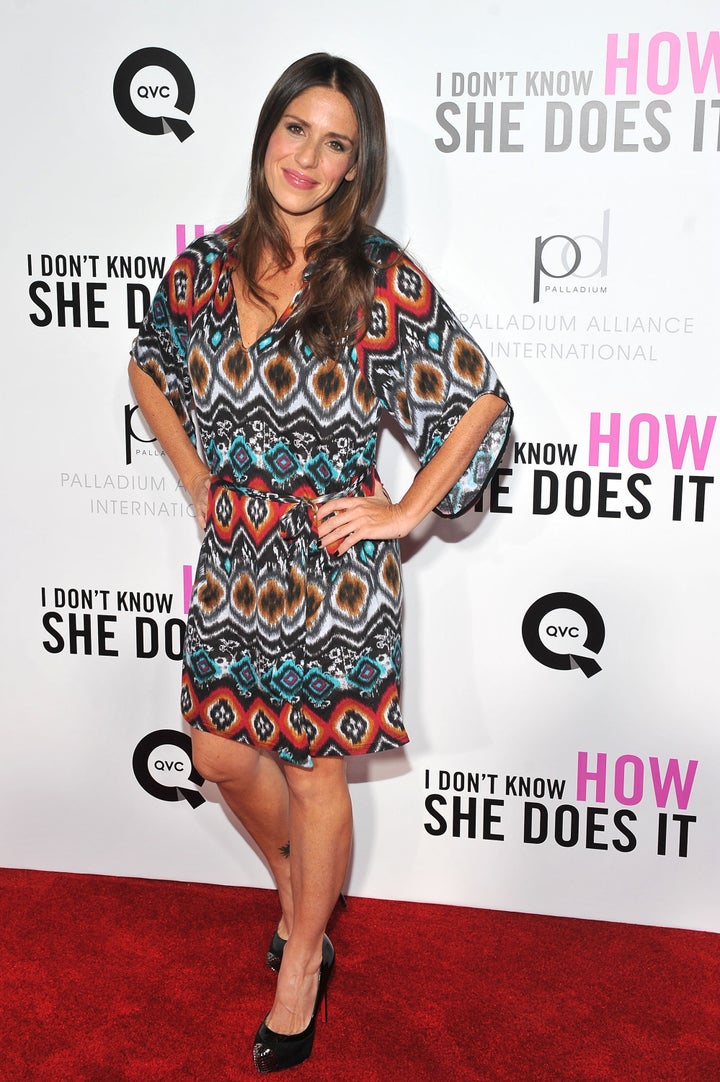 She may have made a name for herself as the spunky "Punky Brewster," but nowadways Soleil Moon Frye is best known as "mom" -- and a busy one at that. Besides running an eco-friendly kids clothing store, The Little Seed, being Target's Mommy Ambassador and twittering to her 1.4 million followers, Frye juggles two little girls, Poet and Jagger. So how does she do it all? Frye's motto is just to accept you're going to make parenting mistakes: "really the best we can do is be perfectly imperfect and embrace our imperfections as much as our perfections." Her sage advice and fun Hollywood stories are all in her new
book, Happy Chaos.
HuffPost: How did you get to become a parenting macher?
Soleil Moon Frye: It's so funny, as a new mom I had so many questions and I literally was like, 'Am I living in a parallel universe?' My house is so crazy and chaotic and full of life and love and total messiness. And I started sharing through Twitter and Facebook, telling my wacky stories -- whether it was the fact that I came home and there were chocolate sprinkles all over the floor or my kids telling me they had done a beautiful piece of art and finding they had painted all over the walls. I started sharing and I found I wasn't alone; millions are also living this happy life. It really evolved from a place as a mom in the trenches that had a lot of questions and wanted to share.
HuffPost: What was the biggest thing that surprised you?
Frye: I think the whole birthing experience, the spray to numb down there or the mesh panties. I was not made aware of the beautiful mesh panties.
HuffPost: What about actual motherhood?
Frye: I would read all the books about parenting and then I would be like, 'Why am I struggling to open the stroller? Why can't I put on this sling? Why does everybody else make it look so fashionable?' I was constantly struggling with this; everyone else makes it look so easy.
HuffPost: Have you ever said, 'Because I said so!'
Frye: Oh yeah, every other day. They want to make up rules all the time so they're always saying, 'Why do you get to make up the rules?' And I say, 'Because I do!'
HuffPost: Don't you think its weird the premise of "Punky Brewster" -- a sitcom -- was that she was abandoned by her mom in a store?
Frye: I don't know that that show would happen now. When I look at the movies of the 80's and all the things that I grew up with, it's almost like you look at it and go, 'Wait that was so much more racy than things today.'
HuffPost: You had a pretty cool 12th birthday party.
Frye: Johnny Depp came to my party. We had the same publicist. It was totally awesome.
HuffPost: And you hung out with Michael Jackson.
Frye: I was friends with a family who was very close with him. I went to a Bruce Springsteen concert and he was there with Elizabeth Taylor and I gave him a gold yo-yo and he played with it. Then I got invited to his home with my mom and we had dinner there. I have very clear memories of eating tomato soup.
HuffPost: How old were you?
Frye: Nine years old. It's so funny when people ask me, 'Do you think you had a normal childhood?' and I'm like, 'What's normal?' For me, I was always able to be a kid and have a balance. It was certainly eccentric and in its way unique but I wouldn't change it for anything.
HuffPost: Why was Demi Moore in the hospital room when you gave birth?
Frye: Demi is one of the closest people in my life. She is one of my closest friends. Ashton and my husband are business partners. She was at both my births.
HuffPost: Was she like your doula?
Frye: She wound up being my birthing coach. I ask her about everything.

REAL LIFE. REAL NEWS. REAL VOICES.
Help us tell more of the stories that matter from voices that too often remain unheard.