Netflix continues to do right by the Marvel universe with Luke Cage, whose 13 episodes drop on Friday.
Marvel's Luke Cage flows right out of Marvel's Jessica Jones, where Luke (Mike Colter) has made appearances while warming up for his own show.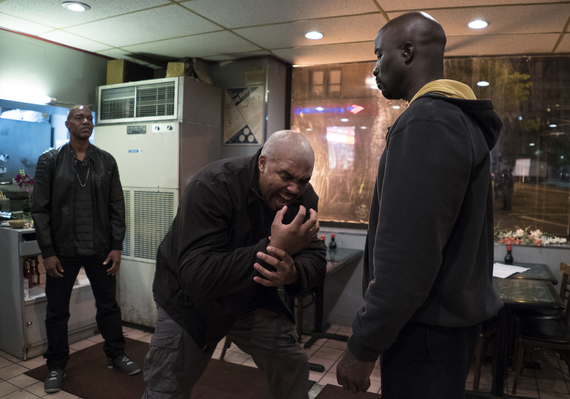 Like Jessica, Luke (above right) is a tortured soul, ambivalent about his powers and unsure about what to do with his life. Brutal for him, good for TV viewers.
Marvel fans, a tough crowd, probably won't approve of every nuance in Luke Cage, but it generally feels like a solid translation of the comic-book story to the screen.
It's also part of a Netflix Marvel rollout wherein Luke Cage, Jessica Jones, Daredevil and Iron Fist will ultimately feed into a Defenders miniseries. Happily, there's nothing in Luke Cage that doesn't stand on its own.
The series opens with Luke cleaning up and doing odd chores at the Pop's Barber Shop in Harlem. That may seem like underemployment given Luke's skills, but this is his choice. He's trying to tuck away his superpowers, which include extreme strength and impenetrable skin, while he figures out what if anything to do with them.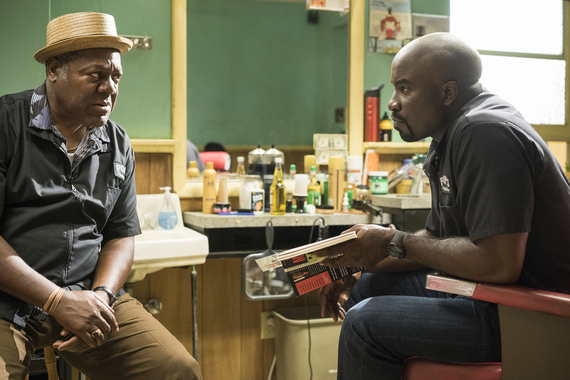 Pop's is a comfortable place to lie low because Pop (Frankie Faison) (above) knows about his powers and won't say anything. He's more engaged by a discussion among the customers about the relative coaching merits of Phil Jackson and Pat Riley.
Neither the show nor Luke can hide forever in the barbershop, however, no matter how well that concept worked out for Ice Cube.
Soon the shady characters start to surface, including Cottonmouth Stokes (Mahershala Ali), a local hustler, and his cousin Mariah Dillard (Alfre Woodard), a councilwoman who wants positive change in Harlem, but isn't going to throw Cottonmouth under the A Train, either.
We also meet Shades Alvarez (Theo Rossi), who seems to have his confident finger in several extralegal enterprises and has some history with Luke, who wasn't always the straightest of arrows himself.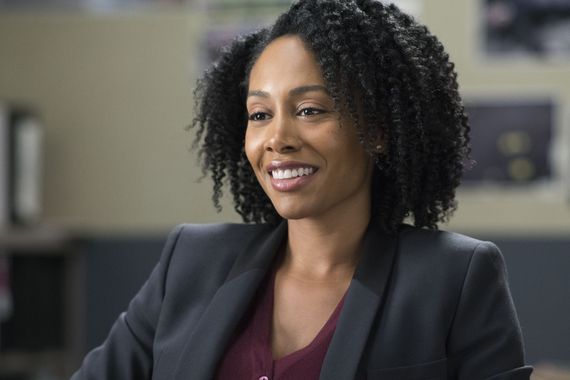 Happily, there are good people as well, including Claire Temple (Rosario Dawson) (above), a nurse and a friend of Luke's. She has popped up in both Jessica Jones and Daredevil, becoming one of the connective threads.
Misty Knight (Simone Missick) and Rafael Scarfe (Frank Whaley), two honest cops working to improve Harlem life, take an interest in Luke, partly because they're no more certain than Luke himself what his next moves might be.
Luke's doubts run deep enough that he's seeing a shrink, which isn't exactly what we're used to superheroes doing, but may explain why, on his barbershop income, he can barely scrape together his rent.
Not long into the series, not surprisingly, Luke hits situations where he has to employ some of his skillset. That's where the action starts, though it's not where the heart of the story lies.
Marvel makes its own molds for superheroes, and Luke Cage, a good one, is well-formed here.
REAL LIFE. REAL NEWS. REAL VOICES.
Help us tell more of the stories that matter from voices that too often remain unheard.