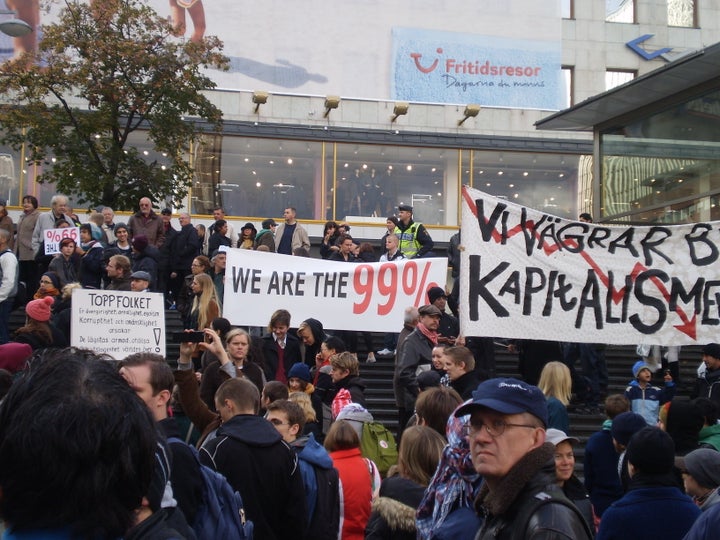 This weekend, the Occupy Wall Street protests in the US transformed into a worldwide phenomenon, inspiring dozens of cities across the globe to hold rallies of their own. In light of the financial crisis as well as the health care reform debates and looming 2012 elections in the US, I was eager to unite with my American peers in protest. But as an American student and government major studying in Stockholm, Sweden, I had never expected any type of protest to develop in Sweden.
After all, academics and politicians across the globe frequently cite the small country as the quintessential model of representative democratic standards, single-payer health care structure and social equality. Why should Swedes take to the streets in protest?
At noon on October 15, as Occupy Stockholm protesters gathered in Sergels Torg, a plaza in the heart of the city, I set out to answer that question. The crowd consisted of a few hundred people bundled in coats and scarves to avoid the harsh Scandinavian autumn. Many of the protesters were of college age, and nearly every imaginable Swedish demographic was represented: signs were written in Swedish, English, Arabic and Spanish. One large sign in Swedish proclaimed "We Refuse To Pay For the Crises Of Capitalism." Other signs urged, "Stop Debt Slavery!" and "Stop NATO War Mongering!" By 2 p.m., the crowd marched through the streets of Stockholm and congregated in a nearby park. The protesters were eager to discuss their respective roles in the movement.
Viktor and Eva, who together carried a sign that read "Folkstyre - inte Kapitalstyre!" (Rule by the people, not rule by the capitalists!) said they were there to show support for the American movement.
"I'm here to support Occupy Wall Street," said Viktor, a student at Stockholms Universitetet. He asserted that "Global [political and economic] systems are not optimal; we don't use resources as we should," while lamenting the "great society" he believes we could have.
"People don't have to live in misery," he said.
Eva shared Viktor's frustration with the inefficient allocation of wealth and resources.
"It strikes me that the 1% owns everything, and 99% owns nothing," Eva said.
Other protesters gathered simply to observe the global movement and respond to the opportunity to be a part of history. Recalling the days of the Vietnam protests, Per Lötberg exclaimed, "I'm interested to see what is happening!"
Said Lötberg: "[The US] must take away economic power from banks and big businesses - it drives the world to madness!"
Still others gathered to draw attention to more abstract causes, citing wealth inequality in the US as a symptom of pandemic discord amongst human beings.
Kevin, an American member of the International Youth Initiative Program (YIP) said, "The problem is human disconnect; we need to change individual consciousness if we want to change the system."
Fellow YIP member Tim Kowalski, an American artist from the Bronx, affirmed the claims of his friend as he issued a proclamation of human solidarity.
"It's great to have Occupy Wall Street friends [protesting in New York]. It's nice to see people connecting over something greater than culture, race, or gender... I feel at home here," Kowalski said.
Phil, an American college graduate, also a member of YIP, expressed a desire to take personal responsibility for the state of the world.
"We cannot expect the top to change for us - we need to change our own lives ourselves. That's where the hard work begins!" he said. Phil also spoke of impending social, economic, and political revolution: "Through kitchen table discussions will the Revolution be born!"
By the time protesters broke into smaller groups of 10-15 people to discuss the possibilities for future global reforms, before reconvening to present their ideas to the crowd, it was obvious that no particular theme governed the protesters' decisions to attend the rally. This is not to say, however, that the protesters were not unified.
The Occupy Stockholm protesters were held together by tremendous optimism. Despite the fact that each protester could cite multiple problems with economic and political practices in both the US and Sweden, they transformed their discontent into constructive ideas and theories about global improvement.
Swedes critiquing the Swedish government cited recent scandals in the Social Democratic Party, the diversion of tax revenues towards maintaining a monarchical figure, and the deportation of immigrants to countries where migration is a capital offense, as sources of frustration.
Americans criticizing the American government cited deregulation, corporate lobbying, and overseas imperialism as manifestations of failed leadership.
Though both Americans and Swedes expressed frustration with the actions of their respective governments, the rally was far from cynical or violent. Instead, protesters used conversation and group reasoning strategies in order to establish a theoretical framework for much-needed reform.
Thus, in the case of Sweden, Occupy Wall Street has had an extremely positive influence on the actions of political organizers: transforming widespread discontent into constructive action. This week, news stories from across the planet will highlight whether other global iterations of the Occupy Wall Street movement will follow Sweden's example.
Matthew Motta is a government major at Wesleyan University, spending a semester abroad in Stockholm. This is his first piece of reporting for Off the Bus. If you would like to contribute to the Huffington Post's platform for citizen journalism, please sign up at www.offthebus.org.
Calling all HuffPost superfans!
Sign up for membership to become a founding member and help shape HuffPost's next chapter