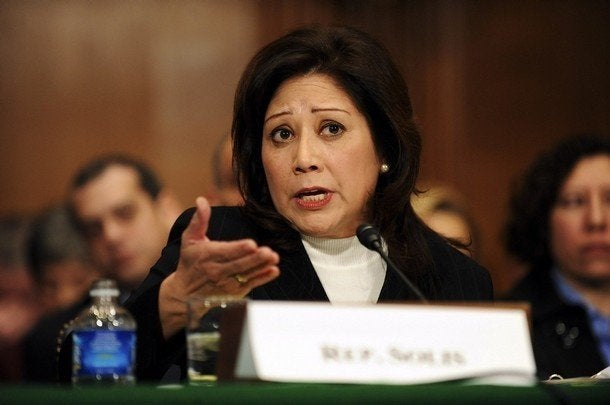 The long and dramatic confirmation of Hilda Solis to serve as Labor Secretary is coming to an end tonight, it seems.
Republicans in the Senate just agreed to unanimous consent on the California Democrat's nomination for the labor post, according to a labor source. That means that no cloture vote is needed and Solis will be confirmed should she get more than 50 votes. In short: she will be the next Labor Secretary.
Solis' nomination had been held up in committee and on the Senate floor due to a variety of factors, most recently tax liens her husband had failed to pay on his business. Labor allies, however, contended that the opposition was driven by her support of the Employee Free Choice Act -- a union priority that Republicans in the Senate staunchly oppose. With Solis set to get through the Senate Tuesday afternoon, these same labor allies are now ecstatic.
"We are glad the Republicans have stopped obstructing the confirmation of Rep. Solis so that she can start helping America's workers," said one union official.
UPDATE: Eliseo Medina, Executive Vice President of SEIU, sends over the following statement, filled with the requisite amount of triumph and glee.
"What a novel concept: a secretary of labor who supports the rights of workers... Over the past eight years, the Department of Labor could have been renamed the Department for Corporations. America's workers saw their wages fall flat, there was no enforcement of minimum wage or overtime pay, minimal health and safety oversight, fewer resources for worker training and development, and finally, no attention paid to workers' rights. Anyone who thinks it's time for the DOL to stand by the side of working people is cheering for Hilda Solis today."
Calling all HuffPost superfans!
Sign up for membership to become a founding member and help shape HuffPost's next chapter