In 1998 Tamms Correctional Center opened in Illinois, a prison designed to subject its inmates to total and complete isolation. Originally the prison was supposed to shock disruptive prisoners into compliance over the course of a one-year stay. But many prisoners ended up being kept there indefinitely, without any explanation.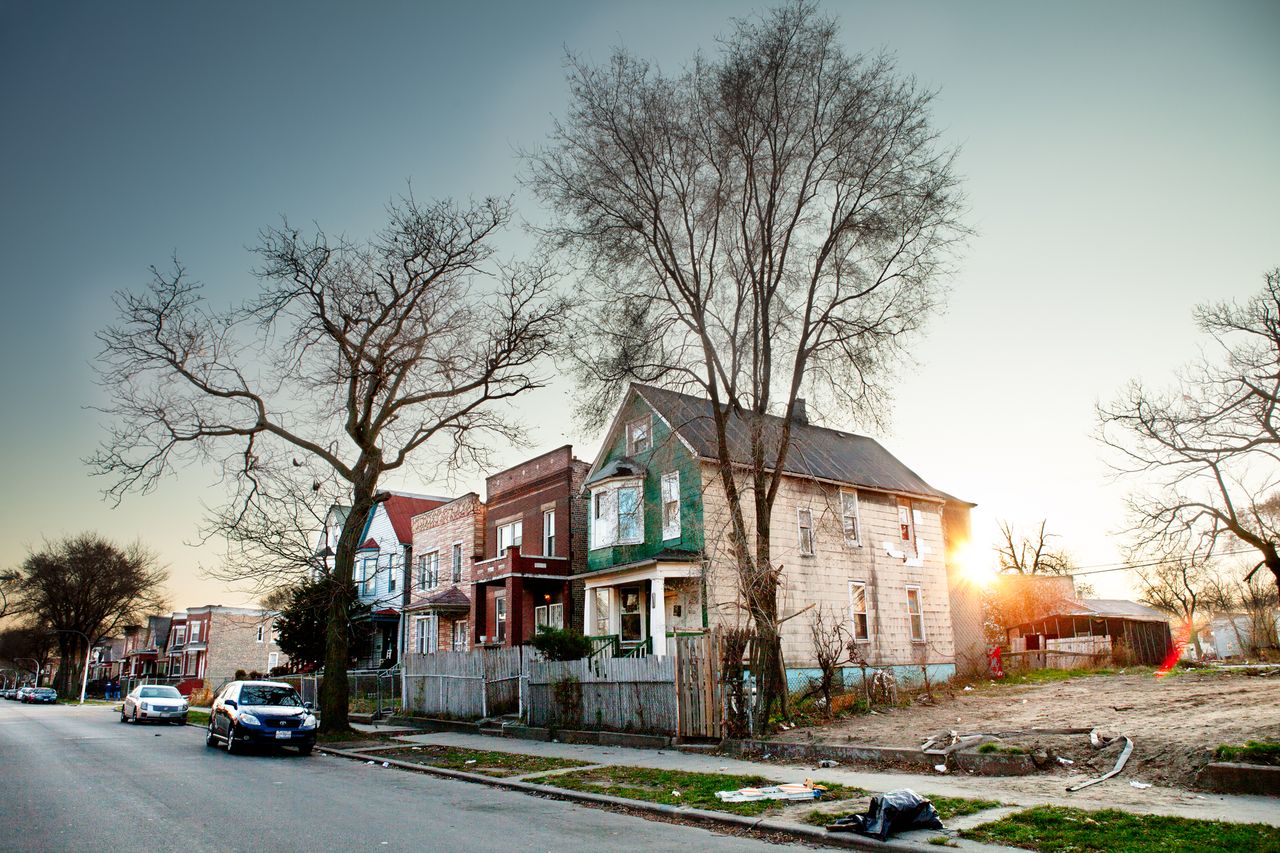 Darrius requested a photograph of Chicago's Englewood neighborhood, including his auntie's house and the whole block of 63rd and Marshfield, at 2:00pm, facing east. "Let the people outside know that the picture is for 'D-man,'" he told us. Photo by Chris Murphy, 2012.
The Committee spearheaded an art project entitled "Photo Requests From Solitary," in which prisoners could get a glimpse of the outside world through a single photograph of anything they desired. The results ranged from photos of old neighborhoods and family members to a still of a Jennifer Lopez video, painting a fascinating and heart-wrenching picture of the mind's desires.
We reached out to Laurie Jo Reynolds, one of the leading artists involved with the project, to learn more. Scroll down for the remainder of the requests and images.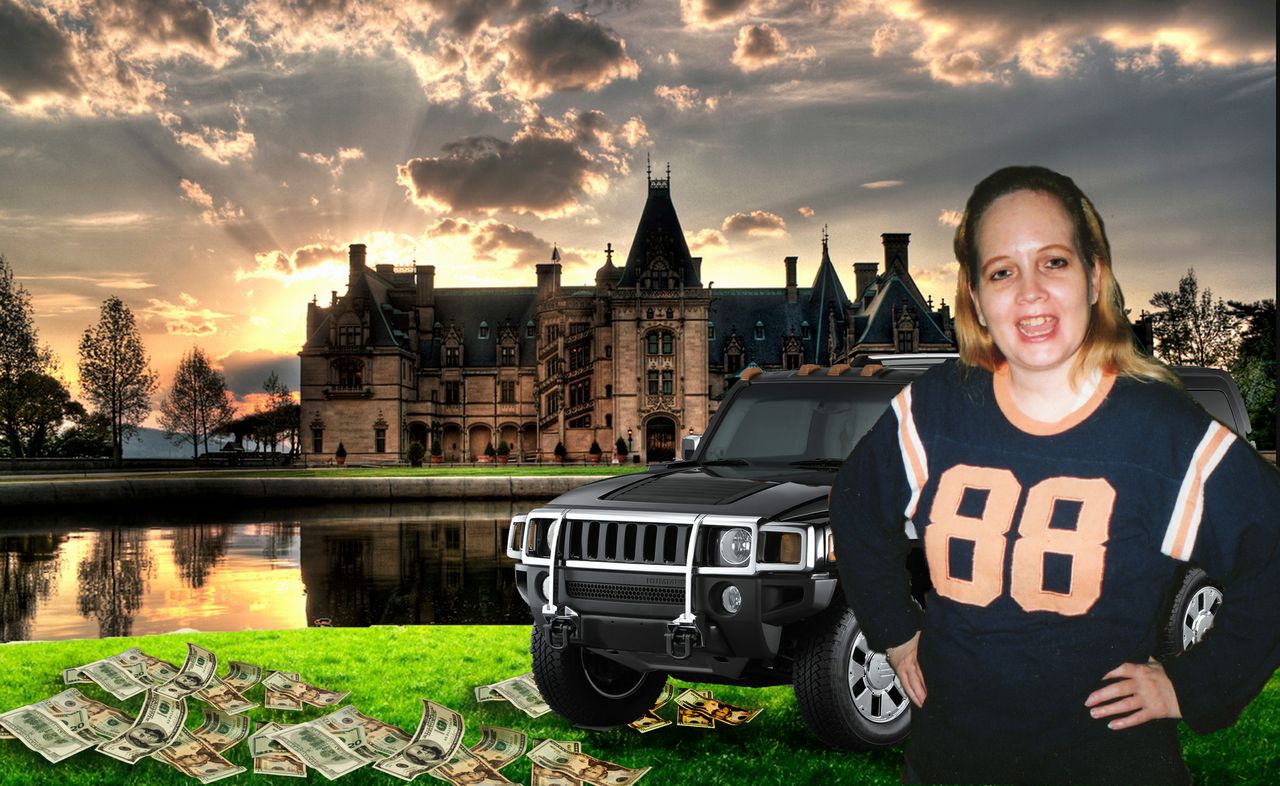 Robert, a man with a serious mental illness, sent Tamms Year Ten a photo of his mother, who had died the previous year. Because he had no family and no visitors, he was hopeless and desolate. He asked for an image of "my mother standing in front of a mansion, or Big Castle, with a bunch of money on the ground. OR if you can't do that, THEN a substitution is a big mansion or castle with a bunch of money in front of it and a black hummer parked in front of it. I truly appreciate this a lot… Now I know somebody out there in the world cares about us in here." Photo by Jeanine Oleson, 2013.
What inspired this project?
We were focusing on Tamms Prison, which was built as a solitary confinement prison designed for sensory deprivation. So there is no chapel, no education center, no cafeteria, there are only cells. The only time a prisoner could get out was to exercise in a concrete pin or take a shower, where you're also alone.
And how did you go about actualizing the series?
We sent request forms saying we will take a photograph for you if you just tell us what you want photographed. It can be anything, real or imagined. They were the most far-ranging, stunning, imaginative requests. I always say an exhibition of the requests would be just as interesting as the photos themselves. The images are really living in the requests; you realize these men are carrying these images around with them all the time -- it's a real archive of what they are thinking. It's a real archive of our time, when solitary confinement even exists.
Did you notice changes as a result of the project?
We worked with all the requests and the public response in Chicago and seeing the requests was amazing. The men loved the project and really appreciated what they were trying to do. You do start to realize there is a person with consciousness in a box and they are thinking and remembering and hoping, and they have memories and families and desires. It opens people up the issue in a way they are not used to.
Most importantly, through this long struggle our governor closed the Tamm Prison. Because this prison was so notorious -- the color, the way the pens were arranged so men would never get to walk over 20 feet away from their cells. It is a huge symbolic victory as well as a physical victory.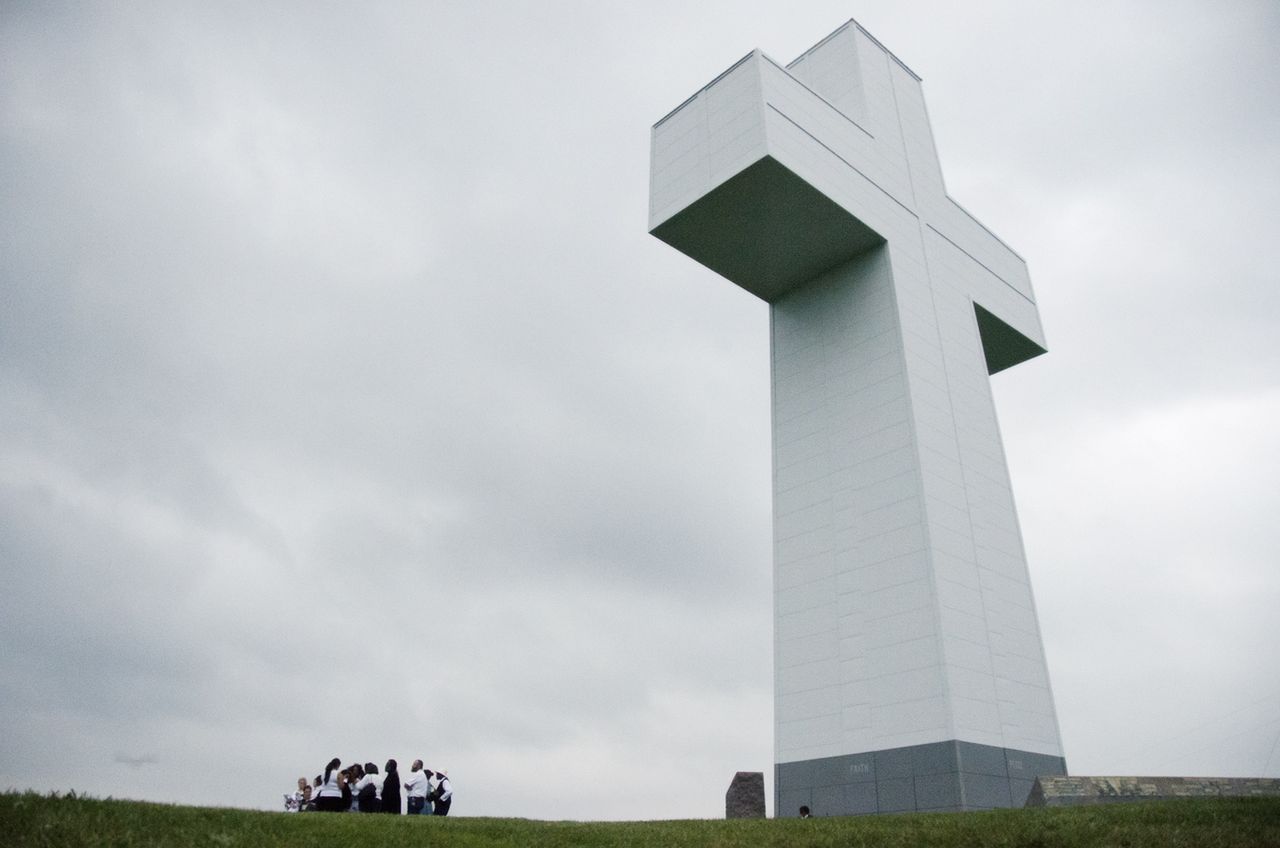 Willie asked for a photograph of a vigil at Bald Knob Cross, which stands on a mountain in southern Illinois, to pray for his deliverance from Tamms and for parole. So, Tamms Year Ten caravanned down to the cross, held a litany of song and prayer and celebrated with a dinner. The next day, we drove family members to visit loved ones at the prison. Willie was transferred from Tamms, and on July 27, 2012, he was paroled after 36 years. Photo by Rachel Herman, May 6, 2011.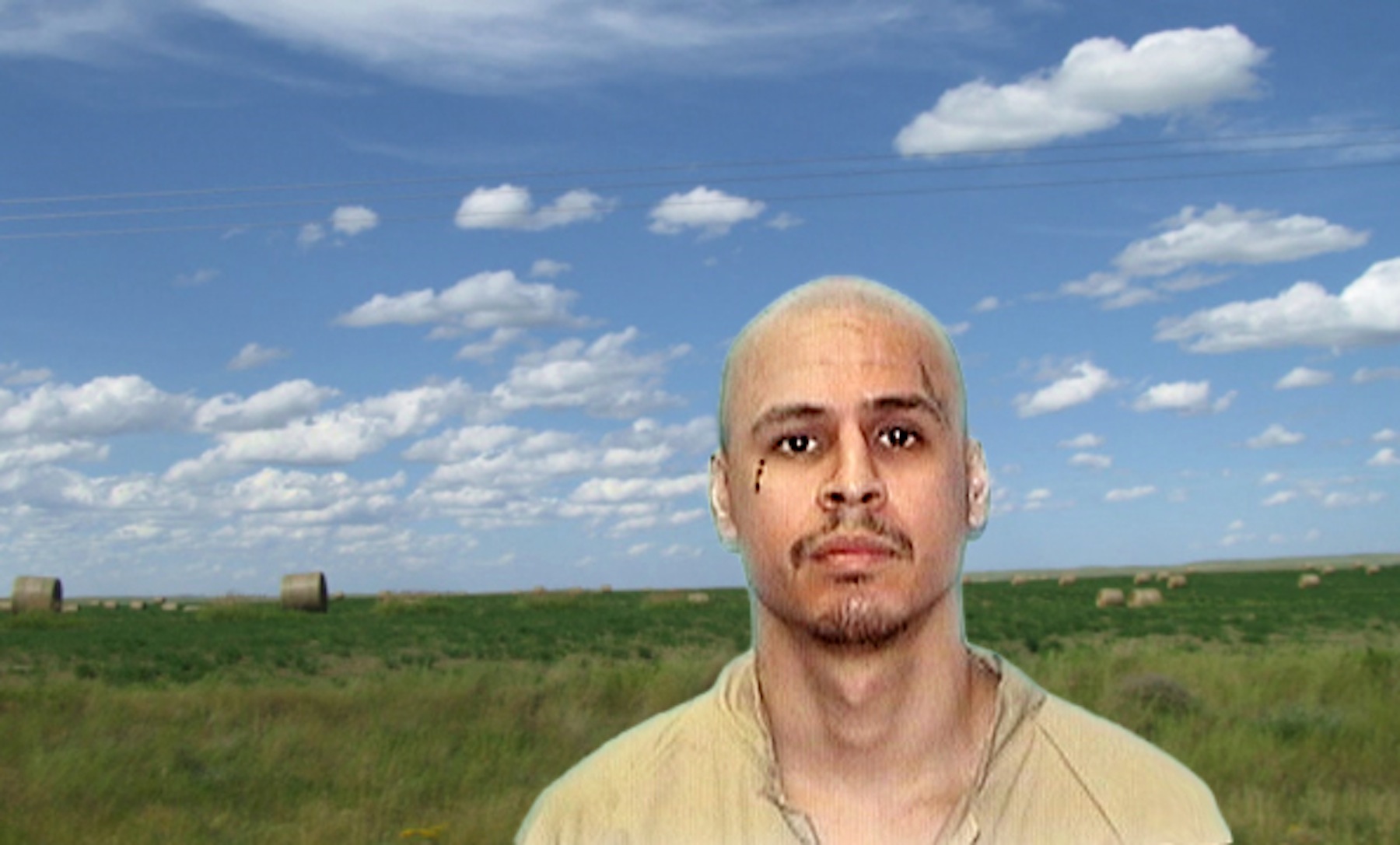 Robert wanted his picture matched with an alternate background. He wrote, "If you can place my picture on another background, nothing too much please. Something simple like a blue sky with clouds or a sunset in the distance would be fine." Robert also said, "I want to extend my love to you, for you, as you have already done for me. Because genuine, authentic true love is when you do for others just because you can, and you hold no preconceived notion that you will be getting anything in return." Photo by Laurie Jo Reynolds, 2011.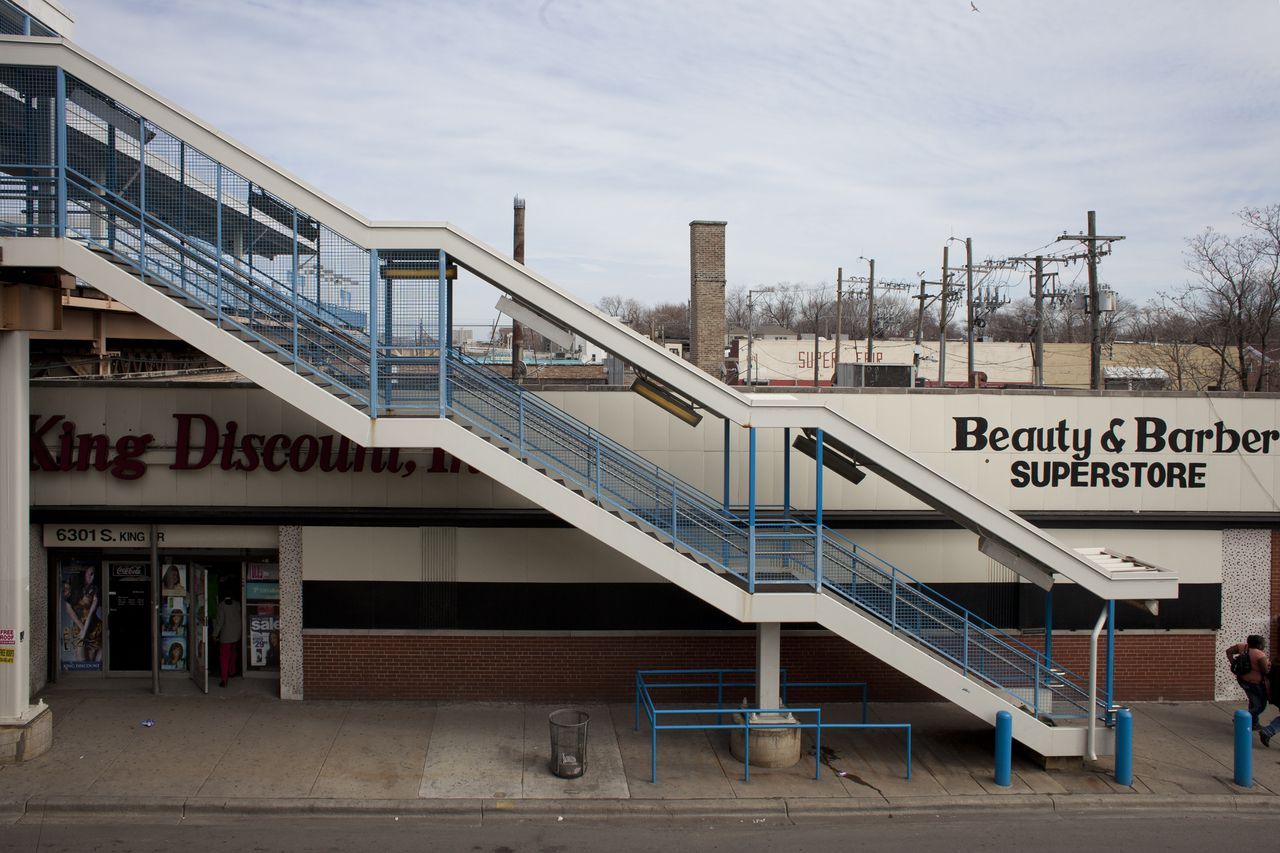 Charles asked for pictures of four intersections in the south side of Chicago that he used to know very well: 63rd and King, 63rd and Calumet, 48th and Wabash and 61st and Indiana. Having been in prison for 22 years, he wrote: "I feel forgotten, cast away but God uses this time to show how he never forgets about us no matter what, and I will like to thank you all for everything you do and everyone at Tamms Year Ten. I do feel bless having you all in my life." This is S. King Drive and E. 63rd Street. Photo by Jason Reblando, 2012.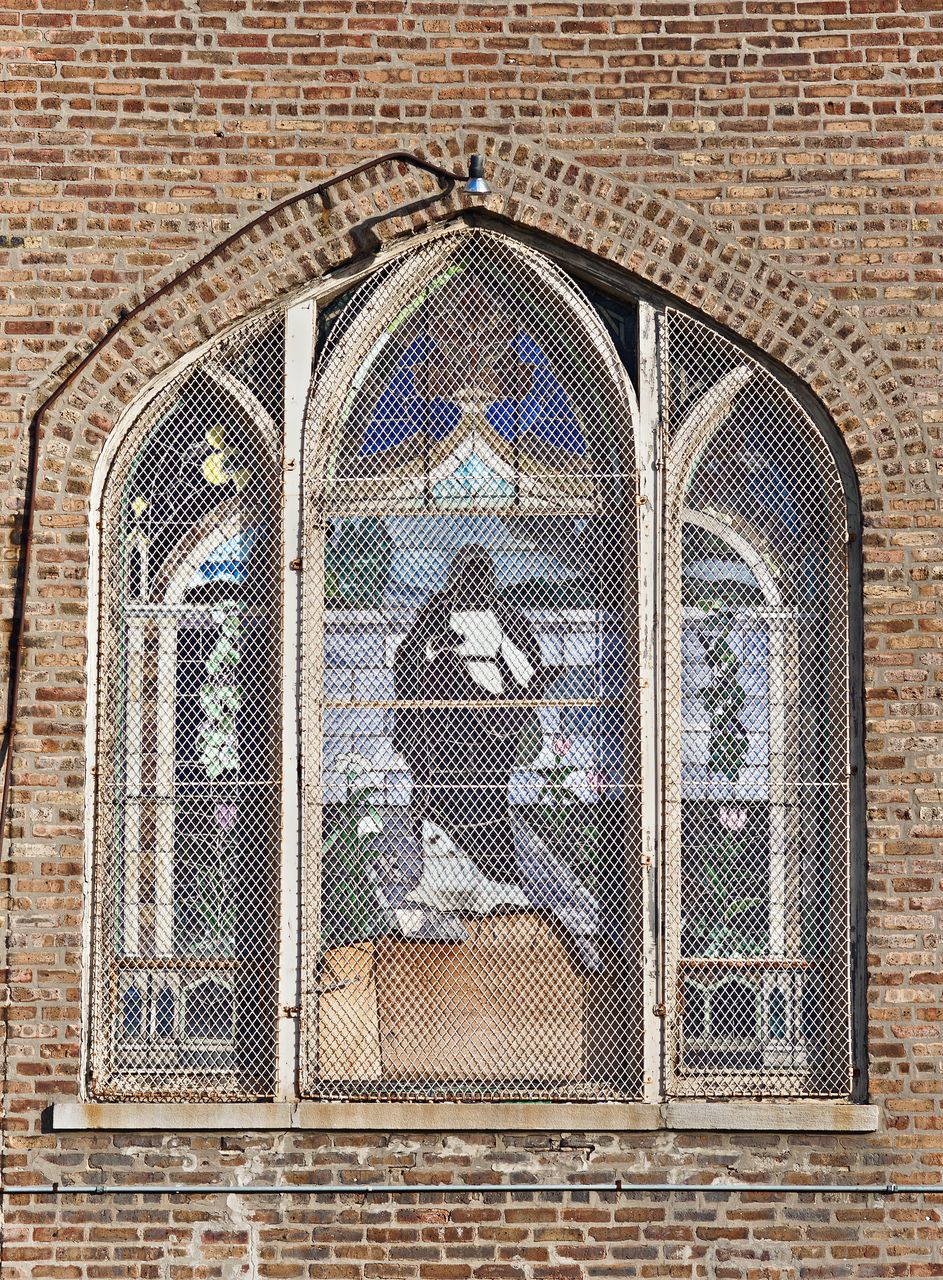 Terrell wanted pictures of 53rd and State through 43rd and State, where the Chicago public housing project Robert Taylor Homes once stood. Demolished in 2007, the project was comprised of 28 high-rise buildings stretching for two miles. Photographer Greg Ruffing took five photos to fill the request: an empty lot with the old foundation still visible, new condos, a community garden, and this image from the neighborhood of a stained glass window behind a rusty screen. Knowing the conditions of isolation that Terrell experienced, Ruffing said he looked for sensory details in composing the images: "the orange glow of warm sunlight, the sensation of brisk morning air, the way the city radiates color in the dusk and dawn hours." Photo by Greg Ruffing, 2012.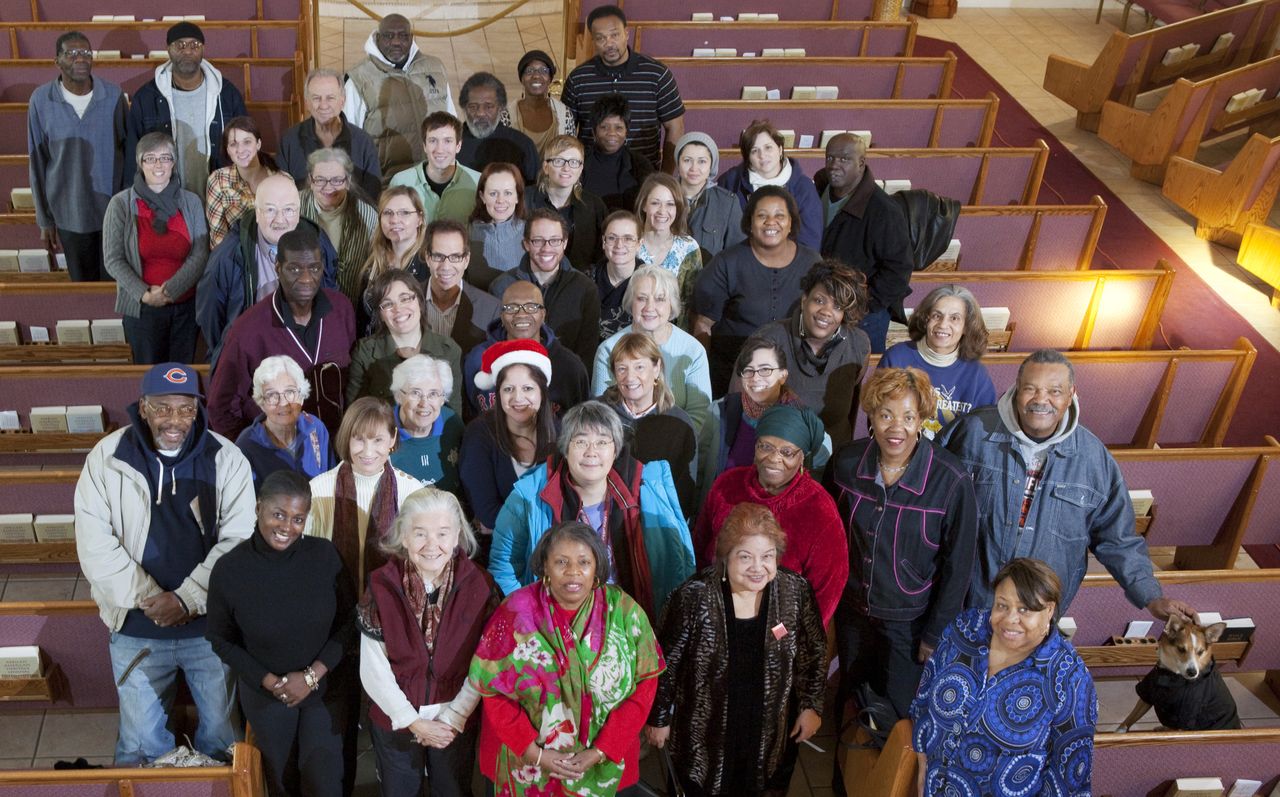 Several men asked for photos of the people of Tamms Year Ten. One asked for a picture of everyone along with "one thing about them individually like what kind of music they like." Another said, "I'd just like to be able to put the faces to the names we've seen over the years so the humanity of each can shine forth—a name or a paper at the end of the day is still just a name on paper!" This group portrait was taken after a meeting at Chicago's Progressive Community Center/The People's Church with Pastor B. Herbert Martin, Sr. presiding. Photo by Lenny Gilmore, December 10, 2011.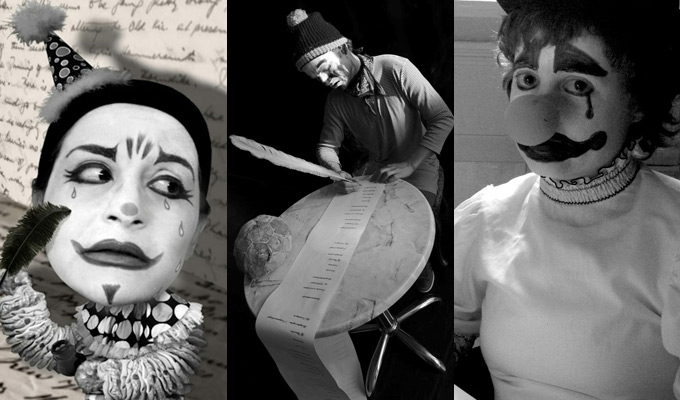 Chicago animator Lisa Barcy, Dutch photographer Harry Bos and Baltimore filmmaker Stephanie Barber each orchestrated a version of Humberto's detailed request for a lovesick clown: "A lovesick clown: holding a old fashioned feathered pen: as if writing a letter: from the waist up: in black and white. As close up as possible: as much detail as possible: & the face about 4 inches big." From left to right: photos by Lisa Barcy, Harry Bos and Stephanie Barber, 2012.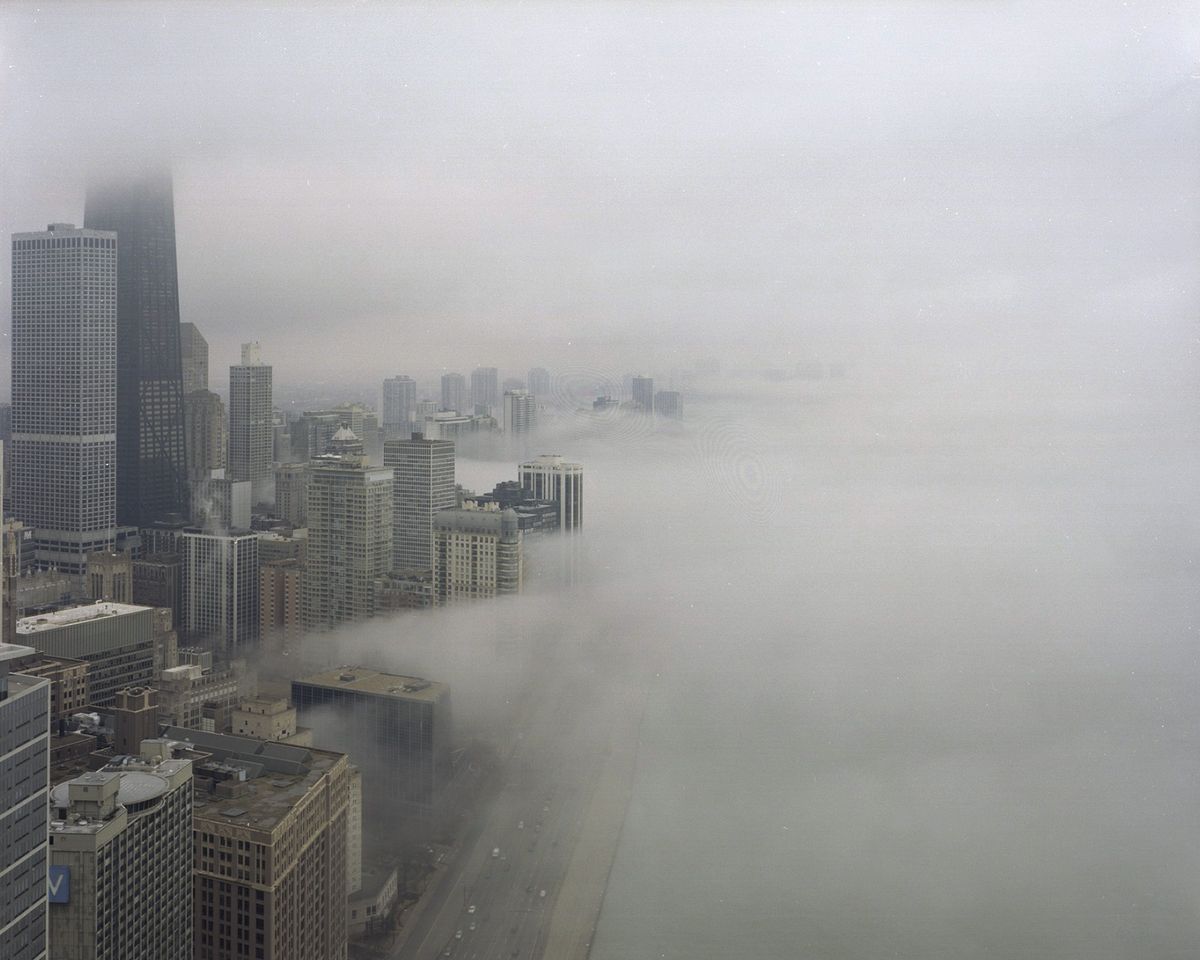 Many requests were for sites in downtown Chicago including Magnificent Mile, the lake front, Millenium Park, Navy Pier, the Christmas tree, cars, restaurants and the Chicago skyline. Richard wrote, "I would like to see The Downtown Chicago or the Lake of Chicago it will bring me happiness to see a real nice picture of the downtown please!" Photo by Scott Fortino, 2012.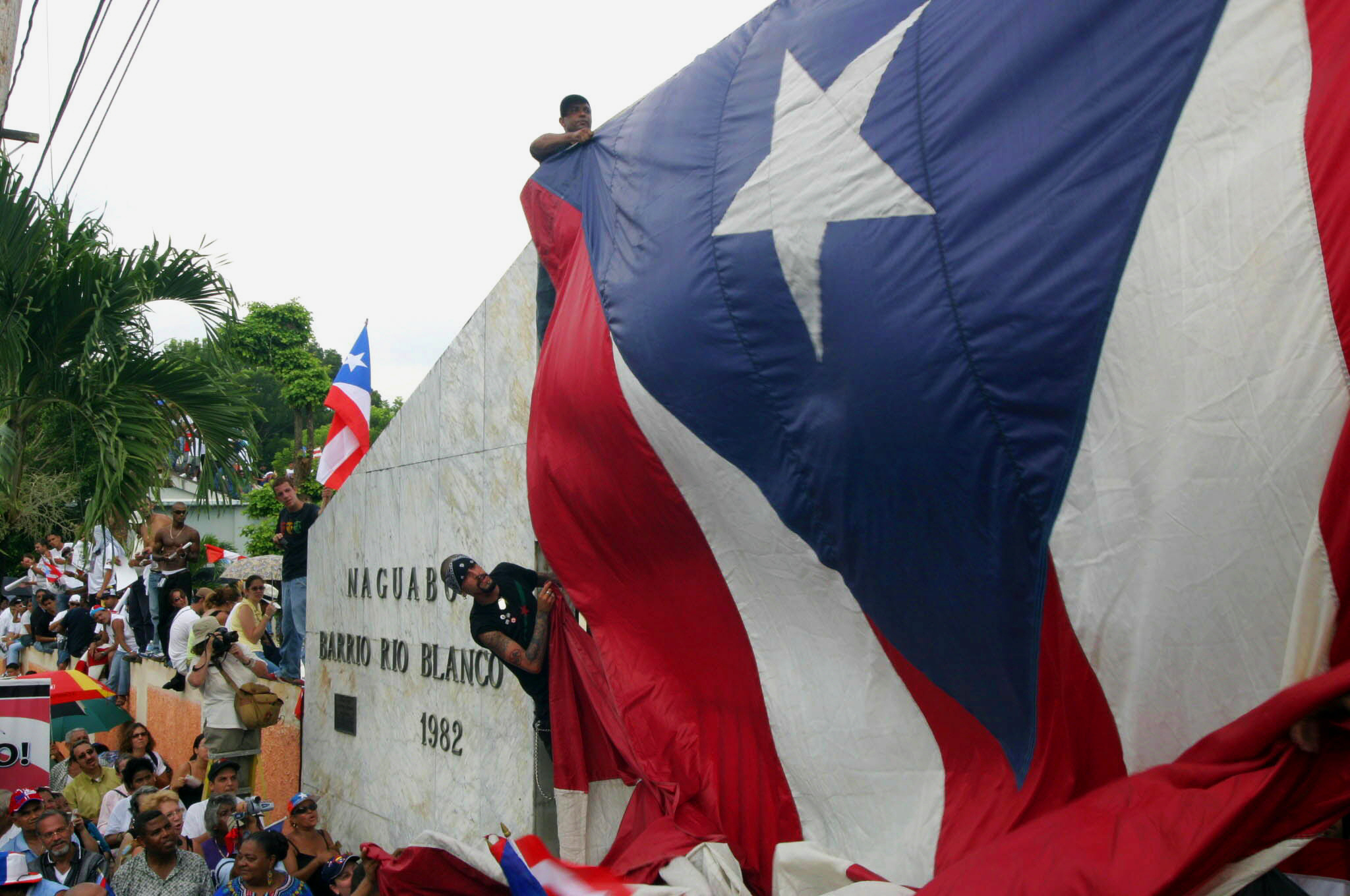 Artist Beatriz Santiago Muñoz helped fill the request for a Puerto Rican flag by asking photographer Thais Llorca for a photo of the burial of Filiberto Ojeda, whom she calls "a nationalist hero to some, anti-hero to others." Santiago Muñoz wrote to the Tamms prisoner, Adolfo, "When I read your request, I immediately thought of the gigantic flag that is unfurled during protests and marches here…. The Puerto Rican flag blue is supposed to be azure blue—azul celeste—but it has slowly transformed into the U.S. flag blue. Only people who remember this, or who hold onto to old flags for personal reasons, know this and insist on the right color. I'm usually partial to azul celeste, but I hope you will agree this one wins for bombast." Photo by Thais Llorca, 2005.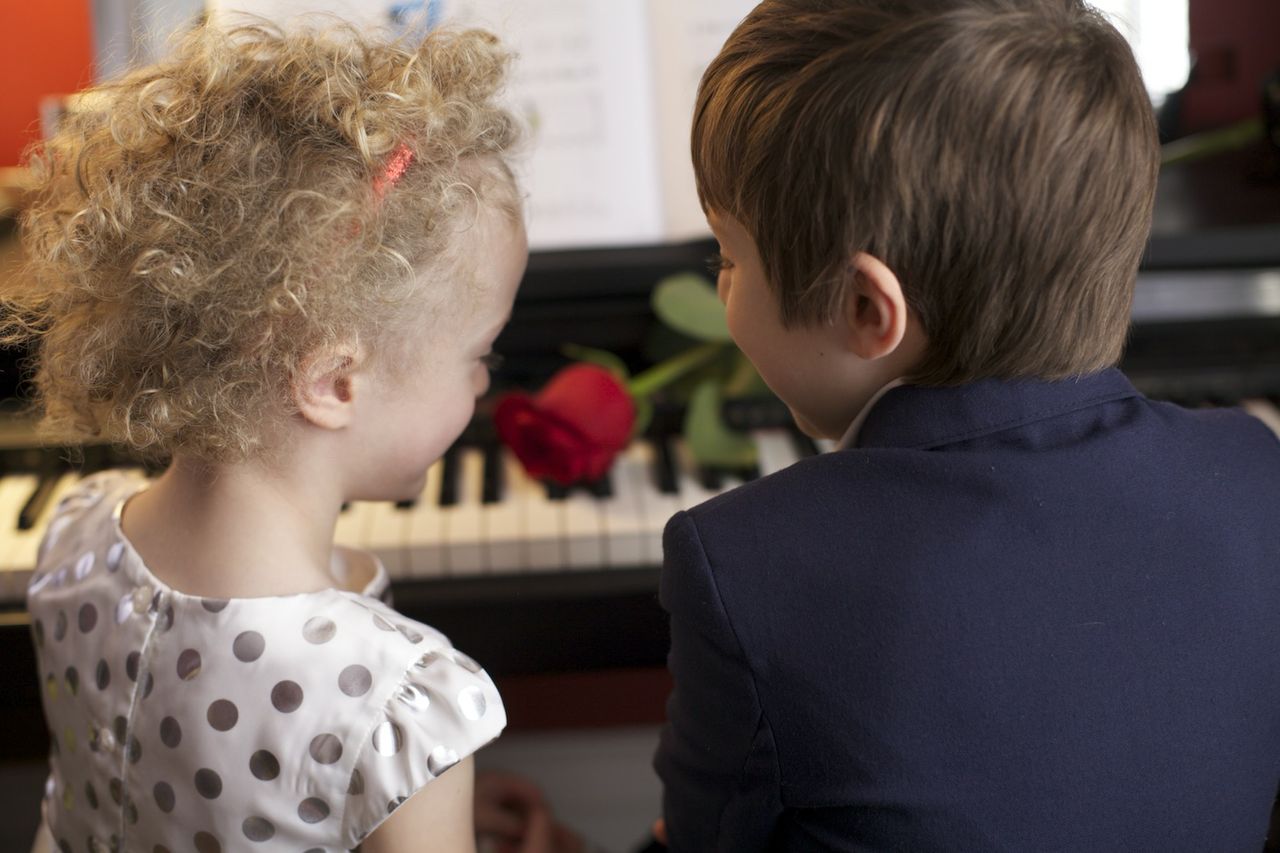 Cary wanted his request to be a present for his wife—a photo of a boy and girl sitting side by side on a piano bench dressed in their Sunday best with a single rose on the keys. Ithaca-based filmmaker Karen Rodriguez wanted to support the campaign to close Tamms, but had to ask her son to participate in the photo shoot. She pitched it like this: "We are going to take a picture for a prisoner who is kept apart from other people. Taking the picture he requested might help him feel less lonely and feel connected to people he doesn't even know." He agreed, and so did their neighbors. Photo by Karen Rodriguez, 2013.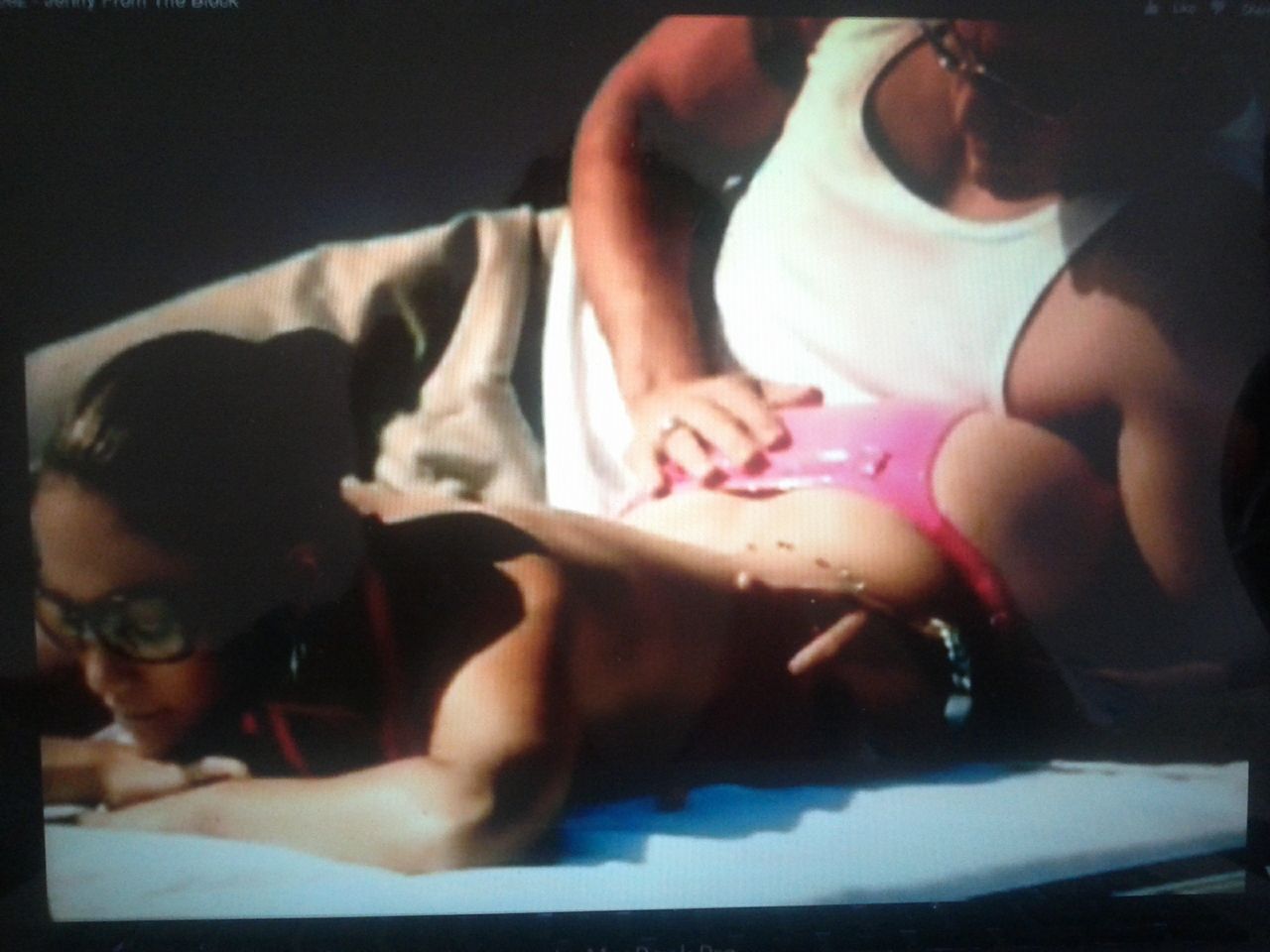 Johnny asked for a photo of a very specific Jennifer Lopez music video—the one with her ex-boyfriend Ben Affleck on a boat, with her butt showing. Luckily, there were people who remembered the exact same video he did ("Jenny from the Block"), and Danny Orendorff was able to take a still from it. Photo by Danny Orendorff, 2012.
Below are some requests that have yet to be filled:

"At 66 years of age I try to use a little humor. I want a picture of a trash can with the lid half off and twp eyes peeking out of the half-open lid as the trash can is rolling down the hill toward an incinerator. The caption: "I seem to be picking up speed I must be headed towards a bright future."
-Robert
"The idea is that I'm taking my girlfriend to the beach for a picnic and to propose to her on the white sandy beaches of Florida. I want the photograph to include a blanket laid out on the beach with a picnic basket sitting on top of the blanket. Also, I would like a dozen red roses in a vase placed on the blanket. Next to the vase of red roses I want a black engagement ring box. I want seashells placed on the blanket in the shape of a heart as well. I'd really like to have the photograph taken at sunset with the ocean in the background."
-Sean
"A grey and white "Warmblood" horse in an outdoor environment—shown in action, such as rearing up or jumping or climbing. I'd like the photo to convey freedom, strength, and the wisdom of nature. If possible, taken in a cold environment so that clouds of hot breath can be seen."
-Mark
"I would like to see any Egyptian artifacts... I enjoy history, culture and advances in civilization that is a part of this ancient empire's greatness."
-Robert
"Photo Requests from Solitary" will be on view at Photoville until September 29, located at Pier Five in Brooklyn Bridge Park. Visitors will be able to stand inside an outline of an average solitary confinement cell, which measures 7 x 10 feet.
Related
Popular in the Community