Albert Woodfox has spent the last 41 years in solitary confinement at the Louisiana State Penitentiary. Documentaries, Amnesty International and Desmond Tutu have all weighed in on his case, and those of the rest of the "Angola 3." Now a Louisiana congressman has introduced a bill in Congress meant to prevent their experience from ever being repeated.
The Solitary Confinement Study and Reform Act, introduced Thursday and sponsored by Rep. Cedric Richmond (D-La.), is intended to study and reform the widespread use of solitary. Nobody knows exactly how many Americans are held in isolation, but estimates range from 20,000 to 80,000 -- and an untold number of those are juveniles, or suffer from mental illness.
"Solitary confinement has been abused over the years, if not decades," Richmond told HuffPost. "Long-term solitary confinement, without review and all of those other things, clearly is equal to cruel and unusual punishment."
Over the past few years Richmond has become intimately involved in efforts on behalf of the Angola 3, who were initially convicted in the 1972 killing of a prison guard. Juan Méndez, the United Nations special rapporteur on torture, condemned their decades-long time in isolation as torture. Now only Woodfox remains: Robert King was released in 2001 after spending 29 years in solitary, and Herman Wallace was released in 2013 after 40 years, just days before his death.
"At the ages they were, in their late 60s, early 70s, the prison was still using the justification that they posed a risk to all these younger inmates," Richmond said.
Richmond's bill would follow a model created by the Prison Rape Elimination Act of 2003: It would first create a commission to study the use of solitary confinement. Then the attorney general would establish federal guidelines on the conditions under which solitary could be used, and states failing to comply with the guidelines would be penalized by losing 15 percent of their federal prison funding.
The prison rape law's effects were hamstrung by a long study process and rules from Attorney General Eric Holder criticized by advocates as "muted." Conservatives like Texas Gov. Rick Perry (R), meanwhile, rejected the Justice Department's push to reduce prison rape as an affront to federalism.
Many critics of the practice, on the other hand, would like to see solitary confinement abolished -- a step Richmond said he does not envision with his bill. Jasmine Heiss of Amnesty International acknowledged those limits, but said Richmond's bill is a good first step.
"I think this is going to be a not-immediate change, this is going to be a long-term change," Heiss said.
Richmond is particularly concerned with the fact that in many cases, prisoners are held in solitary without any sort of administrative procedure being followed first.
"If you put somebody in solitary confinement, you can't just put them there and throw it away," Richmond said. "At some point since that is an additional punishment of itself, there has to be something in place that [proves] solitary confinement is warranted."
Richmond's co-sponsors so far include Reps. Charlie Rangel (N.Y.), Danny Davis (Ill.), Raul Grijalva (Ariz.), Tony Cárdenas (Calif.), Keith Ellison (Minn.), and Marcy Kaptur (Ohio) -- all Democrats.
"The Republican party should be all over this issue, because it saves money," Richmond said. "My hope this year is that we can get the Judiciary Committee, or one of the sub-committees, to have a substantive hearing, with the stakeholders and the experts in the field -- and I don't care if they're Republicans or Democrats."
The United States is an outlier both in terms of its overall prison population but also in terms of how many inmates it places in solitary. Psychiatrists and prison reformers are increasingly pointing to the damaging effects solitary has on prisoners' mental and physical health as evidence that it may meet the international legal definition of torture.
"This piece of legislation … is really historic, it's a step toward shining a light on those practices," Heiss said. "It really is a piece of legislation that will help initiate a conversation that's long overdue to be had at this level."
Before You Go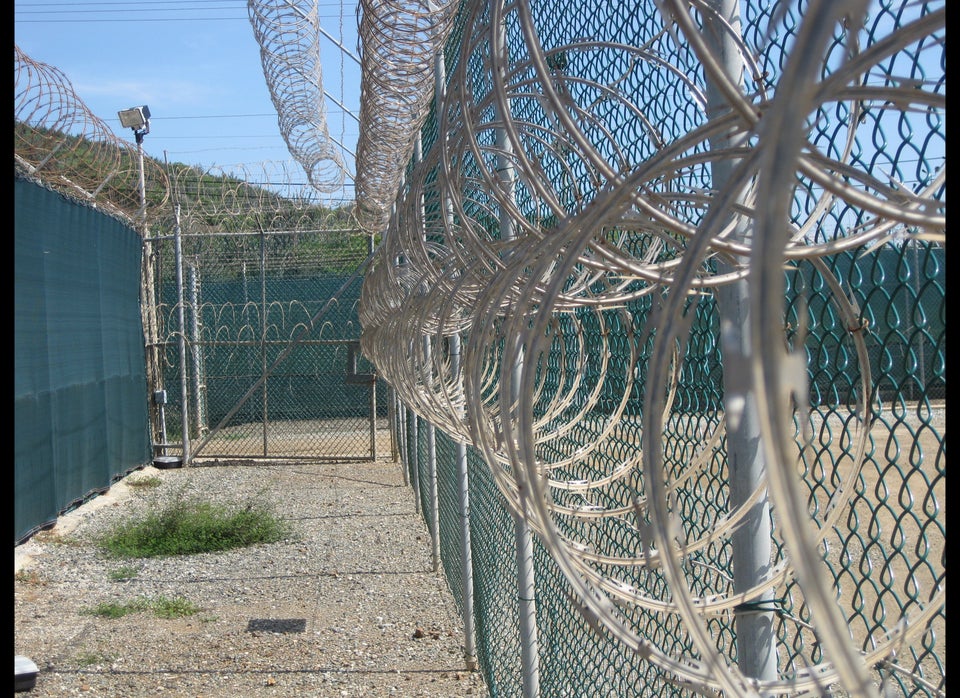 Inside Guantanamo Bay
Popular in the Community