Anticipation seeps through the open car windows, as it tends to when we near a desired destination, hovering to find a place to land, once the navigation declares we have reached our weekend haven. We are in, arriving at the JOY in record time and bug cemetery windshield proof we are out of the city. Literally and metaphorically, the gates have parted and the gravel announces our arrival to the freshly newly completed unique hospitality harbor, AtTheJoy, tucked into the coveted Eola Amity AVA in the Willamette Valley. Destination Joylandia, is just a bit over an hour commute if you pedal metal it 5 over the limit from Portland. You will be transported to a simple elegant solution to respite needs and epicurean cravings.
9 vineyard blocks of Joy hover over a coveted 30 acres estate of A+ thrice graded soil. This is where quarter of a century wine veteran, Andy Lytle, staked his claim. Wine pedigree abounds, namely his years with Jackson Family Wines, that serendipitously brought him face to face with a For Sale notice while entertaining distributors for JFW. "A+ wine comes from A+ vineyard land, Andy", offered friend and supreme wine creator, Chris Figgins of The legendary Leonetti / Figgins Family Estates. It was a wait and see if the land could yield greatness. Patience matters in these matters. Indeed, the land proved to tender excellence with the three separate soil gatherings, sealing Lytle's decision to go forth with his Joy project.
With Barbara Banke, of the acclaimed Jackson Family grape empire, the nearest sugar borrowing neighbor, literally across the charming curvy Zena Road, it is clear Lytle has chosen a special place to share with those looking for a Willamette wine country haven. Whether folks desire a deep wine experience, a company or family retreat or a just nature restoration respite, wonder organically kicks into soul depth levels soaking up the majestic scene Andy has produced, with the divine support of nature, a brilliant agricultural and build team. It is a breathtaking memory making moment scene, each time the sun descends over the stunning view encompassing Temperance Hill, Bethel Heights, Walter Scott, St. Innocent, and to the west is the Van Duzer corridor coastal range when the day is done for the night. As if on cue, in the warm months, the symphony of evening outdoor (cricket and other sweet critter) sounds subtly adds to the romance of the majestic panoramic picture that expands before you atop the summit knoll AtTheJoy.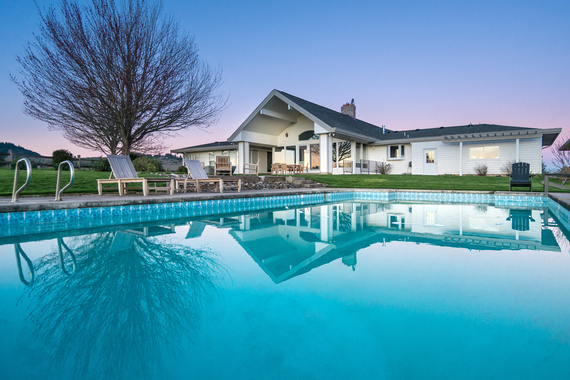 In his spare time, Andy, is the devoted Chairman of the Board of Regina Ellis' Children's Cancer Association where the Joy RX program incubated and grew to reaching thousands of children across the country in need of joy through music and fun. "We are here to serve and offer joy to ill children and their families when they need us most. CCA has touched my heart and I realize the impact providing joy has on living a good life, a life filled with hope, despite challenges", shares Lytle. And now, with a quiet drum roll, this deeply passionate proprietor of Joy invites seekers sipping from the Cup to his Anahata vineyard, named for the heart chakra, to visit: AtTheJoy. With precious intent, the blocks have all been named for translations of the word Joy.
My brother (I.L.), Andy, is ready to share his holiday sanctuary. He sheds a few tears as we walks the rows, that he doesn't brush away. These buds are little butterflies emerging from their cocoon phase respite after a long winter of hibernation. " They are being tide to the trellis wire," explains proud Papa to the 30 acres of the finest land in our sought after valley of the vines. He converses with the buds and cane, born to privilege, organically tended and top grade soil and conditions as he walks the 1.6 miles around the deer fence. "I wanted to plant and cultivate a generations garden. This is for my children and their children's children. A legacy of wines and memories interwoven together for us to share." It does not go unnoticed on this morning stroll, the neighboring rooster has a charming quirk, likely rooster whispering intervene by Lytle, announcing the morning a few hours past sunrise so guests may have a sleep in if desired.
"We plan to be a grower first, selling our grapes. 2016/17 we will drop the fruit. First production year will be 2018 with 7 acres devoted to Chardonnay and 18 to Pinot Noir. Back in 2013 Lytle teamed up with the distinguished Antony Beck of Graham Beck Wines in South Africa and Gainesway Farm in Lexington, KY for a special Bubbles Project. We have sourced fruit for the last 4 years but our plan is to have an Estate bottling of the "to be named" Bubbles Project in 2018. The illustrious Andrew Davis, of Argyle fame, is the winemaker for this high end 4 year extended triage bubbles gig. First release is coming in 2017.
AtTheJoy is a State of Mind, truly splendor in the Vines, planted deep in the Eola-Amity AVA. I am sitting poolside, warmed by blanket and fire pit, with a glass of Angela 2013 Pinot, taking notes of the magic that abounds this summit. A hawk circles, music plays background through the easy to navigate sounds system, my lab, Clemens, lays prone next to the SMP block, named to honor our auntie, R.I.P, Sister Mary Paul, fierce youth advocate stationed in South Africa for 6 decades, devoted to bring joy, shelter and education to orphans and special needs children. The freshly built guest house wing with three additional bedroom suites cast a faint shadow across the pool, warmed even in the cooler months. The delicate balance of harmony and honor for: function, land integrity, simple elegant aesthetics and deep regard for natural beauty, guides every choice for team Joy.
You feel the thrive, sharing oxygen with these precious, living, growing, sustenance creating beings and luxuriating in their dramatic entrance to the world. These just tied to the wire sprouts offer definitive proof that sunlight, water, nutrition, love, and excellent soil, make for an enriched life.
"Bottom Line, our mission is to provide a tailored epic experience for our guests". Whether it be a catered gathering, a casual barbeque night, a picnic on the grounds, food and wine options are endless. The neighboring Dundee offers a plethora of dining and tasting options as well. "We have 6500 square feet of understated luxury and elegance and comfort to welcome those wanting to experience our dear Willamette Valley wine world in a new manner."
The Eola Hills are alive with the sound of Joy.
Support HuffPost
A No-B.S. Guide To Life
Related
Popular in the Community