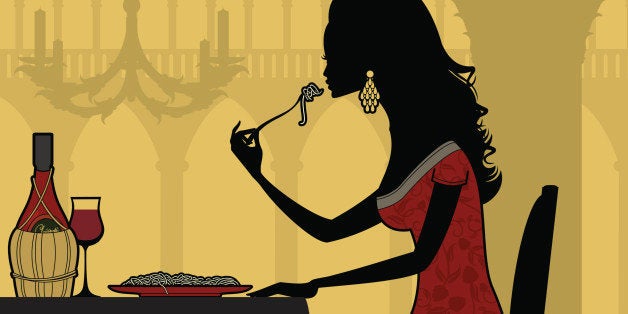 In December of 2015, I traveled to Iceland for my first solo trip adventure. In spring of 2016, I embarked on an experience a bit closer to home by solo dining in New York City.
The two scenarios are drastically different, yet one in the same. After all, with the former I hopped on a plane by myself to a new country completely alone, whereas in New York City -- a place I've called home for the past three years -- I was simply walking into a new restaurant to have dinner alone.
As soon my feet touched ground when I got back from Iceland, I wanted to be in the air again. I wanted to book a flight and go on another solo trip immediately to Amsterdam or Copenhagen or London or Chicago and while the final destination mattered, the actual act of going somewhere mattered more. Like all things in life, it's hard to save money and continue to see friends and family and pursue your passions. The reality of the situation weighed heavy on my heart, and the only way to escape this sinking feeling was time and hard work so I could eventually save up enough money to go on another trip.
So, when a friend of mine shared a notification that a vegetarian restaurant was having a Solo Diner's Week, I knew I had to attend. I've never intentionally had dinner alone in a restaurant in New York City before (single sliced pizza slices don't count). The only reason I would go to a restaurant would be with a group of friends to catch up or if I'm on a date or for some other celebratory reason with family or other friends. But there's something so different about going out to a restaurant sitting and eating alone. It's so private and yet so public.

"The journey to the center of the self is one of the greatest journeys of all."

Obviously, I'm not comparing the physical sites of a foreign land to the interior decoration of a restaurant. I'm comparing the act of being alone and how you have to rely on yourself and your thoughts to pass the time and realize that it's possible to enjoy your own company.
This act can also be done by reading a book in a park or doing a group fitness class alone, but those are both activities that don't have a negative stigma attached to it. Eating alone at a restaurant, along with solo travel, while looked down upon at times is actually perfectly acceptable and in fact should be strongly encouraged. The journey to the center of the self is one of the greatest journeys of all.
There's a certain vulnerability involved with putting yourself out there, whether traveling to a new country or stepping inside a restaurant and claiming that table or bar stool as your own. In a new country, there was no one to fall back on and I had to rely on myself. In Iceland, I had to figure out how to get to my hostel after my flight landed early in the morning and how to get around the country and figure out what I was going to do alone. When I took part in solo dining, I had to figure out what I was going to do with my time surrounded by other people and their friends and family. In both locations, I only had the comfort of my own thoughts to keep me company.
I stepped inside the modern vegetarian restaurant at the start of my reservation not knowing what to expect and a hostess guided me through the winding, packed tables to my bar stool, the place I would eat alone for the next hour and a half. Because it was a prix fix menu, the waitress came by my seat more often that night than one normally does and there were multiple courses that I sat through and experienced, and each one provided a new moment of contemplation. The flow of other conversations permeated my thoughts and provided a nice background noise to my dining experience.
The food came out in waves and the sharp flavors of portobello mousse and cauliflower and curry to their colorful homemade breads made my mouth water and I began to loosen up and relax. There was an empty seat to my right, and two women on my left. The women directly next to me was texting or reading articles on her phone, whereas the woman to the far left read from a large hardcover book. I had brought Marina Keegan's book, The Opposite of Loneliness, with me and spent my time in between meals reading and texting on my phone because I was so self-conscious at first and had no idea how to calm the racing thoughts in my head. I took out my phone and texted my friends and it wasn't until one of them told me to put away my phone and enjoy my meal that I actually did.
While I was surrounded by people and my thoughts were kept to myself, I felt that liberated feeling I experienced when I boarded the plane to a new country. Only this time, I wasn't outwardly going anywhere. I was heading to a new experience in my soul.

"Just because I'm not on another flight to a new place doesn't mean I need to stop exploring places at home."

I used to think that a solo diner at a restaurant sitting on a backless bar stool or a lone person at the bar didn't have any friends or have anyone to enjoy these commercial activities with. This probably stems from childhood memories and pop culture references of students eating alone, even though some television characters exist like Rory Gilmore, who enjoyed her time alone reading in the school cafeteria or in open public places.
However, I've found that people who spend time alone aren't lonely. Quite the opposite is true. The people who are experiencing life events alone probably have more confidence in themselves and are more self-assured than initially expected.
By eating alone in New York City, I was able to invoke thoughts from my solo trip and realize how important it was to be alone. When I sat by myself with nobody to talk to except for the waitress, it helped channel my thoughts of living in the moment. Just because I'm not on another flight to a new place doesn't mean I need to stop exploring places at home.
The people next to me at the bar were also solo diners, here for their own reasons just like I was. We sat together but we didn't say anything to each other, but maybe that's the point. The unspoken bond between human beings in silence. There was no need for conversation between us. Sometimes, more can be communicated with our actions and silence than with words.
Like traveling abroad alone and meeting other solo travelers, it was comforting to be in a place with other solo diners. I'm living my life the best that I can, and sometimes it's nice to experience what life has to offer alone yet surrounded by other people, before moving on with our separate lives after having shared this one solo moment together.
We don't know what you do for a living, but we do know you likely need a break. Therefore, we're challenging you (yes — busy, overworked, financially stretched you) to #TakeABreak.