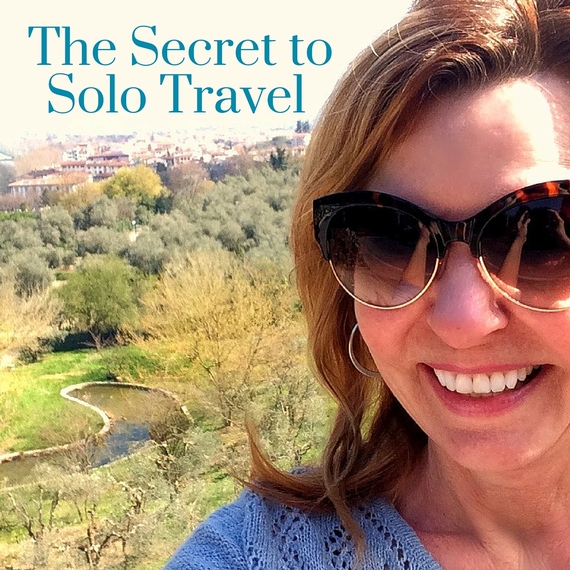 I recently returned from a two month solo adventure in Florence, Italy. It was a magical experience filled with one great memory after another.
A couple of days before I left, I had lunch with a couple of women from the States. One I'd known for a bit -- we met in Florence through an online connection and became fast friends. The other, Sandy, I just met that day at the restaurant.
Happy and glowing from my two months in Florence, I was feeling at home in my adopted city. It had been the trip of a lifetime for me and my enthusiasm was showing.
Sandy, also traveling alone, had been in Florence for a little less than a week. She wasn't happy. She felt alone, isolated and uncomfortable with her new surroundings.
I was surprised that she wasn't enjoying herself. After talking for a bit, Sandy shared that she wasn't a fan of 'online' connections, didn't have a Facebook page or other social media account -- and didn't want one. To her, the idea felt like an invasion into her personal life.
On the other hand, I'm an online enthusiast and have multiple Facebook accounts and social media connections. I'm online several times a day, often just briefly hopping on to share a pic or experience and checking to see what my friends are up to.
During my stay in Florence I'd had a wonderful time sharing my experiences with friends. Often I'd see something that was so fabulous I'd spontaneously jump on Facebook Live, the streaming video option, and show everyone what had me so excited. It was encouraging to see several hundred people click on to watch the video in the next few days. I quickly learned that sharing my experience was fun for others.
Posting pictures on Instagram and Facebook helped me bring my friends and family along and they got instant updates on what I was doing. Regardless of where I went or what I was doing, I had a huge support group traveling along with me.
They'd join in the fun and make comments and share my posts from my journey. For those who had an interest in travel or Italy in particular, it was a chance for them to 'arm chair' travel with me. I even met a few new friends who found me online and started following along.
In addition to the community of people that was following my journey, I now have an online travel journal of my trip. Complete with pictures, video and a timeline of my experiences.
My new friend Sandy wasn't experiencing anything close to what I had. She spent her days alone and had no one to share her joys or thoughts with. For her, it was a much more difficult and different experience.
I'm now convinced that having a supportive, engaged online community is one of the secrets to successful solo travel. There'a a big difference between seeing something alone and seeing something you then share with a connected group of people who are looking forward to sharing in your experiences. It adds to the pleasure and excitement of the day.
Life is Better with Connections
I've been often asked if I got lonely during my two month trip. My answer is "Not once." I always felt I had a group of friends with me and truly felt connected to so many who were excited about my journey and what was next on the agenda. I never felt alone.
It's also a big joy for me to watch my friends share their journeys. My comments are often "Keep the pics coming -- I want to follow along with you!" It's a chance for me to keep connected when I can't be right there with them. I love it and get the added bonus of an extra 'arm chair' trip.
If you have solo travel plans in your future, I highly recommend that you 'bring your friends along with you.' It's easy and takes just a few minutes a day. It will immeasurably add to your fun and your friends will be so glad for the free trip!
PHOTO GALLERY
7 Hot Travel Trends For Boomers
Calling all HuffPost superfans!
Sign up for membership to become a founding member and help shape HuffPost's next chapter