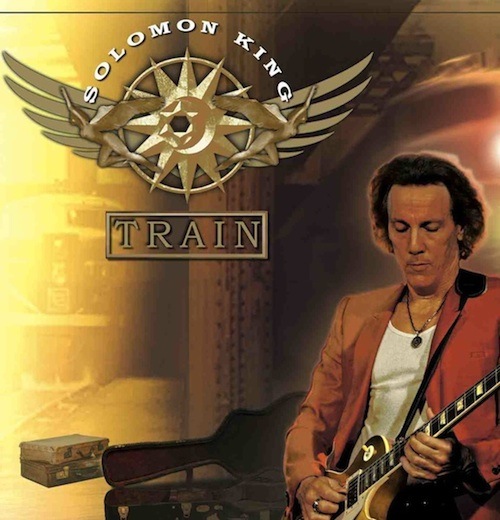 I was with my musician pal Solomon King at Arcadia Blues Club recently chatting about Train his excellent upcoming record of "new school blues," which includes some modern riffs on traditional Blues...and beyond. We talked about how you can go into a bar somewhere, anywhere, and your world is caving in -- you got the pink slip at work, your girl left and took your pooch, and then to add insult to injury your project got the kibosh! Yeah, you got them bigtime blues. But then you hear a song and suddenly your perspective changes.
King, who's originally from Motown, cut his baby music teeth at old school L.A. Blues bars like downtown's Babe's and Ricky's Inn. He tells a story about Mama who ran this great former club: "I was at Mama's place, when she wasn't feeling well, and when it was my turn to play, she whispered, 'Solomon, give me some of my medicine.' And, if the music was played well, it'd make her feel better. That's some powerful medicine."
King, who earned a Grammy Awards entrant nomination in Contemporary Blues for his Under the Sun record in 2009, was inspired by Mama's story to name his 2011 CD Medicine, a recording which included a stripped down, gorgeous version of the original Phil Spector-produced Be My Baby. Coincidentally, King plays Spector in the intriguing indie movie The Phil Spector Incident.
In honor of Mama who passed in 2009, a mess of L.A. musicians including King were getting together this spring (March 23) at the Barbara Morrison Performing Arts Center for a Reunion Jam. In fact, King says the Blues are very much alive and kicking in Los Angeles. BMPAC presents a Spring Blues Festival in May, and King says Blues jams go down every night in and around L.A. -- from Norwood Bar (North Hills), ABC (Arcadia), The Joint (West L.A.), to Pat's Cocktail Lounge (NoHo), among others.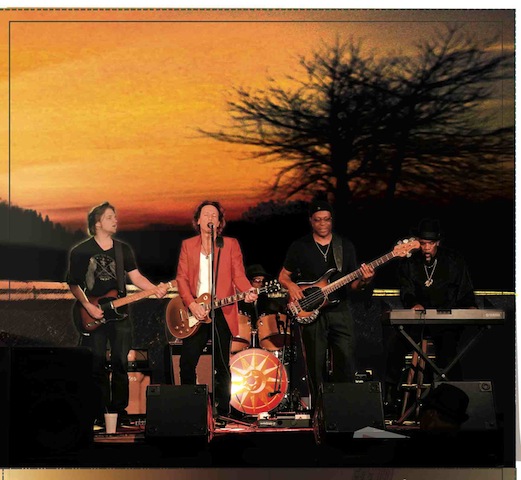 Solomon King and The Chosen
King's present band The Chosen includes three black veteran bluesmen and the members' ages range from 25 to 70, but he feels the Blues have broadened their scope beyond the black experience. "On Train, I pay homage to traditional tunes, but Blues are no longer an expression of just the black experience, especially with the mashing up of cultures in America. Many of us growing up in the '70s, experienced our first Blues music through great white artists like Jeff Beck and Stevie Ray Vaughan. The Blues still reflect society -- but it's almost a post-black experience now as even our mixed race President Obama represents a new, multiracial 21st-century America. Society and the Blues are a lot different than in the 50s, so with Train I didn't want to just recycle delta or big city Blues."
For King, Blues music is a dynamic, living organism, and he feels a responsibility to keep that "train" moving forward:
"Train kicks off with Baby Does Me Good, a Bo Diddley-esque tune with primal beats, cool backup vocals, and some wicked slide. Slow Blues and Great Wall are also old school Blues given a modern punch. Then we do Bad to Me which has a Blues rock feel maybe like early Cream when they did Crossroads, a Robert Johnson cover. All American music forms -- jazz, be-bop, rock and roll, come from the Blues. Even country has some roots in the Blues, so we threw in a boot-stomping country goes Hollywood tune, Country Song, which harks back to the Stones' Wild Horses."
King and his band, who've been tightening their infectious sound with over 100 gigs from Chicago to the West Coast and Hawaii, finish off the record with two standout tunes. The title song, Train, resonates with Lou Reed's machismo. It opens with a thunderous rhythm section, overlaid by dual guitars that burn with fuzzy power chords, and it's all driven by King's slow, swaggering vocals.
Train: "Maybe it's my clothes or the way the bones fit my face/maybe my soul has lost its way/well it's all of my love, all of my love's in vain/I'm staying down here at the station waiting for my train..."

"We've been honing our live sound, and the record and especially the title track is an evolution of where we've come from, and where we're going. The lyrics suggest that if it's all for nothing then I'm just going to hang out here and live this life. My train may or may not come. But right at the end, I sing, 'here it comes, my train' -- so it's a hopeful note. Or not. Maybe we're all just deluded."
Train's final song, Blue Angel, is almost a prayer "thanking the Blues angel, for teaching us that love is real, and acknowledging my responsibility to help move the Blues standard forward."
With Solomon King, the Blues are in good hands.
Solomon King's Train is available April 1 at CD Baby, Amazon.com and iTunes - http://solomonkingmusic.com/fr_home.cfm

Also follow Ashley Jude Collie on Facebook and Twitter: @ashleycollie
Related
Popular in the Community