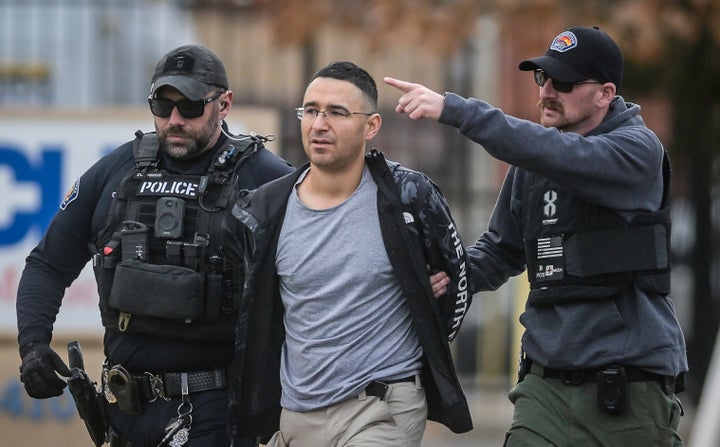 Police in Albuquerque, New Mexico, arrested a former Republican candidate for the state House of Representatives on Monday in connection with multiple shootings at local Democratic politicians' homes.
Solomon Peña is accused of conspiring with and paying four other men to shoot at the homes of two county commissioners and two state legislators, Albuquerque Police Chief Harold Medina said. He was arrested after a brief standoff with a police SWAT team.
The department has been investigating at least six shootings from Dec. 4 to Jan. 5. Four of those have been linked to Peña, police said, and two others are still under investigation.
"It is believed that he is the mastermind that was behind this," Medina said at a news conference Monday.
On Jan. 3, multiple shots were fired at the home of state Rep. Linda Lopez, including three bullets that went through her 10-year-old daughter's bedroom. Police alleged that Peña attempted to fire a rifle at the home himself but that the weapon malfunctioned and a man in the car took over with a handgun.
A police traffic stop about an hour after the shooting turned out to be key to the investigation.
During the stop, the driver, Jose Trujillo, was found to have an unrelated felony warrant out for his arrest, police said. Two firearms were confiscated from the vehicle, and the ammunition was matched with shell casings found at Lopez's home. The vehicle was registered to Peña, police said.
In addition to the firearms records, police used cellphone records and surveillance footage to piece together answers.
During one attack on Dec. 11, at least a dozen bullets were fired at the home of a Bernalillo County commissioner, Debbie O'Malley, The Albuquerque Journal reported. The home of another Bernalillo County commissioner, Adriann Barboa, became what is believed to be the first target on Dec. 4.
Peña launched an unsuccessful bid for New Mexico's 14th House District in 2022, losing by a decisive 47 percentage points to his Democratic opponent, state Rep. Miguel Garcia.
He faced criticism during his campaign after Garcia filed a suit to disqualify him from office over a 2008 conviction for stealing in a "smash and grab" robbery. Peña served seven years in prison, but a judge ruled that laws barring convicted felons from office were unconstitutional.
Peña ― an outspoken supporter of former President Donald Trump ― has continued to dispute the results of the race, claiming election fraud, The Albuquerque Journal noted.
"Fundamentally, at the end of the day, this was about a right-wing radical, an election denier who was arrested today and someone who did the worst imaginable thing you can do when you have a political disagreement, which is turn that to violence," Albuquerque Mayor Tim Keller, a Democrat, said at the Monday news conference.
"Disagreements take place. We know we don't always agree with our elected officials. But that should never, ever lead to violence," the mayor said.
Popular in the Community