A former New Mexico Republican candidate arrested in a series of drive-by shootings at Democratic officials' homes is now facing federal charges in the attacks that allegedly involved a machine gun.
Solomon Peña, who was arrested in January on state charges related to the shootings, is accused of organizing and carrying out at least one of the four attacks in response to his November election defeat, according to an 11-count indictment unsealed by the Justice Department on Wednesday.
Peña is charged with two alleged co-conspirators, Demetrio Trujillo, 41, and Jose Trujillo, 22, with conspiracy, interference with federally protected activities, and firearms offenses, including the use of a machine gun.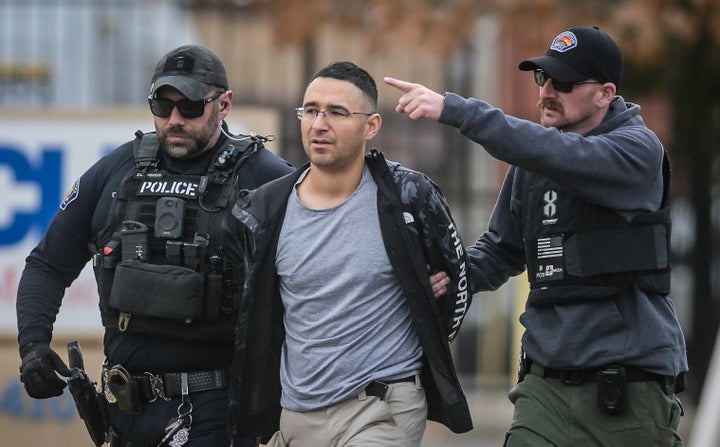 Peña carried out the attacks after first visiting the homes of at least three Bernalillo County commissioners and urging them not to certify the state House election results, claiming the vote was "rigged" against him, prosecutors said.
When these efforts failed, authorities said, Peña and his hired help shot up the homes of two Bernalillo County commissioners and two New Mexico state legislators between Dec. 4, 2022, and Jan. 3. Children and relatives of his intended targets were inside during at least three of the attacks, though no one was injured, authorities said.
Attorney Elizabeth Honce, who is representing Peña in the federal charges, told HuffPost Thursday that he "maintains his innocence of these charges."
Peña pleaded not guilty in February to the initial 14 charges and faces a mandatory minimum sentence of 60 years in prison if convicted of the federal charges, the Justice Department said.
"There is no room in our democracy for politically motivated violence, especially when it is used to undermine election results," Assistant Attorney General Kenneth A. Polite Jr. said in a statement.
Jose Trujillo was also charged with possession with intent to distribute fentanyl.
Peña has a history of criminal convictions and was released from prison in 2016. He was ordered by a judge in January to remain jailed until his state trial, which is scheduled to start next week.
Popular in the Community