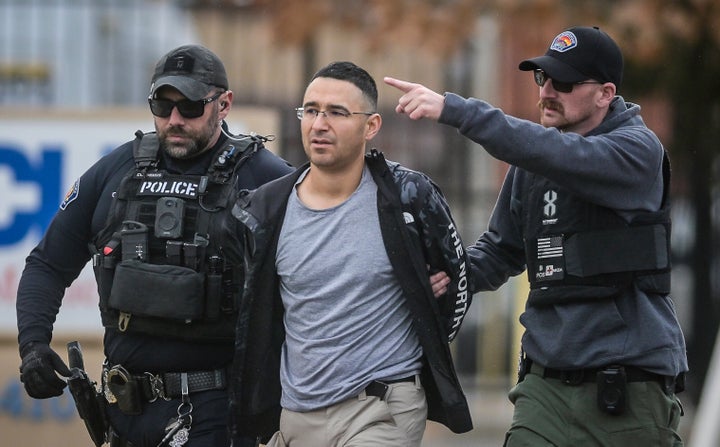 A failed Republican candidate for New Mexico's state House has been indicted by a Bernalillo County grand jury for allegedly planning shootings targeting local Democratic officials in the state.
Solomon Peña, who has been described by Albuquerque police as the "mastermind" behind the attacks, faces a total of 14 criminal charges, according to a statement by the district attorney's office released Monday.
Those include three counts of criminal solicitation to commit shooting at a dwelling or occupied building, two counts of conspiracy to commit shooting at a dwelling or occupied building, and two counts of unlawful taking of a motor vehicle, the DA's office said.
"We want to thank the Albuquerque Police Department and our other law enforcement partners for bringing Mr. Pena to justice," Bernalillo County District Attorney Sam Bregman said in the statement. "An attack on elected leaders is an attack on our democracy."
Peña's lawyer has not commented on the latest developments.
Peña was arrested earlier this month for allegedly conspiring with and paying four other men to carry out four shootings between Dec. 4 and Jan. 5, aimed at two county commissioners, Adriann Barboa and Debbie O'Malley, and two state legislators, state Rep. Javier Martínez and state Sen. Linda Lopez.
The police department said it is investigating at least six shootings, four of which involved Peña. No one was hurt in the shootings.
Peña allegedly supplied the guns used in the shootings, recommended using stolen cars to avoid being identified, and was also on the scene at the fourth shooting, investigators said at last week's detention hearing, according to CNN.
Peña, an ardent supporter of former President Donald Trump, was the GOP candidate in the race for the 14th District in New Mexico's House of Representatives, but lost to Democrat Miguel Garcia by over 47 percentage points.
"He was at my door and he was aggressive. He was an election denier," Barboa, the first person to be attacked in the shootings, told NBC News.
Peña was convicted in 2008 in a "smash and grab" robbery and served seven years in prison. While Garcia tried to disqualify Peña from running due to this offense, a judge ruled that laws barring people convicted of felonies from office were unconstitutional.
Popular in the Community