I'm pleased to be sharing my byline today with Mike Stevens, who leads our Washington State Chapter. Earlier this year, I had the opportunity to visit Seattle -- a city that knows rain -- and to see some of the innovative thinking around water management that has developed there. While the annual precipitation in Seattle isn't the highest in the US (in fact some measures put it a little below the national average!), the seasonality of Seattle's rain, combined with its hilly terrain means that water utilities and city planners must manage large amounts of stormwater running down city streets into the Pacific. The Conservancy is a leader in managing this challenge with nature.
In Seattle, we embrace the rain. We dress for it, play in it and enjoy the benefits of plentiful water and greenery as a result of it. But rain -- or more specifically stormwater run-off -- is destroying Puget Sound.
Puget Sound is a national treasure, the country's largest estuary as measured by its volume of water. It's a place where orcas, salmon and the giant Pacific octopus live right alongside one of the fastest-growing metropolitan areas in the country.
Once, when forests, marshes and grasslands covered the landscape, nature provided effective filters and reservoirs for the rain cascading down from the foothills, through river valleys and into the Sound, benefitting this web of life and the people who depend on it.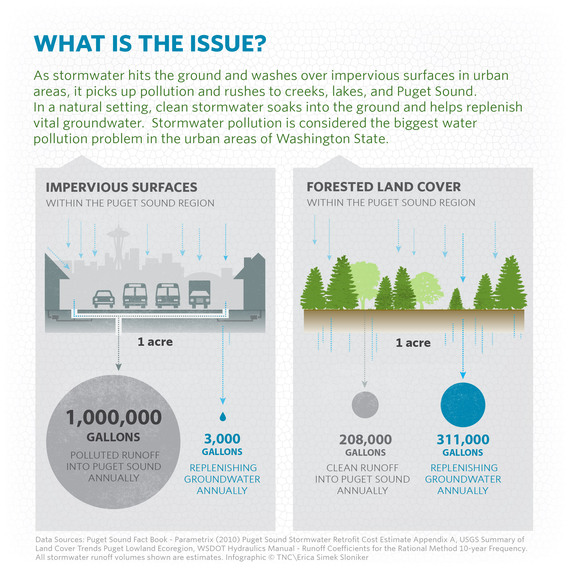 Today, the region's rapid growth means much of our rain is not filtered by nature, but instead runs though dirty streets and off parking lots, polluted by oil and chemicals like flame retardants and copper and zinc. The state Department of Ecology estimates that Puget Sound receives at least 14 million pounds of toxic pollutants annually.
This stormwater run-off causes flooding, harms wildlife, contaminates food sources and damages salmon runs, thus threatening the orcas who feed on them. Research shows this toxic mix can kill an adult fish in less than three hours.
The good news is that we can do something about it.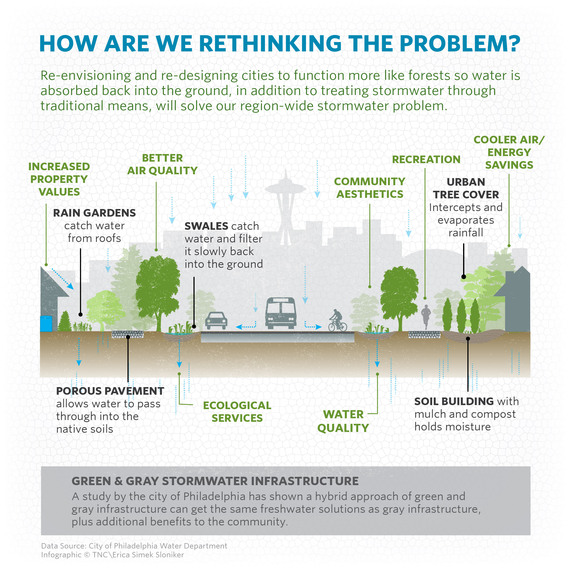 Nature itself holds solutions. Rain gardens, urban trees and plants, greenways and other natural infrastructure can treat stormwater. Not only that, bringing nature back into our cities brings enormous other benefits to people. Cities that work with nature are just better places to live. Health, ability to learn and overall happiness are just a few of the things that improve when nature is nearby, according to Outside Our Doors, a new report by The Nature Conservancy in Washington.
The scale of the stormwater challenge is immense and our solutions must be as well. We're in the midst of an unprecedented building boom, in Seattle and around Puget Sound. We have a window of opportunity now to reimagine cities and the role of nature in our increasingly urban lives. We can build cities that serve our economy, nature and the people who live in them.
Success will take a coordinated and sustained partnership between state and local leaders, businesses, research institutions, environmental non-profits and community members. It took 100 years of development to get us to this point. Our commitment to the future must be just as sustained. Together we can implement a multi-faceted plan to clean up stormwater and actually reverse the decline in the health of our beloved Sound.
We're already building the coalitions and advancing the ideas to make this happen.
Breakthrough work has begun to launch a coordinated approach with ambitious goals. Over the next five years, we will work with our partners to clean up a billion gallons of stormwater before it reaches Puget Sound. We will plant a million trees to hold and filter water, while sequestering carbon and enhancing our cities. We'll start with 20,000 new rain gardens, demonstrating the value of natural solutions in tackling a big problem.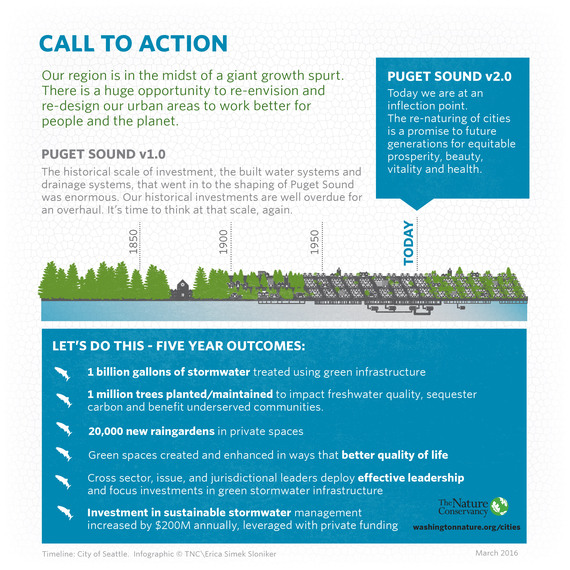 This integrated and sustained approach to managing stormwater, bringing natural solutions to urban areas and restoring rivers, lakes and oceans to health can serve as a model for cities across the globe. As we make progress on Puget Sound, we are among several cities where the Conservancy is leading with a scalable approach that can create long-term impact in cities everywhere.
Puget Sound is a place where orcas swim off our downtown coastline, salmon head home to spawn via urban creeks and the waters have sustained native cultures for centuries. Our location is unique but our challenges and the urgency to solve them is shared by urban areas around the world. We know what we must do to forge a new path for cities and nature for generations to come. Now it's time to act.
Can all cities be like Seattle? Across the country, 85 percent of water pollution comes from stormwater runoff, and each year, more of that pollution comes from cities. In other places, seasonal high water causes significant flooding and poses risks to people and property. In Seattle, The Nature Conservancy aims to create thousands of rain gardens, floodplains and other natural solutions to capture and filter this water; and we're bringing these same solutions to the nation and the world - in Washington DC; China and Latin America. Often, these natural solutions are more cost-effective than water treatment costs and new storm sewer infrastructure, and they provide additional benefits to cities, from wildlife habitat to green space for urban residents. As Mike says, the solutions are clear: Now is the time to act.

Support HuffPost
The Stakes Have Never Been Higher
Related
Popular in the Community