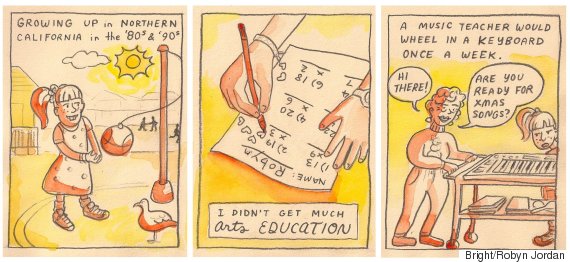 In what might be the first example of a solutions journalism comic strip, cartoonist and elementary school art teacher Robyn Jordan has used illustrations to show how Seattle schools are making art a priority again.
In too many school systems nationwide, art is simply not a valued part of the curriculum. Research from past years shows that art was not a requirement in more than 40 percent of secondary schools, Jordan writes on Bright, Medium's initiative about solutions and innovation in the world of education. But a new collaboration between Seattle's public schools and the Seattle Office of Arts and Culture hopes to bring art back to the forefront of learning.
Panel by panel, Jordan takes readers through the history of arts education in Seattle, from budget cuts in the early 2000s and racial learning gaps to the creation of faculty art positions and strategic planning to incorporate art into younger grades.
The goal by 2020 is to have every elementary school student receive at least 60 minutes of art and 60 minutes of music each week, while every middle school student will receive two semesters of art and every high school student will receive four semesters.
One reason for the newfound excitement around the arts in Seattle is technology. There is an increasing demand in the city for skilled technology, science and engineering workers, and the skills needed to be successful in those areas are the same skills taught through art, Jordan argues.
The What's Working Honor Roll highlights some of the best reporting and analysis, from a range of media outlets, on all the ways people are working toward solutions to some of our greatest challenges. If you know a story you think should be on our Honor Roll, please send an email to our editor Catherine Taibi via catherine.taibi@huffingtonpost.com with the subject line "WHAT'S WORKING."
REAL LIFE. REAL NEWS. REAL VOICES.
Help us tell more of the stories that matter from voices that too often remain unheard.