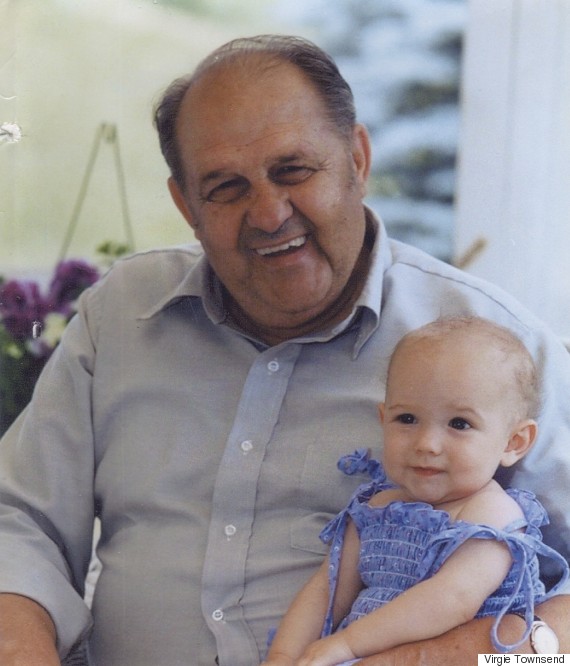 Nelson with his granddaughter, Virgie.
Since my childhood, my mom has told me, "Your grandfather's best friend was killed beside him on D-Day."
She uses the same phrase every time: "killed beside him." As a child, I understood this meant my grandfather and his friend were heroes, but it also explained why Grampy struggled to talk about it. He would mention his army service and then change the subject -- hit-and-run reminiscing. He wanted to share his past because it was a heavy burden, but reliving it was painful.
I adored my grandfather, Nelson Menard. I loved his round face and stomach, and his lumpy nose that had been broken repeatedly when he played minor league baseball for the Red Sox farm team, where he once shared a bench with Babe Ruth.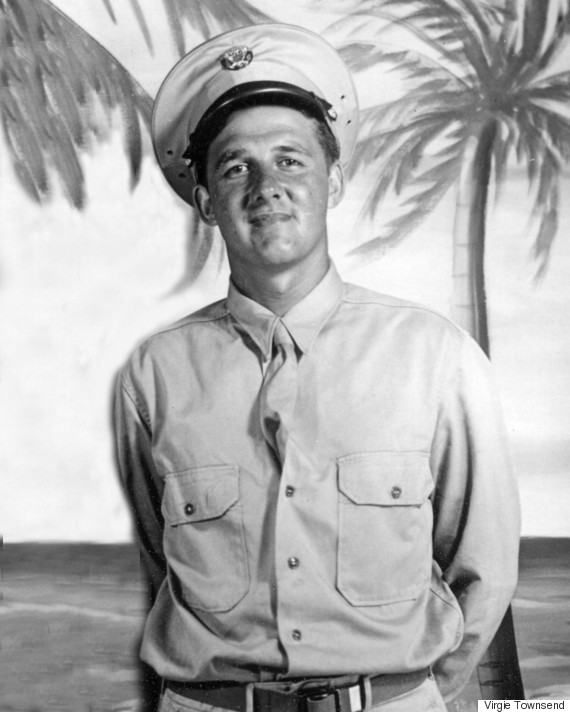 Nelson Menard as a soldier.
His mother died when he was four, and his father abandoned him in an orphanage, but Grampy was a loving person who serenaded his daughters and granddaughters with the 1925 hit "Yes, Sir! That's My Baby" in his staccato Massachusetts accent.
While visiting my grandparents in Florida at age 13, Grampy walked into my room, sat down, and opened up an old photo album. Unprompted, he had brought me his pictures from when he was World War II soldier. In 1942, he was among the first men in his town to be drafted.
"It was the only lottery I ever won," he sometimes joked.
As Grampy turned the pages bearing black-and-white photos of young men in their olive-drab uniforms, we observed his fellow soldiers with quiet reverence. He had been a radioman in the first division to land on Omaha Beach on D-Day. Many of the men in his photos had been killed more than 50 years before, and he was with them.
On every page, I looked for an indication that one of the photos was more important to him than the others -- for him to pinpoint a picture of his best friend. He didn't. Aside from when he told my mom that his friend died on D-Day, Grampy didn't mention him. He didn't say his name, hometown, or occupation, nor did he share when they met or what made them close. We knew only one thing: that his death had been horrible and horrible to witness.
Because I didn't want to hurt my grandfather, I didn't ask about his best friend. I hoped he would tell me in his own time, just as he shared his photos spontaneously. Still, I wondered about this nameless man. The human heart longs to love people that our dear ones love.
Each family nurtures its own mythology -- some of it true, some of it not, much of it unverifiable. The family members tell stories about each other until their place within the family seems fixed like a single, clear star within a constellation. I returned to the mystery of Grampy's best friend over and over, perceiving it as essential to understanding the grandfather I idolized.
My grandparents told stories about me, too. They repeatedly reminded me of the time I fell out of their moving van when I was five. I had been pretending that I was discovering artifacts in a magical cave when I tripped.
"You started rolling toward the door like a ball," my grandfather would say.
"And right before you hit the pavement, Grampy caught you," my grandmother chimed in.
I listened to this anecdote countless times. It was a testimony of my grandfather's love, and an insight into how my grandparents saw me: A little explorer whose curiosity could get her into trouble.
The one time my grandfather became noticeably annoyed with me, it was because my curiosity crossed the line.
"What unit were you in during the war?" I asked.
"Sixteenth Infantry, 1st Division," he said.
"What was your army ID number?"
He recited it from memory and then, becoming suspicious, blurted, "Hey, what's all this for?"
"My professor knows a historian who specializes in interviewing D-Day veterans, and I thought you might want to talk to him." I was in my early 20s, and hoped he could get some relief from speaking with someone who knew how to talk to D-Day veterans.
"Oh, Jesus Christ," Grampy said in a tone he usually reserved for my grandmother's backseat driving. "I don't want to do that. I don't remember half of it anyway."
I could fill in the rest of the sentence: And the other half, I don't want to remember.
Ashamed that I upset him, I dropped the idea. Loving someone requires constantly negotiating when to encourage them to push beyond their comfort zones and when to respect their boundaries.
But two years later, my mom and stepdad, John, convinced Grampy to let John interview him on camera. They argued that it would be a precious memento for his family. At the time, Grampy was 91 and had Parkinson's disease.
They filmed the video in 2010, but none of us viewed it until Grampy died two years later.
I watched the movie for the first time a few hours after he passed away. After sitting by his bedside for three days, hearing pneumonia rattle in his lungs as his lips puckered and he struggled to suck in air, I needed to see him healthy.
When he appeared on the computer, I burst into tears, knowing that I would never again hear his voice or see him laugh except on a screen. I turned it off after 20 minutes.
For eight months, I couldn't bring myself to watch the video. But as his birthday approached, I wanted to see him again. I waited until I was alone and put on the movie, and when that dear old face appeared, I whispered, "Hi, Grampy."
I watched it attentively, unaware that a lifelong mystery was about to be solved. At the video's 42-minute mark, John asked, "Did you keep in contact with any of the guys you were overseas with?"
"Oh, for a while," Grampy said. "But after D-Day, with so many of them killed, you didn't make friends the way you did."
"So, your group of guys at D-Day was basically wiped out," said John.
"A good many of them, yeah. My best friend was killed, and he got the Congressional Medal of Honor."
Grampy's chin trembled, and he looked away. I wished I could reach through the screen and hug those arms that caught me as a child, that shook with Parkinson's in 2010, that lugged radio equipment to the shore of Omaha Beach in 1944.
Sixty-six years after D-Day, Grampy didn't say "my best friend at the time," or just "my friend." It was "my best friend," present tense, forever.
"What was his name?" John asked.
"John Pinder, from Pennsylvania," Grampy replied, eyes downcast. "Great guy."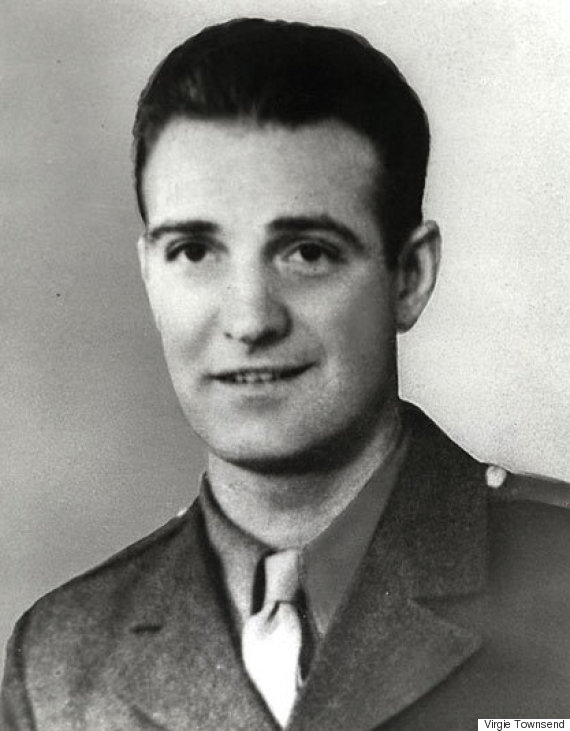 Congressional Medal of Honor recipient John J. "Joe" Pinder, Jr.
There it was: The name our family had wondered about for decades. I Googled it immediately, and finally saw a photo of the mythical man. He had a lean, rectangular face with a strong jaw, dark, slicked back hair, and a slightly crooked smile, a little wrier on the left side. Driven by my lifelong nosiness, I read everything I could find about him, and began to understand why the two men bonded.
In 1944, John Joseph "Joe" Pinder, Jr., and Grampy were radio servicemen for the 16th Infantry, 1st Division. According to historian John C. McManus' book The Dead and Those About to Die: The Big Red One at Omaha Beach, Joe had served in Algeria and Sicily. D-Day was my grandfather's first battle. They began training together for D-Day in the fall of 1943.
Joe came from a steel-working family in Pittsburgh, where he had been the valedictorian of his high school class. Both he and Grampy had lost their mothers: Joe two years before, and Grampy as a little boy. Both men were minor league baseball players prior to the war. Grampy was 25, and Joe turned 32 on June 6, 1944 -- the day they sailed to Colleville-sur-Mer in a landing craft filled with their radio equipment.
The army decided to invade on June 6 because it promised a high tide and full moon, but hadn't predicted the choppy seas, which made the soldiers in their boats sick and destroyed much of Joe's and Grampy's equipment. Grampy told me that his was waterlogged and useless when they hit the beach. Without working radios, they couldn't coordinate the attack with other divisions or reach their command.
According to his Medal of Honor citation, Joe pulled one radio to the shore through waist-deep water, and was shot on the left side of his face. "The side of his face was left hanging and he could see only from one eye," a sergeant said, quoted in McManus' book. "He held his hanging flesh with one hand and gripped the radio and dragged it to shore."
He refused medical treatment and returned to the water three more times to retrieve working equipment. On the third trip, he was shot in the legs by a machine gun. Finally, as he and my grandfather worked on the beach to set up radio contact, Joe was struck again and killed.
We all love others across a chasm of experiences. We all struggle to comprehend the people who matter most to us. I can never be with my grandfather on Omaha Beach. I can never hear the post-war dreams that he and Joe shared in England, or the words of comfort they might have exchanged on that nauseating boat ride into Normandy. I will never see Joe disfigured, or pass from life to death. I will never experience the grief that my grandfather bore for almost 68 years, that he took with him to his deathbed. I can only be thankful that my grandfather went into battle with a friend by his side.
Our family's love for Joe continues. His story is woven into our story, and it was even before we knew his name.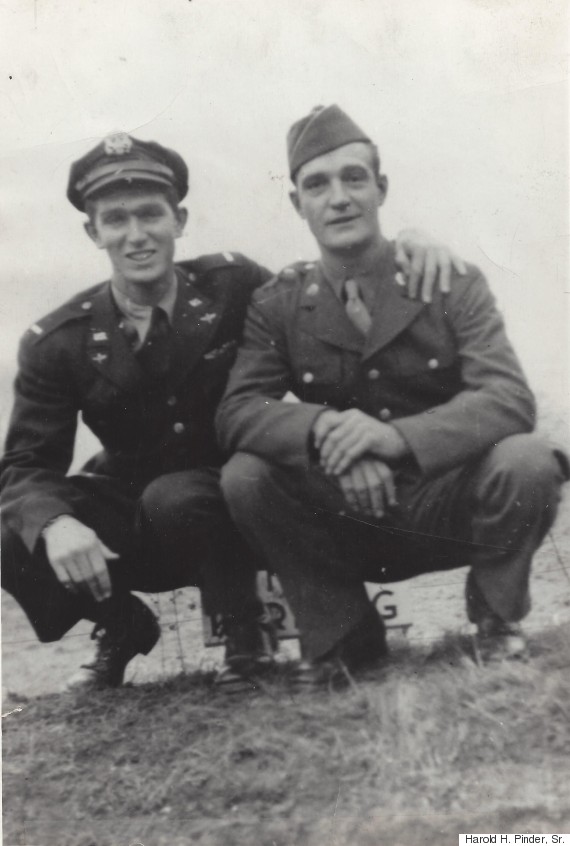 Joe's younger brother, Harold (left), was an Air Force bomber pilot during World War II. In January 1944, Nelson accompanied Joe to visit Harold in Bournemouth, England. It was the last time the Pinder brothers saw each other. During their visit, they posed for this final picture together. Photo courtesy of the family of Harold H. Pinder, Sr.