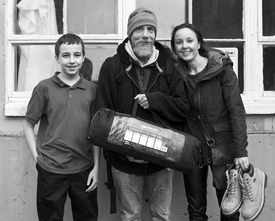 My friend Rex Hohlbein started the organization Facing Homelessness to help answer that question - and he believes the answer lies in compassion and connection.
The mission of Facing Homelessness is to change the negative stereotypes around homelessness so more people will become involved in solving it. As Rex often points out, it doesn't take a big solution to solve a big problem. It just takes a culmination of small gestures from a community of people in order to change the dynamic significantly.
Facing Homelessness is a vehicle for many of these gestures, providing an opportunity for ordinary people to fill in the cracks that our formal infrastructure isn't nimble enough to fill. Through a photo journal Facebook page, they share pictures and stories of people that are homeless, as well as community members who are opening their hearts to them. Often, there are
requests for specific resources that a person needs - a tarp, a set of paints or $40 to renew a driver's license. And amazingly, every single request that Facing Homelessness has put out there has been met by their 30K+ community members. "The beautiful thing about giving donations is that the giver is making a conscious step in making that connection," says Rex.
Rex told me a story about an encounter he had when he first started building relationships with people that are homeless. He invited a man named Darwin into his office to get out of the rain. After spending the day warming up there, Darwin told Rex how much it meant to him, "not because I was out of the rain, but because I got to be part of something normal." We might assume that because people that are experiencing homelessness are in close proximity to us, they feel like they are near us. As Darwin told Rex, "We feel like we are separated by a plexiglass divider from people living normal lives." When we walk by someone without making a connection - eye contact, a smile, a "hello" - we are building up our own plexiglass wall.
Getting involved with solving homelessness isn't about penciling in a date on our calendars to help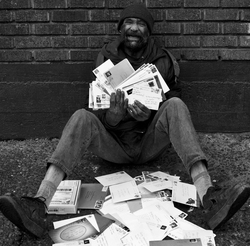 out. It's about constantly tearing down walls and connecting with people without judgment. It's about applying a filter to our view of other people - a "kindness lens," as Rex puts it. This can take many forms, but a few ideas include:
Lower your car window to say hello to someone holding a sign on the side of the road.
Pick up a few extra socks on your next Costco run to give to someone with soggy feet.
Buy a street newspaper, such as Real Change, from a homeless vendor.
With that kindness lens on, vote for initiatives that benefit those who need help (for example, we have the Housing Levy vote coming up in Seattle - and there are similar campaigns throughout the country).
For those of us who experience the comforts of having a home, a job and a community, it's so important to be aware of our own privilege - not so we feel guilty, but so we can pause and think before judging others. We can never know anyone's whole story, so we should not draw conclusions based on an incomplete story. All we can do is show compassion and love. As Rex puts it, "Everyone functions better when they are loved." Imagine a community where everyone acted with love instead of fear or judgment. I think Rex might be right: That could be a community in which homelessness is solved.
Related
Popular in the Community