The accessibility of housing in San Francisco has been an issue gaining steam over the past several years. Last December, Mayor Ed Lee announced an executive directive ordering relevant city departments to prioritize the permitting of new housing construction, including permanently affordable housing.
After Seattle significantly increased construction, rent hikes slowed even during a jobs boon that outpaced San Francisco's.
We took a closer look at the building permit data in Seattle and San Francisco to validate the legitimacy of the claim and better understand the relationship between construction activities and rental prices.
Comparing permits issued over time, it is clear that Seattle has consistently outperformed San Francisco since 2006.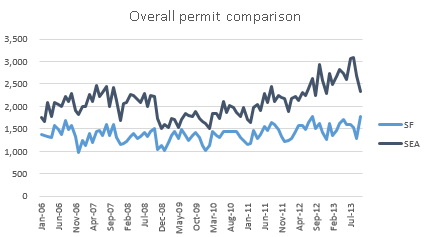 A look at project valuations reveals that aggregate remodeling and construction expenditures in San Francisco have actually exceeded those in Seattle, over the past four years (note: data for Nov. and Dec. 2013 was not included in the following chart):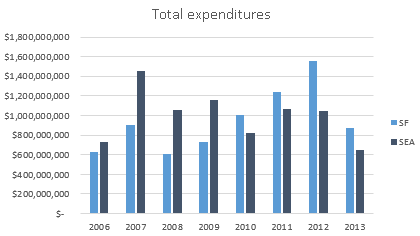 Although on a per capita basis, 2012 was the first year that San Francisco surpassed Seattle.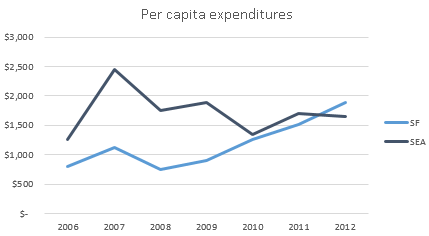 To reconcile these trends, we segmented permits based on whether the permit was residential or commercial in nature. This allows us to observe that even though Seattle had a considerable lead in residential permits over time, San Francisco led when it came to commercial permits.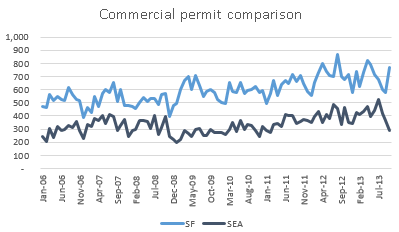 While residential projects occur with greater frequency than commercial work, their median value is significantly lower. So even though there have been more individual projects performed in Seattle over the past seven years, the total expenditures in San Francisco have been greater.
Overall expenditures don't necessarily correlate to increased housing inventory. A closer look at residential permits classified as "new construction" projects reveals a glaring disparity between Seattle and San Francisco since 2006.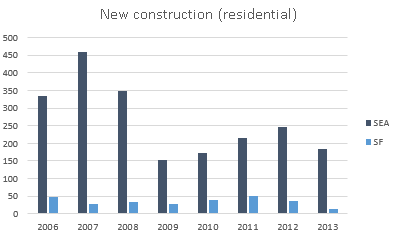 Using historical data from Apartment Rating, we then compared average monthly rent estimates (for one and two bedroom apartments) versus new construction permits issued over time in Seattle.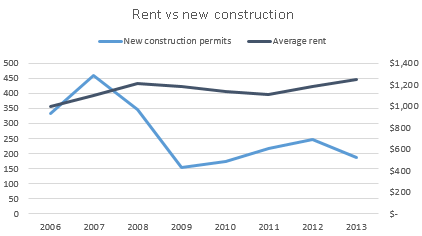 It seems clear that the 2007 jump in the residential construction permits was followed by a four-year decline in the average monthly rent paid by Seattle's citizens. It should be noted that the average monthly rent has increased over the past three years during a period of more moderate growth in residential new construction.
Comparing residential construction permits versus average rental rates in SF, we can see how a sharp drop in the issuance of permits seems to line up with a jump in average monthly rental rates.
Both comparisons suggest a meaningful inverse relationship between residential construction and rental rates.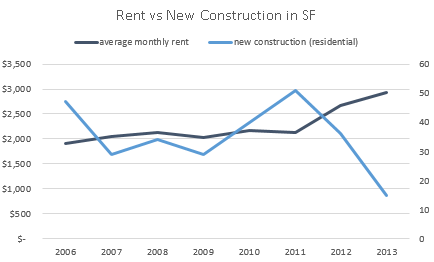 Moving forward, It will be interesting to see whether or not Mayor Lee's executive mandate will be the catalyst needed to accelerate housing development, which does seem to positively influence rental rates (by dropping them).
What remains to be seen is how developers, already hamstrung by existing affordable housing regulations in San Francisco, will react to increased regulation and preferential treatment for affordable housing projects in Lee's executive order.
Related
Popular in the Community