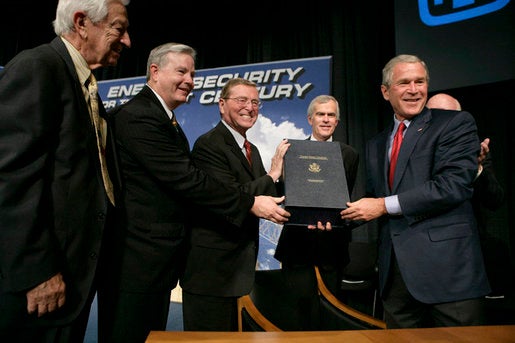 With President Obama seeking a fresh $447 billion government injection to boost the stalled economy, the GOP is touting the Solyndra debacle as evidence the last stimulus failed. And some have gone farther, including party chairman Reince Preibus, who suggested Solyndra investors got a sweet deal on the loans because one investor -- George Kaiser -- is an Obama fundraiser.
"Solyndra's downfall puts a spotlight on the kind of taxpayer-funded cronyism this White House said it would eliminate," Preibus said. "Before taxpayers are forced to spend another dime of stimulus money, the White House must explain why they were so reckless the first time around."
The White House will have some explaining to do Wednesday when the Energy and Commerce Committee demands to know how half a billion taxpayer dollars were squandered.
But the explanation is likely to include a history lesson that goes back to the GOP.
And more, the Energy Policy Act, which the Bush administration used to promote Solyndra, was passed by the same committee under the leadership of Rep. Joe Barton (R-Texas).
One Democrat noted that while the GOP has been having a field day with the involvement of an Obama bundler, another major investor in a similar position is Madrone Capital Partners, run by Walmart's Walton family -- major GOP donors.
While the FBI is investigating Solyndra, apparently over what it told officials about the loan, the root firm's problem may be that it simply could not compete with the falling prices being asked by China-backed and other Asian companies, according to various business analyses.
The Department of Energy, which oversaw the loan, is responsible for dozens more.
Popular in the Community