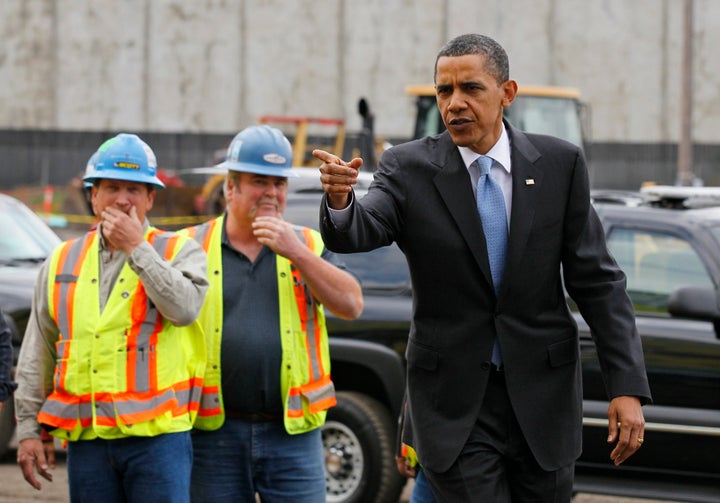 WASHINGTON -- As Solyndra Inc. made its bankruptcy filing official on Tuesday afternoon, Victoria Sanville, a prominent lobbyist who helped secure hundreds of millions of dollars in government money for the California solar company, is on the market for a job.
Once touted as a model of green energy, Solyndra received a $535 million federal loan guarantee from the U.S. government in 2009. The company has since laid off 1,100 workers and is now filing for Chapter 11 bankruptcy. Solyndra is currently $783.8 million in debt and says failing any new interest from buyers, it will be forced to shut down and sell off assets within the month.
Solyndra's success in securing federal subsidies -- and by extension its ability to sustain its short life as a company -- was due in no small part to an impressive list of lobbyists, a lineup that included former staffers from Congress's Energy and Commerce and Environment and Public Works committees. Before coming to Solyndra, Sanville worked as deputy chief of staff for Reps. Sam Graves (R-Mo.) and Peter Roskam (R-Ill.).
Sanville declined to comment for this story. In a letter obtained by The Huffington Post she wrote that despite the company's unfortunate news, she's "proud of what was accomplished in a short time frame" and "very grateful" for the experience working in government sales.
It is with great sadness that I write to you today. As many of you may have heard in DC, the company I work for unexpectedly announced it was filing for bankruptcy yesterday. I was extremely excited and optimistic about the continued growth of the company and the American jobs created. While solar panel manufacturing is a promising industry for our country, the economic timing just wasn't right for Solyndra.

Despite this news, I am proud of what was accomplished in a short time frame and am very grateful for all the opportunities of professional growth gained from working at the company, in particular in the areas of business development and government sales. It was a refreshing take outside of my 10 years of government work and now allows me to apply a real world business policy perspective in any future employment position.

I look forward to the next opportunity to come my way and to continue working with so many of you in DC and across the country.

I truly appreciate all the kind notes and words of encouragement I have received over the past 24 hours. Please continue to keep the 1,100 American workers, in particular those at the factory, in your prayers as they all wake up today to begin again.

Not everyone departed Solyndra so peaceably. On Friday, a former research engineer sued the company for failing to provide proper notice prior to termination; the plaintiff "and all similarly situated employees" seek to recover the 60 day' wages and benefits allegedly owed to them under the Worker Adjustment and Retraining Notification Act of 1988.
Solyndra has argued that since it was looking for new funding sources up until the eleventh hour, it is exempt from the rule. But Rep. Pete Stark (D-Calif.) disagrees. In a Labor Day letter, Stark made a formal appeal to the Fremont-based company to compensate its 1,100 terminated workers.
"The decision by Solyndra's executives to terminate more than 1,000 of its hardworking employees without warning and to immediately cut off further payment and benefits was reckless, irresponsible and heartless," Stark wrote in the letter. "It may also be illegal."
WATCH a Solyndra employee discuss how he learned of his termination:
Solyndra's failure comes after critics of the Obama administration's clean energy policies charged the government was continuing to fork over millions in subsidies despite every indication that the company could not survive in a competitive market. Conservatives on the House Energy and Commerce committee in July launched a probe of the loan guarantee issued by the Department of Energy to Solyndra in 2009.
"In an apparent rush to push stimulus dollars out the door, the Obama Administration wasted $535 million in taxpayer funds in guaranteeing a loan to a firm that has proven to be unviable in the global market," said Rep. Cliff Stearns (R-Fla.), chairman of the House Energy and Commerce Subcommittee on Oversight and Investigations, in a statement last week. "For months, we have been investigating how and why nearly half a billion dollars in taxpayer money was committed to this financially troubled company."
The Obama administration has defended its decision to invest in Solyndra, arguing not every innovative program it supports can succeed.
Related
Popular in the Community