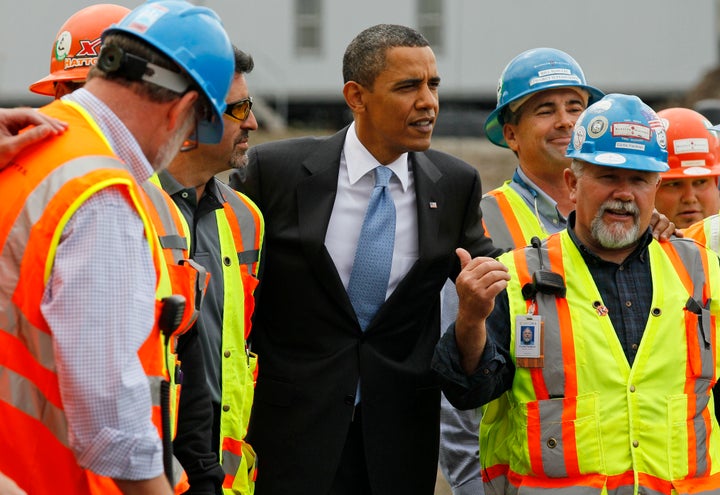 The company said it would be evaluating its options, which could include selling the business and licensing its technology. Roughly 1,100 employees were being laid off, the company said. A local NBC affiliate in California reported that employees were "standing around in disbelief" and that they were being handed "yellow envelopes with instructions on how to get their last checks."
The decision comes just weeks after the company -- and the Obama administration -- faced charges by conservative critics that Solyndra, based in Fremont, Calif., was being supported with generous government subsidies despite clear indications that it could not survive in the competitive energy marketplace.
"We are incredibly proud of our employees, and we would like to thank our investors, channel partners, customers and suppliers, for the years of support that allowed us to bring our innovative technology to market. Distributed rooftop solar power makes sense, and our customers clearly recognize the advantages of Solyndra systems," said Brian Harrison, the company's president and CEO, in a prepared statement. "Regulatory and policy uncertainties in recent months created significant near-term excess supply and price erosion. Raising incremental capital in this environment was not possible. This was an unexpected outcome and is most unfortunate."
In May, 2010, President Obama visited Solyndra and told an audience of employees that the "incredible, cutting-edge solar panels" being manufactured there were "testament to American ingenuity and dynamism and the fact that we continue to have the best universities in the world, the best technology in the world, and most importantly the best workers in the world."
But in July, Republican members of the House Energy and Commerce committee filed a subpoena seeking documents from the Office of Management and Budget relating to a $535 million loan guarantee issued to Solyndra by the Department of Energy in 2009.
"In an apparent rush to push stimulus dollars out the door, the Obama Administration wasted $535 million in taxpayer funds in guaranteeing a loan to a firm that has proven to be unviable in the global market," Rep. Cliff Stearns (R-Fla.), who heads up the subcommittee on oversight and investigations for the Energy and Commerce committee, said in an email Wednesday. "For months, we have been investigating how and why nearly half a billion dollars in taxpayer money was committed to this financially troubled company."
Harrison vehemently defended the company's performance in a July letter to House Republicans, writing that the federal loan guarantee had helped the company to build a new factory.
This loan guarantee was pursued by both the Bush and Obama Administrations. Private sector investors – who put more than $1 billion of their own money on the line – also saw great potential in the company.

We have always recognized that not every one of the innovative companies supported by our loans and loan guarantees would succeed, but we can't stop investing in game-changing technologies that are key to America's leadership in the global economy. These projects, which include more than 40 other companies, are on pace to create more than 60,000 jobs.

Congress recognized the risks inherent in such an effort, and wisely set aside funding to offset any potential defaults or losses. That funding made it possible to support such a broad, promising portfolio of investments, and is significantly greater than the amount that the government stands to lose on this transaction. While we are disappointed by this outcome, we continue to believe the clean energy jobs race is one that America can, must and will win.
According to the Department of Energy, the government's loss on Solyndra represents less than 2 percent of the total dollar value of the loan guarantees it has committed to date.
Rhone Resch, president of the Solar Energy Industries Association, said in an emailed statement that the "success of the solar industry cannot be viewed through the lens of one company. Like all industries, some companies will fare differently than others." Resch also defended the the DOE's loan guarantee program, calling it a success in helping to attract the private capital needed for solar projects and manufacturing plants.
"To date," Resch said, "solar projects that have received loan guarantees will help to deploy enough clean solar energy to power nearly 1 million homes and create tens of thousands of jobs across 28 states."
This article has been updated to include a quote from Rep. Stearns.
WATCH -- Solyndra employees being laid off:
Support HuffPost
The Stakes Have Never Been Higher
Related
Popular in the Community