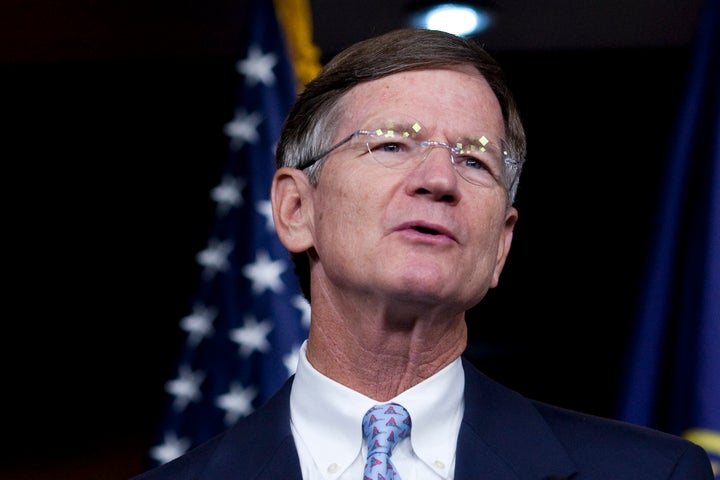 WASHINGTON -- House Judiciary Chairman Lamar Smith has asked Attorney General Eric Holder to appoint an outside investigator to probe whether the Obama administration had political motivations when it approved a $535 million federal loan guarantee in 2009 for Solyndra Inc., the politically connected solar company that filed Chapter 11 bankruptcy in earlier this month.
In a three-page letter to Attorney General Eric Holder on Monday, Smith (R-Texas) said the case needs an outside lawyer to "uncover the truth about whether politics played a role in influencing the Obama administration to favor Solyndra," which is currently under investigation by the Energy Department's inspector general.
The collapse of Solyndra has become a partisan rallying cry, with conservatives critics placing blame for Solyndra's loan approval squarely with the Obama administration, with some pointing to it as an example of failed stimulus.
"Solyndra's downfall puts a spotlight on the kind of taxpayer-funded cronyism this White House said it would eliminate," said Republican National Committee Chairman Reince Priebus in a statement last week. "After bundling tens of thousands of dollars for President Obama and his campaign, company officials were granted at least 20 visits to the White House and had Energy Department officials sitting in on company board meetings. Before taxpayers are forced to spend another dime of stimulus money, the White House must explain why they were so reckless the first time around."
But many of the Republican lawmakers bashing the Obama administration's over Solyndra -- including Smith -- have requested federal stimulus money for subsidizing similar renewable energy projects in their home states, according to a report by The New York Times.
"In 2009, Mr. Smith wrote to Mr. Chu asking him to approve loan guarantees from stimulus money for a Texas project proposed by Tessera Solar," wrote The New York Times' Eric Lipton. Sen. Mitch McConnell (R-Ky.) and Rep. Fred Upton (R-Mich.) meanwhile, have both asked the Obama administration to deliver clean-energy loan guarantees to their home state projects of choice, according to The Times. And Sen. David Vitter (R-La.), an outspoken critic of the Obama administration's handling of taxpayer money around Solyndra, reportedly wrote to the Energy Department no less than seven times in 2009 requesting federal subsidies for various clean-energy projects expected to benefit his home state, according to documents obtained by the Associated Press.
Smith, for his part, has emphasized that his concern regarding Solyndra has nothing to do with the validity of the stimulus program.
"The letter I sent to Attorney General Holder is not about the merits of the stimulus," said Smith in a statement, "but rather on whether improper considerations were taken into account by the Obama Administration in awarding money to Solyndra, a company with serious financial problems when the stimulus bill was passed, which has since filed for bankruptcy."
As HuffPost reported, the Bush administration laid the groundwork for Solyndra's loan guarantee, with the Energy Department advancing through the review and approval process between 2006 and 2009, and as the administration has emphasized repeatedly, all technology ventures come with some level of risk.
Touted as a model for green energy, Solyndra received a $535 million federal loan guarantee from the U.S. government in 2009. But before laying off 1,100 workers and and filing for Chapter 11 bankruptcy earlier in September, potentially leaving taxpayers on the hook for more than a half-billion dollars.
Solyndra executives Brian Harrison and W.G. Stover Jr. are expected to testify before the Judiciary Committee this week.
The Justice Department has confirmed it has received Smith's letter and is reviewing it.
Calling all HuffPost superfans!
Sign up for membership to become a founding member and help shape HuffPost's next chapter