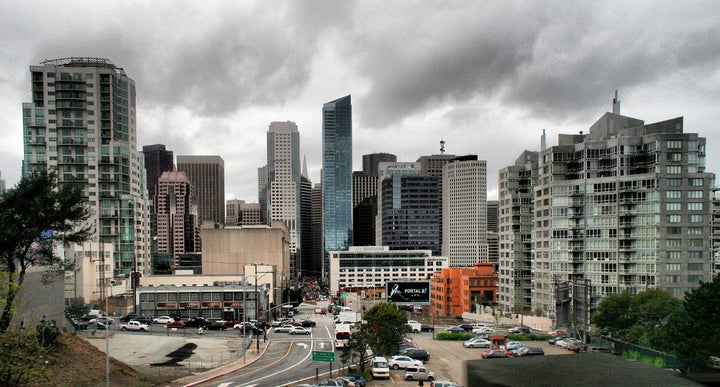 SAN FRANCISCO -- Walk through San Francisco's bustling SoMa neighborhood and you'd be forgiven for thinking that the economic roller coaster of the last 12 years was nothing more than a bad dream. Both the dot com boom's epic implosion and the misery of the Great Recession vanish behind a chattering group of enthusiastic engineers waiting in line for artisanal grilled cheese sandwiches.
At times, it seems like there has been steady economic growth in SoMa from the tech explosion of the late 1990s to today's boom. While the newfound expansion, one based on the seemingly limitless possibilities of social networking, is re-inventing the way people communicate from China to the Carribbean, its beating heart lies in SoMa's row after row of converted warehouses.
Over that same period, tech job growth in San Francisco surged by 16.1 percent -- the fastest of any area in the country, according to the report. That's one and a half times the rate in Silicon Valley during the past year and a half -- and growth has been the largest in SoMa. If tech is one of the most resilient parts of the U.S. economy, the strongest part of tech is in SoMa.
These jobs are largely generated by eager young companies champing at the bit to become the next Google or Microsoft, and they all need somewhere to house their employees. This need has led to a hyperactive scramble for office space that seems shocking so soon after an irrationally exuberant real estate market catalyzed the biggest financial collapse since the Great Depression.
In October, the real estate firm Colliers International released a report that found 40 tech companies were looking for approximately two million square feet of office space in San Francisco, primarily in SoMa. Mayor Ed Lee noted that the space they were seeking to fill was "[the] equivalent of nearly four Transamerica Pyramids."
For a variety of reasons, SoMa has developed into the northern, and most attractive, edge of Silicon Valley. Office spaces in the city's former warehouse district look like what most tech firms think a tech office should look like -- high ceilings, exposed brick walls and open floor plans that encourage collaboration. Not only do these offices fit the platonic ideal for "creative space," they're also in close proximity to the homes of the top talent the companies are hoping to attract.
Since its nadir in mid-2010, rents in the hot sections of SoMa have increased by 25 to 30 percent, according to Colin Yasukochi, director of operations at Jones Lang LaSalle, begging the question: Is this the next big bubble? And is it headed for an inevitable burst?
"The current boom is more San Francisco-centric than the one in the '90s," said Brady Barbier, associate managing director of Integra Realty Resources, the largest independent commercial real estate valuation and consulting firm in North America. "That one was more engineer-driven, and this one is more centered around social media and ad sales."
The employees fueling this boom are generally more interested than their code-jockey predecessors in living and working in San Francisco's vibrant metropolis instead of the South Bay's sprawling landscape of sleepy suburbs and nondescript office parks.
"The firms that feel strongly about attracting top talent will swallow the pill and buy the expensive space in the city," said Hessam Nadji, managing director at real estate investment services firm Marcus & Millichap.
Once the number of tech firms in SoMa hit a critical mass, movement of more companies into the neighborhood became a self-fulfilling prophecy. "With tech firms, everyone is looking for synergy. They want to be close to each other and share ideas," Barbier said.
Moving into SoMa's tight cluster not only affords young companies the opportunity to exchange ideas and dream up collaboration while standing in line for those aforementioned artisanal grilled cheese sandwiches, but also makes poaching talent from competitors significantly easier. Convincing that hotshot project manager to jump ship is considerably easier when his or her new commute would be essentially the same 10-minute bike ride he or she is already making, instead of a 45-minute slog through bumper-to-bumper traffic.
When a company is looking for space in San Francisco, experts in the commercial real estate community say the company will almost always end up finding something in the city.
"It rarely happens that a company starts looking at SF, decides it's too expensive and moves out to Walnut Creek," Barbier said. "If you're a company that wants to be in SF, chances are you're going to make it happen."
Colin Yasukochi of Jones Lang LaSalle agreed. "There are more companies coming into the city than San Francisco companies deciding to go somewhere else," he said.
Twitter's threat to leave San Francisco for the thriftier pastures of Brisbane represented a special case -- a firm outgrowing its space, just on the cusp of having a strong enough gravitational pull (a la Google, Facebook or Salesforce) to attract top talent no matter where it's located. For a company like Twitter, moving out of San Francisco carried both risk and reward -- on one hand, it wouldn't have to pay the city millions in payroll taxes on its impending IPO, but on the other hand, it might lose out on gobbling up the brilliant engineer who could otherwise design a "Twitter killer" for one of its competitors. Fortunately for Twitter co-founder Biz Stone and his colleagues, San Francisco officials -- panicked over the possibility that Twitter's departure could spark a mass exodus -- handed the micro-blogging powerhouse a massive tax break as an incentive to remain downtown.
San Francisco isn't Houston; it's not the type of city where new construction is simple or cheap. As a result, the supply of available office space in SoMa is drying up fast. Vacancy rates along the trendy Second Street corridor are in the single digits.
"It's beginning to be difficult to find 5,000 feet of creative space in SoMa," said Tom Owens, founder of New Urban Properties. Hence, landlords of the properties that do become available are able to hike their rents to heretofore unimaginable levels with the confidence that, somewhere out there, a mobile gaming or online coupon company will be more than happy to pay whatever amount is asked.
Real estate firms see this and, since it's supremely difficult to just create a new building from the ground up, they opt for the next best thing.
As a result, SoMa has seen a spike in the number of firms engaging in what's called "value-added investing." Investors take an already-existing property that is unfit for commercial use, renovate it, and then sell it within a few years to a larger firm looking to hold onto it for the longer term. It's a riskier endeavor than simply renting out an established property and riding out the natural increase in rent that inevitably comes with an improving economy, but in an area eager for new development, it's virtually the only way to expand the pool of available space.
A year ago, these "value-added investing" projects would have had a much more difficult time finding financing. Now there's no shortage of backers. "There's no credit crunch for projects that make sense," Barbier said.
Despite surging demand in the market, the recent explosion in prices remains a source of unease.
"As an appraiser, any time you see excessive growth, it just makes you nervous," said Mark Linne, executive vice president of the real estate valuation services company Appraisal World. "I don't see rent growth of 25 percent being sustainable."
Even though it's unlikely that the current skyrocketing rent growth will continue indefinitely, that doesn't mean a crash is inevitable, experts say. There's the strong probability that rents will stabilize at a fairly high level and that many companies will continue to pay them. Others, priced out of this particular market, may move to different parts of the city, such as the Financial District, which is increasingly remodeling floors of its towering office buildings to more closely resemble SoMa's creative spaces, or may follow Twitter's example and relocate to the rapidly redeveloping mid-Market area.
If what's happening in SoMa really is a bubble, the shifting of some development energy to other areas in the city may safely let out enough air for the market to stabilize. On the other hand, if what's going on is actually just part of a larger social media bubble, then all bets are off.
"Conventional wisdom, and if you look back at history, is that [this market will be] cyclical," Barbier said. "Combined with the current economic instability, I think this will be a few-year deal, and some of these guys will fall by the wayside, and pricing will come down. I mean, how many online coupon companies do you really need?"
Nadji agreed. "It's unlikely that what we're seeing is a development bubble, but it could be a pricing bubble," he said. "The risk is heavier on the demand side than on the over-building side -- meaning what would likely pop the bubble is a lot of these companies failing and not needing real estate."
Online gaming giant Zynga is considered one of the drivers of the boom, with programs like FarmVille and Mafia Wars cluttering Facebook news feeds for years. Its move into its current Townsend Street headquarters, a building formerly mostly occupied by fellow gaming pioneer Sega, was one of the strongest initial signals of SoMa's real estate resurgence. Yet Zynga's long awaited IPO hit the market late last week with a resounding thud -- opening at $10 a share, the stock never saw the expected flurry of activity many hoped would drive the price into the stratosphere. Instead, on investor fears of flat growth, the stock has remained just below its IPO price.
Zynga is one of the leading lights of the new tech boom, and a lack of enthusiasm toward its stock may be an ominous sign.
But this isn't to imply that the newfound growth in the tech sector is necessarily a repeat of the heady days preceding the dot com crash. Today's companies rest on much firmer footing than those involved in Pets.com's infamous sock puppet spokesdog moving to the front of the unemployment line. "This current wave is far more grounded than the dot com boom," Nadji said. "Companies need to prove themselves, and their revenue model, far earlier in the process in order get funding."
Many real estate investors, still skittish from the sub-prime fiasco in the residential market, also exercise an excess of caution in their investments. "It's rare for one bubble to follow another when talking about the same asset class," said Anirban Basu, chief economist for Associated Builders and Contractors. "Once you've had one type of bubble burst, people are usually apprehensive about similar types of investments right afterward."
Even so, there's a very real possibility that the high cost of office space takes a toll on the fledgling companies driving the current boom. "In San Francisco, we always hear that we can justify these increases in rent because of our location. And I can buy that to a degree. But at the end of the day, there's only so much a tenant can pay," Linne said. "If you're a start-up trying to scrape together money, paying an arm and a leg to rent in SoMa doesn't make much sense."
One of the keys to identifying any asset bubble before it bursts, according to Linne, is locating the market distortions that are artificially inflating prices. In this case, the distortion could very well be the idea that if you want to have a successful tech company that attracts top talent, you have to be in this one very small geographic area.
"It's an 'Emperor's New Clothes' phenomenon -- everything is fine as long as everyone believes," Linne said. "As long as people are reasonable and believe that these values are appropriate, it's fine. But when tenants start to balk, that's when the cracks start to appear."
If the lines for grilled cheese are any indication, there is likely still more than enough of the necessary Kool-Aid to keep everything afloat.
Check out the slideshow below to see some of the hottest office spaces currently available in SoMa:
Popular in the Community