Oh, the search for SF street food. Sure, you can chase Off the Grid around town or trek out to BFE Fort Mason to find all your favorites. But just try to find the one you want on your lunch hour without spending an hour on Twitter.
Well, food truck fans, your days of combing the Internet are over. On Wednesday, restaurateur Carlos Muela and his crew broke ground on San Francisco's first food truck pod, SOMA StrEAT Food Park -- a permanent street food plaza complete with restrooms, lights, spots for 200 diners and about nine trucks. The park should open by late March.
"I went to Portland and saw these street food pods," said Muela to The Huffington Post. "There was so much energy -- everyone was meeting up outside. I really enjoyed it." In Portland, food trucks gather at permanent locations and stay put 24/7. "The laws in San Francisco are a bit different, but I wanted to emulate that," said Muela.
Since food trucks started gaining popularity in San Francisco, the much-reported struggle between trucks and nearby restaurants have kept street food finding a guerilla effort.
"They're trapped," said Muela about the trucks to SF Weekly. "The city told them it would make it easier for them to open, but then they couldn't find anywhere to sell." As SF Weekly reported, trucks find problems when they try to open up shop anywhere near a permanent restaurant, coffee shop or cafe. "So I decided that having a private lot is what the city -- and the trucks -- need," he said.
With Muela's plan, food trucks will have a permanent, designated spot, but vendors will still rotate, offering diners endless variety and providing trucks the freedom to run a temporary business or visit other venues.
"I admire Off The Grid so much," said Muela to HuffPost about San Francisco's popular food truck event. "But I wanted something permanent. With a permanent location, we can be open to a lot of possibilities." Muela currently has a beer truck lined up and hopes to open up his space to wine tastings, private parties, live music and events. He's even been approached by mobile boutiques.
"But I'm focusing on the food first," he said.
Check out a rendering of SOMA StrEAT Food Park, and then look through a few of our favorite San Francisco food trucks in the slideshow below: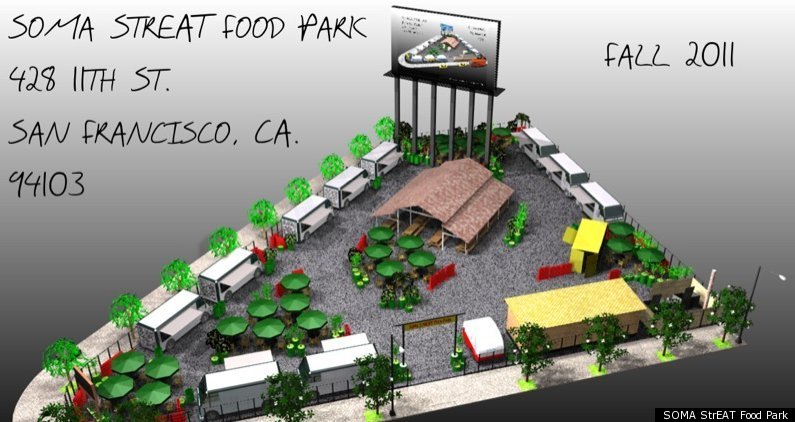 REAL LIFE. REAL NEWS. REAL VOICES.
Help us tell more of the stories that matter from voices that too often remain unheard.