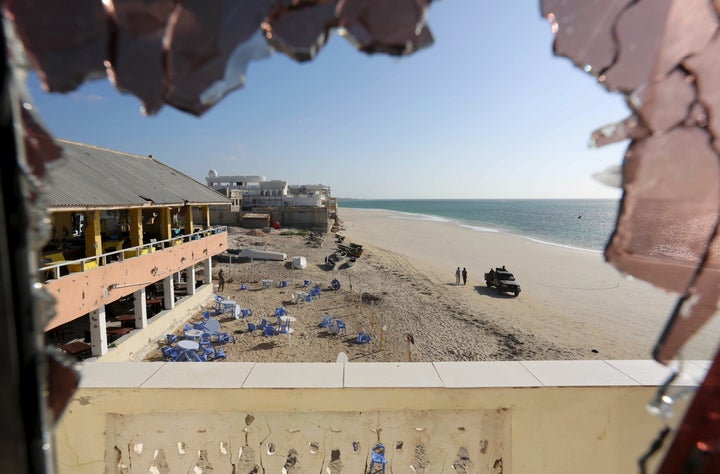 MOGADISHU (Reuters) - Al Shabaab militants attacked a beach restaurant in the capital Mogadishu with a car bomb and a gunfight was still ongoing, police and the insurgent group said on Thursday.
It was not immediately clear how many casualties there were.
"A car bomb exploded at Banadir beach restaurant at Lido beach and there is exchange of gunfire. We have no other details so far," Major Ahmed Ibrahim, a police officer, told Reuters.
Al Qaeda-linked al Shabaab's military operation spokesman Abdiasis Abu Musab claimed responsibility for the attack.
"We attacked the Banadir beach restaurant and now our fighters are fighting inside it," he told Reuters.
Al Shabaab, has carried out a series of deadly attacks in Somalia to try to topple the Western-backed government.
In January, its militants stormed another restaurant on Lido beach, killing 17 people.
On Sunday, more than 20 people were killed when its suicide bombers detonated two car bombs at a local government headquarters in Somalia's semi-autonomous Puntland region.
On Thursday, Reuters witnesses near the scene of the beach attack said the restaurant had been sealed off by security officers and that the attackers had lobbed grenades at the officers and fired at them.
They said they had also seen two bodies lying on the ground.
Internal Security Minister Abdirizak Omar Mohamed said on his Twitter account: "Warning: People near the blast scene should stay in the hotels and in their houses in which they are inside. Cars should not enter Lido beach area."
(Additional reporting by Abdirahman Hussein; Writing by George Obulutsa; Editing by Louise Ireland)
REAL LIFE. REAL NEWS. REAL VOICES.
Help us tell more of the stories that matter from voices that too often remain unheard.