 "It's a dangerous time to be a Somali musician," remarked journalist and tour organizer Daniel Gerstle, in a recent article in Rolling Stone. In a country that has seen violence, extremism, a failed government, and an unsuccessful UN peacekeeping mission, hardcore hip-hop has emerged as one of the more unconventional but powerful mediums of Somali politics. Music has become the battleground for the allegiance and future of young people, and hip-hop and rap tools for spreading a range of ideologies.
At one end of the spectrum is Al-Shabaab (translated "The Youth"), an influential extremist group with links to Al Qaeda and whose aim is to install Sharia Law in the region. Over the past several years Shabaab has controlled different areas of Somalia and employed increasingly inhumane tactics of control -- chopping of limbs, blocking aid, and organizing suicide bombings. An Alabama-raised member, Abu Mansoor al-Amriki, also known as Omar Hammami, a spokesperson for Shabaab, has released numerous tracks aimed at recruiting youth for jihad. With songs like "Make Jihad With Me" and "Blow by Blow" the young rapper glamorizes violence.
Countering Shabaab's message, with their own of peace and non-violence is the hip-hop group Waayaha Cusub (translated "New Era"). Comprised of members from Somalia, Ethiopia, Uganda, and Kenya, the band has been releasing songs that promote peace, friendship, and collaboration, and address taboo issues of politics, sex, drugs, and AIDS since 2004. Fusing traditional hip-hop with afrobeat, their lyrics are complex and thoughtful, and directed toward young adults in Somalia who have limited options. In an interview with The Guardian, Shiine, the group's leader, described their music as a tool for education,
"These youth have bad ideology. If we give them good ideology, talk to them about life, marriage, children... If we show them these things, we can stop them. You cannot fight someone who wants to die, you can only save them."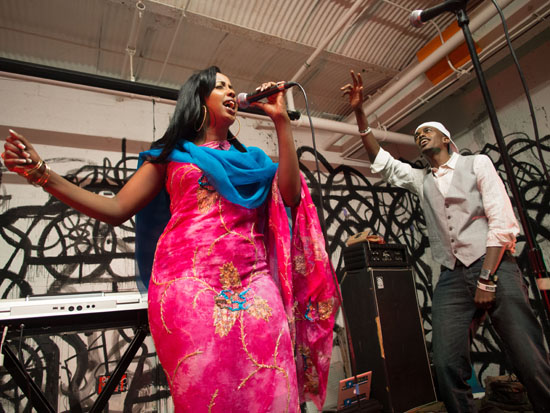 Their popularity, music, and message has put Waayaha Cusub in the direct line of fire -- several members have been beaten, mutilated, and shot at by Shabaab. In certain areas their music has been banned, and they have been ordered to stop recording and distributing songs. Despite the threat to their lives, the group continues to perform, and in August they began a three month long international tour to rally support and encourage solidarity with their movement.
This past Tuesday, I was fortunate enough to attend the New York stop on their tour. Through an unmarked door on the Brooklyn waterfront, Waayaha Cusub was joined by hip-hop and spoken word greats K'naan, Uppa Notch, Danielle Watson, and Toni Blackman. It was the first time that Somali Canadian K'naan and members of Waayaha Cusub were able to perform together, singing for a diverse mix of music lovers, humanitarian workers, and many from the Somali diaspora. The evening combined energetic rap and R&B with a sense of solemnity and purpose.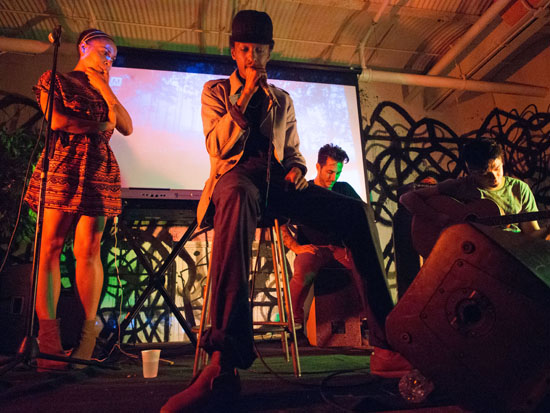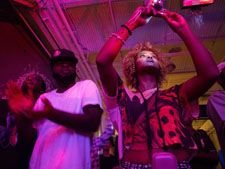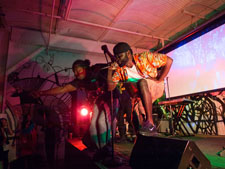 />
Following their stop in New York, Waayaha Cusub will conclude the tour in Somalia with a concert in the recently unified capital city of Mogadishu. It will be the first major music event in the country since 1991, a firm statement that despite everything music will continue, life should be celebrated, and that there is hope for peace in Somalia.
For video from the New York event and news on the tour visit: somalisunrise.org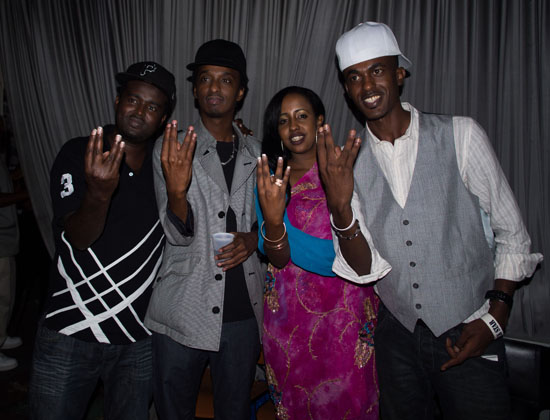 REAL LIFE. REAL NEWS. REAL VOICES.
Help us tell more of the stories that matter from voices that too often remain unheard.