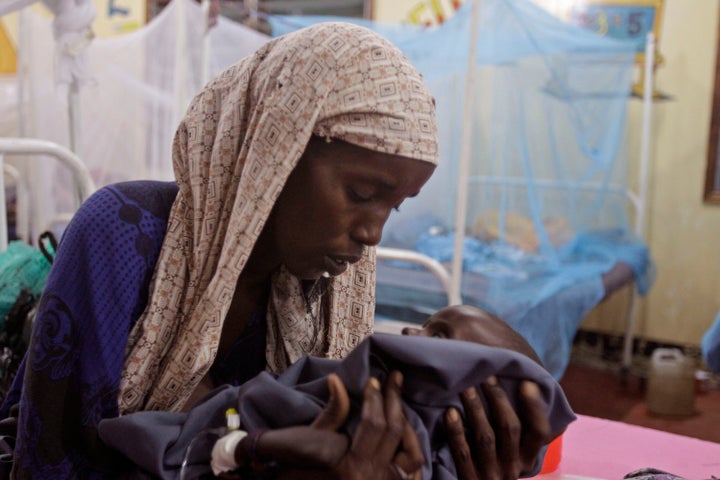 Today, more than eleven million people are desperately trying to survive the drought affecting the Horn of Africa. Tens of thousands have already died.
While it is true that droughts are an act of nature, there is nothing "natural" about the resulting famine in Somalia -- the only country in the Horn where famine has been declared. There, the famine is a result of a lack of governance and direct human actions which have deprived millions of people access to food.
Droughts can be mitigated and controlled when a nation has a functioning government. Look at Somalia's neighbor, Ethiopia. Like Somalia, Ethiopia is also being ravaged by this drought. But for the most part, people there are able to stay in their homes because the Ethiopian government and local and international aid agencies are able to identify and support those who are struggling to find food and water.
Somalia, on the contrary, has not had a functioning central government for more than twenty years. As early as 2008, Refugees International was calling Somalia "the world's worst humanitarian crisis." Years of conflict had displaced some two million people -- nearly a quarter of the population. Armed groups -- including the militant group Al Shabab -- restricted the international community's access to wide swathes of the country they controlled. Aid agencies struggled to safely reach people inside the country to provide them with assistance.
Today, this lack of access is one of the primary reasons why Somalis have been so much more affected by this drought than their Horn of Africa neighbors. Humanitarian aid workers have little to no access to more than half of the Somali population in need of help. This is due in part to Al Shabab restrictions, and also to fear on the part of aid organizations that staff will be targeted or killed.
But it is also donor governments' own restrictions on aid delivery that have further hampered the international community's ability to respond to the famine, resulting in unnecessary human suffering. Al Shabab has been recognized by many donor nations as a terrorist organization. Here in the United States, the U.S. Treasury's Office of Foreign Assets Control (OFAC) prohibits U.S. government money from going to aid operations if there is any risk that it will "materially benefit" a listed terror organization. In 2009, the U.S. applied these restrictions to areas of Somalia controlled by Al Shabab. Since then, U.S. aid to Somalia has dropped by 88 percent -- from roughly $237 million in 2008 to just over $20 million in 2011.
With millions of lives at risk, now is the time for the U.S. to reconsider these restrictions on aid money when it comes to Somalia.
I know that this is not a simple thing. Al Shabab is a terrorist organization, and it is difficult to contemplate any action that might somehow support the group even tangentially. Al Shabab does have a history of interfering with aid delivery, including allegations that it siphoned profits for its own use. And even now, it is not entirely clear whether or not Al Shabab will allow humanitarian access to those areas of Somalia under its control.
But today, these concerns are outweighed by the extraordinary humanitarian imperative to get assistance to those people who will not survive without it. If humanitarian groups are not allowed to intervene, famine conditions will spread to the whole of southern Somalia within two months. It is in such extreme situations when the moral and ethical high ground must be displayed by those who value human lives, beyond any other considerations.
The U.S. government should ease current administrative restrictions so that essential and urgent aid can reach those most in need. Within southern and central Somalia, there are actors unaffiliated with Al Shabab with whom aid organizations can work. But in the areas firmly under Al Shabab's control, the U.S. and other donor governments have to trust that experienced aid organizations will do everything possible to ensure that aid reaches that vulnerable population without significant diversion.
I acknowledge that the prospect of working in any way with Al Shabab is bad. But the consequences of not allowing aid into these regions are far worse.
Michel Gabaudan is the president of Refugees International, a Washington, DC-based organization that advocates to end refugee crises and receives no government or UN funding.
Related
Popular in the Community