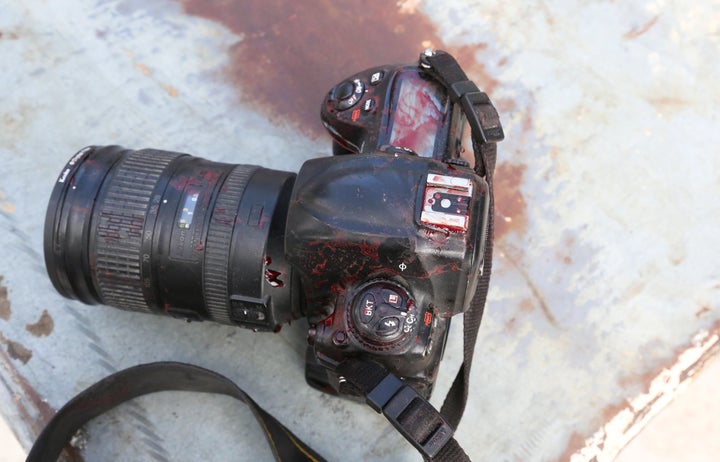 For the third year in a row, Somalia has ranked as the world's leading country where slain journalists' deaths go unpunished.
Over the past decade, all 26 assassinations of journalists in the East African nation have gone unsolved, according to the Committee to Protect Journalists, which released its annual impunity index, titled "Getting Away With Murder," on Tuesday.
The New York-based non-profit gathers data on news workers killed in retaliation for their journalism, excluding those who die in crossfire while reporting in dangerous areas such as combat zones (but are not directly targeted). CPJ, which seeks to underscore international barriers to media freedom, publishes its findings every year to document patterns of impunity, such as those consistently seen in Somalia.
According to the United Nations, at least 930 journalists were assassinated worldwide in the decade leading up to 2017. During that period, just one in 10 reported cases led to a conviction. More than 60 media workers have been killed this year.
Political reporters under fire
Somalia is gripped by a decades-long civil war and brutal insurgency being waged by the extremist al-Shabab, an Islamist militant group.
Since the country's civil war erupted in 1991, at least 64 journalists in the country have been killed as a result of their work, including 39 political reporters and 29 war reporters. CPJ, which began keeping track of worldwide journalist deaths in 1992, has confirmed the motives behind their killings, and reports that the vast majority of known perpetrators have been members of political groups.
Mohamed Ibrahim, now the Secretary General of the National Union of Somali Journalists, has covered politics and other news beats in the capital city of Mogadishu for 15 years, reporting for outlets including the BBC and Reuters.
Throughout his career, Ibrahim says he has been threatened, harassed and assaulted several times, mostly by al-Shabab militants and senior officials of the Somali government. Illustrative of the broader dangers of his job, he also narrowly survived al-Shabab attacks while working at a Somali parliament building in 2010 and at Lido beach in Mogadishu last year.
Ibrahim still finds himself looking over his shoulder when he leaves home, fearful of a targeted strike by someone who is unhappy with his reporting or advocacy for press freedom.
"Journalists are often targeted and I advocate for their rights and protections, so I know it is a high risk environment," he told HuffPost from Mogadishu. "So many journalists like me have risked their lives to serve their people and [distribute] the information they have the right to hear."
Lacking institutional capacity and political will
As a result of the ongoing conflict, Somalia's federal government does not assert central authority over the entire nation, which has allowed armed groups like al-Shabab to spread and seize territory over the years.
"In general, Somalia lacks structures of central government, so in countries like this that might be called 'failed states,' there are very high levels of impunity. It's a combination of the lack of political will as well as the lack of institutional capacity," said Courtney Radsch, CPJ's advocacy director. "That's the key challenge ― [the government] doesn't have access to certain parts of the country, and they don't have a fully functioning judiciary system or police force."
Rare government investigations into journalist killings only occur when the accused perpetrators are al-Shabab militants, and almost never lead to prosecutions, according to Human Rights Watch. Promises from Somali authorities to improve media laws and protections have repeatedly fallen short.
Laetitia Bader, a senior researcher for HRW's Africa division who has reported on killings, threats and arbitrary detention of Somali journalists, said they're being "pulled and threatened by all sides."
"Since the start of the civil war, there wasn't really a strong civil society per se," she told HuffPost from Nairobi, Kenya. "It feeds into a broader problem of just lack of state protection of individuals, although journalists have always been targeted throughout the conflict in Somalia."
"Somali journalists are being "pulled and threatened by all sides.""
Journalists are also particularly vulnerable, Bader explained, because the news "is a very big part of everyone's day and a key source of information" in Somalia. "Somalis love listening to the news ... so fundamentally, there's a recognition that journalists can play an important role in getting your agendas across."
An increasingly complex political situation in the country has led to "more political actors with much more at stake," she said. "So once again, this need to control information has become a bigger issue."
Threatening and punishing journalists can be lucrative for political figures who want to "control the narrative," said CPJ's Radsch.
"It's not surprising in a country like Somalia where there are so many warring factions," Radsch said. "They want to control the narrative, or cover up their own corruption, or gain political power. Journalists often stand in the way of that, or uncover uncomfortable revelations."
The cycle of impunity
Somalia is hardly the only country in the world where there are extensive risks for journalists.
In its latest report on "the safety of journalists and the danger of impunity," the U.N. concluded that impunity for journalist slayings around the world is "alarmingly high," and perpetuates "a cycle of violence that silences media and stifles public debate."
But the danger in Somalia is particularly acute. The country's impunity rating, which CPJ determines by calculating countries' numbers of unsolved journalist killings per capita, has shot up by 198 percent since 2007. Radsch attributed this drastic increase to the cyclical effects of impunity.
"It's very dangerous to be a journalist in Somalia, and it's very unlikely that murders will be investigated," she said. "When people see that there is no one who has been convicted, and no follow-ups on the murder of journalists, it sends them the signal that 'Oh, it's ok to murder journalists.'"
While conducting research in Somalia, Bader has spoken with several journalists who survived assassination attempts, but were hesitant to report the attacks to authorities.
"Half said, 'We did [report], and we got laughed at or were told to go get guns,' and the other half basically laughed at me saying 'Why on earth would we go to the authorities?' ― who are often the ones threatening them," she said.
As the numbers reflect, many journalists have not been fortunate enough to escape with their lives.
Radio journalist Abdiaziz Ali was reportedly gunned down while walking through Mogadishu last September. He covered the civilian toll of Somalia's conflict between government forces and al-Shabab militants for the Shabelle Media Network, an employer of at least eight slain journalists over the past decade.
Months earlier, gunmen fatally shot 24-year-old Sagal Salad Osman in the head before fleeing the scene. Osman was a university student and worked for the state-run Radio Mogadishu.
"The killing of Somali journalist Abdiaziz Ali must not be allowed to become yet another statistic in a country notorious for not bringing journalists' murderers to justice," Murithi Mutiga, CPJ's East Africa representative, said at the time. "We urge Somali authorities to leave no stone unturned in determining the motive for Abdiaziz's and Sagal's killings and finding and prosecuting those responsible."
But more than a year later, the culprits behind their killings are still at large, like dozens of others before them.
Support HuffPost
The Stakes Have Never Been Higher
Related
Popular in the Community