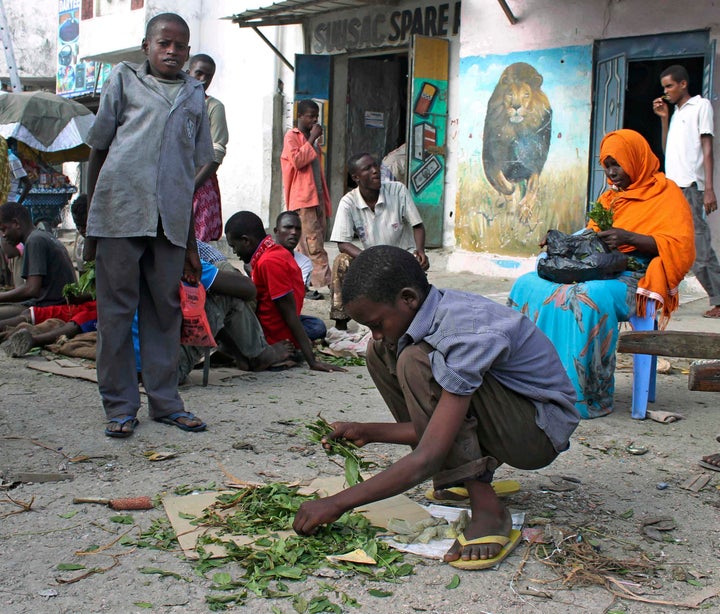 * Donors return to Somalia after decades of conflict
* Britain to host May 7 conference on Somalia
* Focus on rebuilding systems, tackling corruption
* U.S. says will support clearing debt to World Bank (Adds quote, background)
By Lesley Wroughton and Paul Eckert
WASHINGTON, Feb 28 (Reuters) - Major Western donors have stepped up efforts in recent weeks to reengage with Somalia, opening the way for increased development assistance to a country trying to shake off years of conflict.
A senior British official said in Washington that London will host a conference with the new Somali government of President Hassan Sheikh Mohamud on May 7. The meeting will focus on rebuilding the security forces, police, and justice system and discuss resuming relations with the World Bank.
Somalia has been mired in civil strife for more than two decades, leaving the African nation in grinding poverty, militancy and maritime piracy, without a functioning central government.
"Part of the challenge of mine is to communicate really the degree of opportunity and success that has happened so far in Somalia - mixed with a fairly hard-nosed realism about some of the old challenges that still exist there," said Nick Kay, Africa Director at the British Foreign and Commonwealth Office.
Kay said Somalia was the top priority in Africa for Britain, which planned to reopen its embassy in the capital, Mogadishu, in the coming months.
Rajiv Shah, the head of USAID, traveled to Mogadishu for talks with the government last week, the first visit by a senior U.S. official in more than two decades. It was also the first since the 1993 "Black Hawk Down" incident in which militia fighters shot down two U.S. military helicopters over the city.
Shah told reporters during a conference call that his talks with senior Somali officials focused on transparency of government finances, corruption and restoring basic services.
"As long as the government continues to emphasize and make the right choices to fight corruption and graft, to make its public finances extremely transparent, and to focus on providing the kinds of basic services that the people and economy will need to be effective over time, we think there is a very bright future and I saw some very real tangible signs of that," he said.
The United States would work with the World Bank to help Somalia clear its $250 million in debt, which is preventing the bank from providing loans to the government, Shah said. "Now is the unique moment to help the Somali government."
While the United States never formally severed diplomatic ties with Somalia, former Secretary of State Hillary Clinton signaled a significant shift in relations when she officially recognized Mohamud's government in January.
Mohamud, elected last year in the first vote of its kind since warlords toppled military dictator Mohamed Siad Barre in 1991, has since toured major Western centers to normalize relations and show he is serious about rebuilding.
SECURITY REMAINS AN OBSTACLE
"It is an important moment for Somalia," said Bella Bird, World Bank country director for Somalia, Sudan and South Sudan. She traveled with foreign ambassadors and donors to Mogadishu for talks with Mohamud in late January.
Mohamud will need to show in coming months he has the support of major Western donors and has the power to effect change, but security remains a major obstacle to rebuilding.
An African Union force has had some success in driving al Qaeda-linked al Shabaab insurgents, who seized control of much of central and southern Somalia, out of Mogadishu. While security there has improved dramatically, it is still a dangerous place.
Mohamud has outlined his priorities, which include cracking down on corruption and building an effective government that can use its resources well, Bird said.
"They have already just in the last couple of months, since the finance minister was appointed, undertaken a budget process which has been open and transparent, and no one can remember the last time that happened," Bird said. "The priority setting is now happening for this first phase."
Somalia had requested World Bank technical assistance to help with strengthening financial management and rebuilding government systems, she said, adding that the government was focused on "quick wins" to demonstrate a peace dividend.
"Development is a long game in Somalia and at the moment the president's concern is how can I do things that people will be able to see, feel, touch, which shows that the situation is changing," Bird said.
"The capability of the government to deliver is going to take time to develop but it is very important as well ...that they want to do some things and they want us to help them do some things so they can feel to be active as a government," she said.
"They have been receiving humanitarian aid for a long time, which has been a very important lifeline for Somalis, but now they want to move beyond that emergency phase and build up their own profile as a government." (Reporting By Lesley Wroughton; Editing by Paul Simao and Christopher Wilson)
Calling all HuffPost superfans!
Sign up for membership to become a founding member and help shape HuffPost's next chapter
BEFORE YOU GO
PHOTO GALLERY
Mogadishu No Longer 'Most Dangerous City'