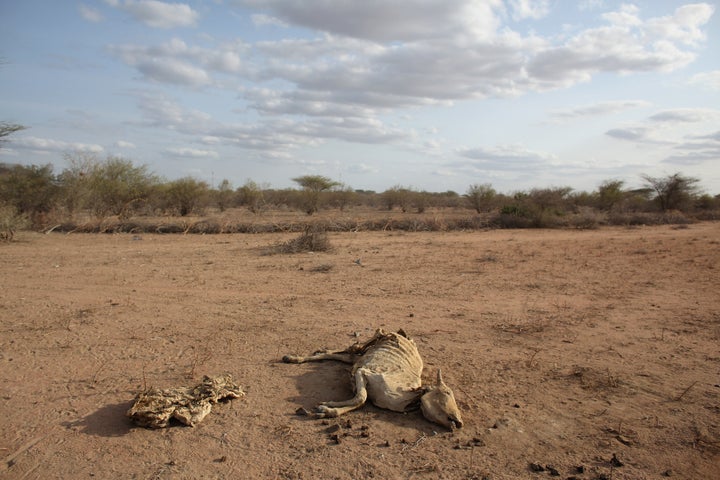 The number of refugees pouring out of famine-stricken Somalia has greatly reduced in recent days, aid workers in the region say -- and that may not be a good thing.
"We are seeing this, and we're really not sure why," says Giammichele De Maio, the head of the World Food Program's refugee program in Ethiopia.
He explained, "Unfortunately, it's one of those borders we cannot pass and so we don't have a complete picture there [in Somalia]. We know that some food assistance is reaching the people there, and it may well be that their hope of receiving assistance makes them decide to wait rather than walk the miles and miles it takes to cross the border."
De Maio and other aid workers in East Africa contacted by The Huffington Post say that there is another more disturbing prospect: that those who have not yet made it out of the worst-affected areas are simply too weak or malnourished to make it to safe havens with food.
"It may look like a paradox, but it's not: the first ones who reach the other side of the border are those who are relatively better off," De Maio said. "Those that have remained behind are clearly more reluctant to start a journey that has many uncertainties and requires huge physical effort. The people who reach the border are in very bad condition, and in need of immediate assistance."
Exact figures can be hard to come by, but the World Food Program (WFP) reported Friday that several hundred refugees were arriving in Ethiopia every day, down from a high of 2,000 two weeks ago.
Ngaira Musamba, the Kenya country director for the humanitarian organization World Concern, says the camps in his area have also seen a drop-off in arriving refugees.
"In some cases, we think that they have settled in other parts of Kenya with host families, not even coming to the camps," he said. "It's also possible that the situation is getting worse, and they cannot move anymore."
Musamba and some colleagues recently made an expedition into a portion of southwestern Somalia, near the Kenyan town of Liboi, and encountered a virtually lifeless terrain with thousands of internally-displaced refugees packed around the border town of Dhobley.
"It's really depressing," Musamba said. "Mostly you find dead animals, or dried bones. We recently came across some animals that had just fallen down -- they were still alive, gasping their last breaths. There's no water, no food, no grass, no nothing. Thanks to God we didn't see any human beings in that state. But the situation in Somalia is unbelievable. Sometimes you just think, 'Can people even live here?'"
But even that may be just a glimpse of the greater crisis in the portions of Somalia controlled by the militant group al-Shabaab, which has restricted the movement of many foreign aid workers, according to Musamba.
"Inside Somalia, beyond Dhobley, we don't know what's going on there. It's a no-go zone," he said.
Meanwhile, the aid workers say that the people who make it to the refugee camps in Kenya or Ethiopia are often perilously close to death themselves.
"They are very thin, crusty and desperate looking," Musamba said. "Yesterday we came across a man with his family -- or his four children. His wife had died along the way, fifteen days after the family set out from South Somalia."
Some Somali families are trekking as long as 30 days to make it to the camps, relying on the charity of villagers they pass along the way -- a safety net that aid workers worry is close to being depleted.
"Even the host communities have no food," Musamba said. "Remember, the drought situation has been on for two years here, and there has been no form of harvest for years."
WFP's De Maio says that his primary concern now is the long game: just as the roots of this crisis date back years, its consequences can be expected to linger for many more.
"Historically, refugees in sub-Saharan Africa have stayed in host countries for decades -- think about the South Sudanese refugees in Uganda, or the Rwandan refugees in Congo. So my main concern is, OK, we have all this attention now, but what's going to happen in six months? We have probably 300,000 refugees in the entire country of Ethiopia -- will I be able to feed them in six months?"
Related
Popular in the Community