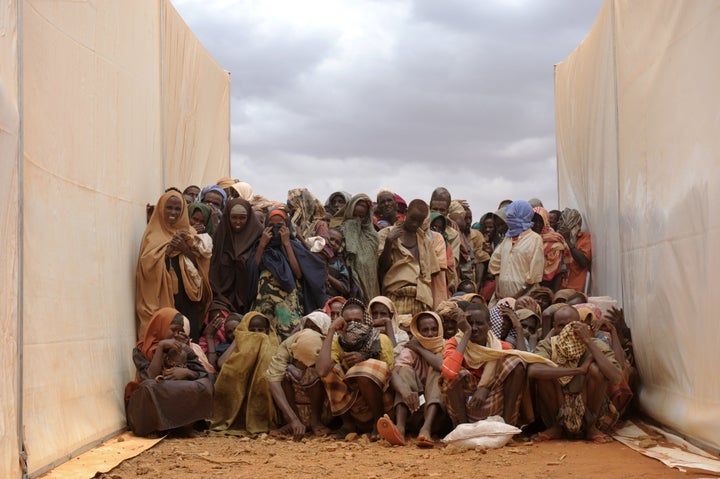 WASHINGTON – International organizations working to mitigate the devastating famine conditions in Somalia are actively looking for alternative solutions to work around rigid American restrictions on delivering funds to terrorist organizations, several officials said Thursday.
The portions of Somalia that are most desperately in need of assistance are mainly areas controlled by al-Shabaab, an Islamist militant group that has been formally designated a terrorist organization by the U.S. government. Delivering aid to these regions had been virtually impossible until last week, when al-Shabaab put out a call for international assistance.
In a feisty press conference late on Wednesday, Mark Bowden, the head of the U.N.'s Office for the Coordination of Humanitarian Affairs in Somalia, told reporters that the time had come for Western nations to set aside their concerns about the political risks of working with al-Shabaab, and focus on getting aid to the nearly four million people estimated to be in danger of severe malnutrition in the country.
"The risks involved with working with al-Shabaab have been a matter of considerable discussion here," Bowden said. "No operation in Africa, and particularly Somalia, is risk free, but what we're saying is that donors have to share some of the risk that organizations already working there are dealing with."
"In previous years they were a very important donor and I hope they can find methods to get assistance to Somalia, either across the border or by other means," Bowden said. "It is important that all donors are increasing their levels of support, but more important that they make their support more available."
Asked about this at a later press conference on Wednesday, Susan Rice, the American ambassador to the U.N., said the blame fell with al-Shabaab, which, until its recent about-face, had made humanitarian work in the country dangerous -- if not impossible.
"The challenge has been access for the humanitarian agencies, particularly in the south and the central region, and it's been blocked deliberately as a matter of policy by al-Shabaab," Rice said. "And al-Shabaab is principally responsible for exacerbating the consequences of the drought situation by preventing its own people from being able to access critically needed assistance."
Donald Steinberg, the deputy administrator at the U.S. Agency for International Development, said in a press conference on Wednesday that the U.S. was intent on finding ways to deliver aid to southern Somalia that wouldn't break existing American law.
But Steinberg added that this would only be possible if the U.N. and other NGOs could "tell us affirmatively" that aid workers could operate safely, and that no funds would be siphoned off or taxed by al-Shabaab.
"He's been frustrated for a long time," Stephanie Bunker, a spokeswoman for OCHA in New York, said of Bowden on Thursday. "He is the humanitarian coordinator for this country [Somalia], he's trying to coordinate the aid and he hasn't had enough aid to coordinate. He's been banging the drum about this for a long time. And we feel that the world has not been listening hard enough."
Several people experienced in the delivery of humanitarian aid in strife-ridden third-world countries told The Huffington Post that the conditions levied by USAID may prove difficult to overcome, particularly the prohibition on paying any bribes or taxes.
Under-the-table exchanges are just part of the cost of doing business, and are often worth it when lives are at imminent risk, they said.
"The whole discussion in Somalia is a bit hypocritical," said a European humanitarian worker with experience in the region.
"Humanitarian actors often 'gain access' by schmoozing with local authorities while providing them with cars, IT equipment or trainings abroad. This is often sold as 'capacity building.' If a corrupt official is not part of this 'capacity building' he or she will also block access."
The European worker added that top-level agencies like the World Food Program will often circumvent this problem by handing food distribution responsibilities to local organizations, and thus disassociate themselves from any "administrative fees" that might be charged on the ground.
"I guess it is just a matter of wording," he said.
Kiki Gbeho, the head of the Somalia OCHA office, reiterated on Thursday that the U.N.'s official policy "is that we do not pay taxes."
But she conceded that guaranteeing that no money or foodstuffs will fall into the wrong hands is a virtually impossible task.
"If someone has a gun to your head, and says, 'You will pay,' then you are going to pay," Gbeho said. "Have instances happened in the past? Yes. But we have quite a rigorous risk management regime in place, and when incidents happen, we openly share what happened."
Still, several U.N. officials contacted Wednesday by The Huffington Post argued that given the severity of the situation in Somalia, now is a time to take those risks.
They also applauded the U.S. for its recent commitment to finding a way forward, with one official noting that Rajiv Shah, the head of USAID, had told aid workers during a recent trip to Kenya that he was "aggressively forward leaning" in his efforts to surmount the legal hurdles.
Officials at USAID and the Department of Treasury, which administers the terrorist-financing laws, did not respond to requests for comment.
Meanwhile, aid workers on the ground in Kenya say that safety continues to be a considerable concern.
Chris Sheach, a disaster response worker with World Concern, recently oversaw a short expedition into a strip of Somali territory -- the first for a western NGO -- where many refugees have been crossing the border to Kenya. He said that there appears to be some stability there, but that the situation remains "fluid" for aid workers.
"The feeling for aid workers on the ground is that the announcement was made by al-Shabaab that the area was opened, and the next week, eight local guys working for agencies were kidnapped or detained," Sheach said. "So the feeling is that the security is not entirely there."
However, Sheach said "it's definitely secure enough to work" in the area where his team recently did reconnaissance, across the border from the Kenyan town of Liboy. "I feel that the U.N. will clear it soon," he added.
UNICEF recently completed an airlift of food aid to Mogadishu -- an expensive and inefficient way to deliver aid but sometimes the only feasible method, experts said.
Asked whether more airlifts were on order, OCHA's Bunker would only say that "all options are on the table."
This report has been updated to include additional details on al-Shabaab's call for international assistance.
Related
Popular in the Community