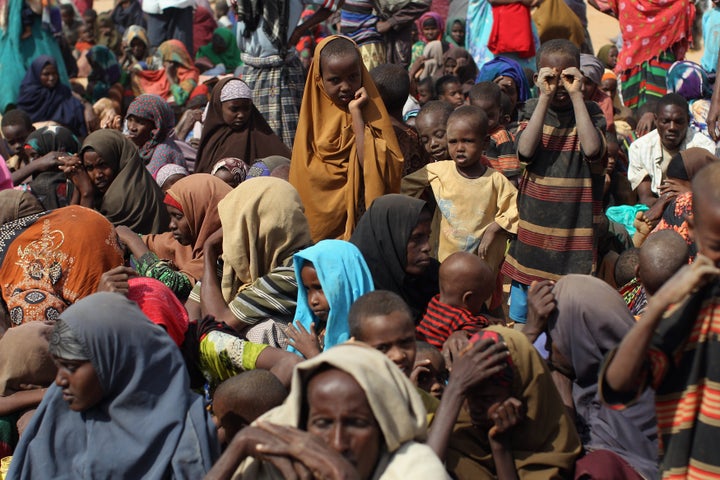 DADAAB, Kenya (AP) — Famine in Somalia will soon expand to more areas as insecurity in the Horn of Africa country has prevented aid from reaching more than 2 million Somalis in need, the head of the World Food Program said Saturday.
The U.N. fears tens of thousands of people already have died in the famine, which has forced Somalis to walk for days in hopes of reaching refugee camps in Kenya and Ethiopia. Mothers have been forced to leave behind their weak children to die during the long treks.
WFP executive director Josette Sheeran visited Kenya's Dadaab refugee camp where tens of thousands of hungry Somalis have fled in recent weeks. Sheeran met with hungry mothers and assured them the WFP would make it a priority to get nutrition to their kids. The aid agency, however, can't reach 60 percent of the 3.7 million Somalis in need because of the actions of the militants in Somalia, she said.
"We will be working hard to step up our activities inside Somalia when we have access," Sheeran said.
Kenya leaders told Sheeran they fear an expanding and permanent refugee population.
"It is the goal to allow people to remain at home. If they don't have food they won't remain at home," Sheeran said.
Earlier this week the U.N. top official in charge of humanitarian aid in Somalia said parts of Somalia are experiencing famine.
Mark Bowden said the southern Somali regions of Bakool and Lower Shabelle regions are suffering from famine. WFP estimates more than 11.3 million people need aid across drought-hit regions in East Africa.
The drought has created a triangle of hunger where the borders of Ethiopia, Kenya and Somalia meet.
The majority of those affected live in pastoral communities whose herds have been wiped out because of a lack of water.
Abdi Kadir Mohammed, 33, a teacher in the town of Garissa where WFP has set up a food site, said that most of the nomadic community there had lost many animals which are their source of livelihood.
"The people around here depend on the animals. They don't have a bank account. They don't even know what one is," he said.
The U.N. refugee agency said in a report Saturday that some 13,000 tents need to be shipped to the Ethiopian refugee camp of Dollo Ado to provide emergency shelter for up to 65,000 people due to the high influx of Somali refugees.
The camp has a total nearly 114,500 Somali refugees.
Somalia has been mired by violence since 1991. Militants attempting to topple Somalia's weak U.N. backed government control most of southern and central Somalia.
Al-Shabab, the most dangerous militant group in the country, has said it will prevent international aid workers from operating in the country. The group had banned aid agencies in 2009, fearing the groups could host spies or promote an un-Islamic way of life.
Earlier this month, al-Shabab appeared to indicate it would soften its stance amid the hunger crisis. However on Thursday, spokesman Sheik Ali Mohamud Rage said aid agencies the group had previously banned are still barred from operating in areas under its control. He called the U.N.'s declaration of famine in parts of Somalia this week are politically motivated and "pure propaganda."
The renewed threat from al-Shabab means only a handful of agencies will be able to respond to the hunger crisis in militant-controlled areas of southern Somalia. And the largest provider of food aid – the U.N. World Food Program – isn't among those being allowed inside.
The Somali Prime Minister said Saturday that getting aid to those in need is a priority. He spoke after the Somali parliament overwhelmingly approved a new Cabinet.
"We shall first prioritize the humanitarian issue and how we would be able to receive aid for our people to save them," said Abdiweli Mohamed Ali.
Associated Press writer Abdi Guled contributed to this report from Mogadishu, Somalia.
Related
Popular in the Community