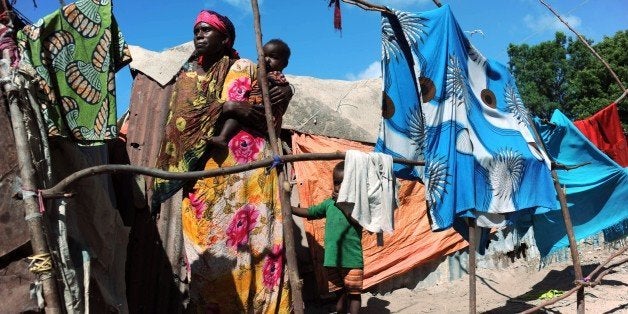 MOGADISHU, Oct 29 (Reuters) - At least three million people in Somalia need humanitarian aid and the country is threatened with famine, the U.N. Secretary-General Ban Ki-moon said on Wednesday.
The United Nations said in September more than a million people in the war-ravaged Horn of Africa country were struggling to meet daily nutritional needs.
"Over three million Somalis are in need of humanitarian assistance and unfortunately that number is growing. I urge donors to step up contributions to avert another famine in Somalia," Ban said during a visit to the Somali capital on Wednesday.
In August, the U.N. humanitarian coordinator for Somalia Philippe Lazzarini said rapidly rising malnutrition and food shortages resembled the warning signs that preceded a 2011 famine in which about 260,000 people died.
A month earlier, the U.N. Office for the Coordination of Humanitarian Affairs for Somalia said agencies were unable to meet the needs of 350,000 people who had fled to Mogadishu because they were hindered by a shortage of funds and by violence.
Al Qaeda-allied al Shabaab ruled most of the southern region of Somalia from 2006 until 2011, when African troops marched into the capital.
The African Union and the Somali military launched a joint offensive in March to drive the Islamist fighters out, and stepped up their campaign in August after a surge in gun and bomb attacks in Mogadishu.
Earlier this month, the troops captured al Shabaab's stronghold of Barawe on the southern Somali coast, which the Islamists had controlled since 2006.
Ban said there was a need to secure passage for humanitarian aid into the areas freely liberated from al Shabaab.
"I congratulate the Somali National Army and AMISOM (African Union peacekeeping mission) for their advances and the contributions for peace and stability of Somalia," Ban said.
"It is critical that they now secure roads to newly recovered areas to enable commercial traffic and humanitarian access." (Reporting by Abdi Sheik; Editing by George Obulutsa and Andrew Roche)

Related
Popular in the Community