Upon returning from a three-day trip to Somalia, John Ging, director of the Coordination and Response Division at the U.N.'s Office for the Coordination of Humanitarian Affairs, voiced his concerns at a news conference in New York and stressed the urgent need for the international community to pay attention to the crippled country.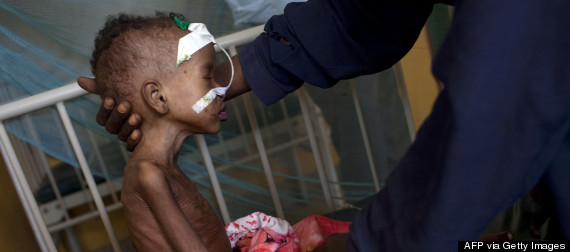 A Somali girl suffering from severe malnutrition receives medical treatment at the Banadir Hospital in Mogadishu, Somalia, on February 11, 2014.
But an estimated 857,000 people need immediate humanitarian aid, according to the U.N. World Food Program's Food Security and Nutrition Analysis Unit. That's considered a "modest improvement" from the 870,000 people who were at risk a month earlier, the Independent reported.
But with a dearth in donations, that improvement may be tenuous, experts say.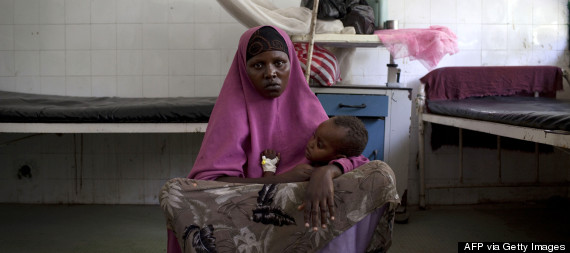 A Somali woman holds her son suffering from severe malnutrition inside a room of the Banadir Hospital in Mogadishu, Somalia, on February 11, 2014.

Several factors have left the country particularly vulnerable right now.
Since last August, Somalia has been struck with a below-average harvest, floods and a tropical cyclone that together have undermined the positive impact of the increased livestock prices and low prices of local and imported staple food commodities, according to All Africa.
The funding that the country needs is not coming in.
According to the U.N., only 4 percent of the $933 million sought this year for humanitarian operations in the country has been received to date.
Find out how you can help ease Somalia's hunger crisis.


Oxfam International
Working with local partner organizations, Oxfam has reached roughly 1.3 million people affected by the brutal famine in Somalia by developing water systems, enhancing public health communications and supporting local farmers in the process. Learn more here.

World Vision
World Vision has alleviated harsh conditions for millions across the Horn of Africa. Grant funds allow gifts to be multiplied three times while providing life-saving assistance to Somalians. Learn more here.

UNICEF
UNICEF urgently requires additional funds to maintain critical services for children facing malnutrition and disease, as Somalia grapples with a devastating drought and the effects of civil unrest. Learn more here.

The U.N. Refugee Agency (UNHCR)
The UNHCR delivers humanitarian aid both inside Somalia and across East Africa in the fight against famine and civil unrest. A $50 donation provides a therapeutic feeding kit to help feed five malnourished children, but a gift of any amount can still help to save lives. Learn more here.

Mercy-USA
Mercy-USA is digging 38 new wells in the Mudug and Lower Shabelle regions of Somalia. Once completed, these new water sources will provide relief to 23 towns, reaching more than 70,000 people. Learn more here.
Related