Cell phone footage taken inside a passenger plane over Somalia on Tuesday shows a large hole that a mid-flight explosion left on the side of the jet. 
The explosion took place shortly after the plane, operated by Somali-owned Daallo Airlines, took off from the capital city of Mogadishu. It was flying at around 11,000 feet and headed to neighboring Djibouti, The Associated Press reported. 
Awale Kullane, Somalia's deputy ambassador to the United Nations, was on the plane and used his cell phone to capture the aftermath of the blast. "I heard a big bang, so, and the smoke erupted so we couldn't see anything for a few seconds, so it was a bit scary," Kullane told the AP.
A Daallo Airlines spokesperson said there had been a fire on the flight. The plane's Serbian pilot, Vlatko Vodopivec, said he believed there had been a bomb on board. Anonymous U.S. government sources told Reuters they also thought the blast was the result of a bomb, but noted they had no firm forensic evidence. No group has claimed responsibility for placing a bomb on the jet.
An officer at Mogadishu International Airport told Reuters that a man apparently had fallen out of the plane following the blast. Residents of the nearby town of Balad discovered a body of a man on Tuesday, but officials cautioned they had not linked the body to the missing passenger.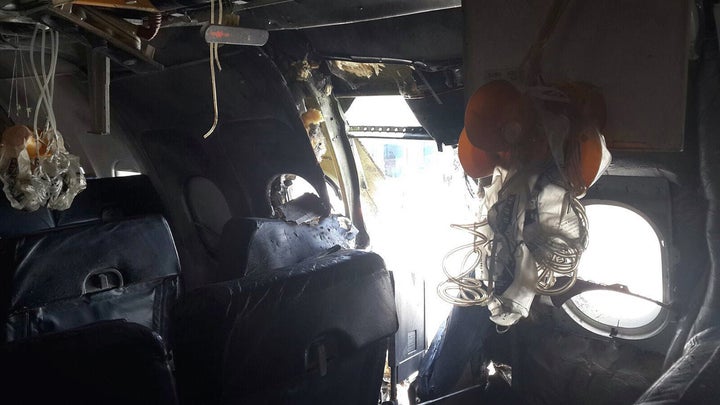 Kullane said he started filming after things had "settled down" on the plane. His footage shows some passengers moving toward the back of the plane as emergency oxygen masks dangle from the ceiling.
The ambassador told the AP he saw a "chunk of small area of the plane missing, and that air was floating in and out."
Photos of the airplane's exterior taken after its emergency landing in Mogadishu show the hole on the right side of the plane, near the wing.
REAL LIFE. REAL NEWS. REAL VOICES.
Help us tell more of the stories that matter from voices that too often remain unheard.