This story is part of a series celebrating HIV/AIDS activists in honor of Thursday's World AIDS Day.
Her house has been burned down. She's had her car jacked. Her daughter was kidnapped, drugged and raped. But still, sex trafficking survivor Somaly Mam says she would rather risk death than give up her work saving slaves in Cambodia.
Sold into prostitution at 12 by her grandfather, Mam was brutalized and raped -- sometimes up to 10 times a day -- throughout her teenage years. While Mam made an unlikely escape to France from the brothel in Cambodia, she couldn't tolerate the cushy life there knowing that thousands of girls were being tortured at home.
So in 1996, Mam returned to the slums of Cambodia and has been fighting forced prostitution and the rampant transmission of HIV/AIDS ever since.
"Our foundation is about the survivor," said Mam, who estimates her age to be about 40. "A survivor in my program means no one can feel how we feel. We know how to talk to them. The foundation empowers the victims and lets them know that we are the survivors."
Mam has saved more than 4,000 slaves since she started her advocacy work.
While an estimated 30,000 children are sold into slavery in Southeast Asia, according to The Somaly Mam Foundation, young girls -- as young as 6 -- are particularly vulnerable in Cambodia. There, it's believed that sleeping with a virgin can cure AIDS.
But at the moment a girl loses her virginity, she completely loses her allure and value.
"Once you're in a brothel, you are bad luck," Mam told The Huffington Post. "You can't get married. They completely destroy you. So you come to hate the people around you. You can't be happy."
She feels as though she will never completely overcome the horror she experienced, getting locked in a cellar with snakes, getting raped on a constant basis and watching her friend get shot and killed. Now, she says the charity she founded and runs is what gives her strength to carry on.
Mam first established AFESIP (Agir Pour les Femmes en Situation Precaire) 15 years ago out of her two-room home. She raids brothels and scours health clinics for victims to save, risking her life each time as she enrages the pimps and brothel owners. Her program, which provides shelter, education and job skills to the victims of sex-trafficking, gained even more momentum in 2007 when she established her funding vehicle, the Somaly Mam Foundation.
Oftentimes Mam gets to the girls after they've already contracted HIV. But whether they're in good health or suffering with the fatal disease, Mam said she pushes all of them to meet their potential.
One survivor, who Mam named "Monday" after the day of the week she was saved, was sold into slavery when she was 6 years old. Today, she's 19 and studying law.
"She was talking about wanting to go [work at] the court because the court treated her really badly," Mam said. "She wore short skirts so the judge talked to her like it made sense that they raped her."
Part of the healing process, Mam shared from her own experience, is being honest and open with the pain she and the survivors have endured. Now divorced, Mam said she isn't interested in sex or developing intimate relationships. The smell of sperm and getting close with men is just too painful a reminder of the torture to which she was subjected.
Though she's abstaining from relationships, Mam makes sure to remind herself to tend to her needs, to stay strong and healthy to fulfill her work.
"I realized I had to take care of myself for my girls," Mam said. "I don't want any of them to get pain from me."
Want to help Somaly Mam's cause? Donate to her foundation here.
SLIDESHOW (Photos: Somaly Mam Foundation):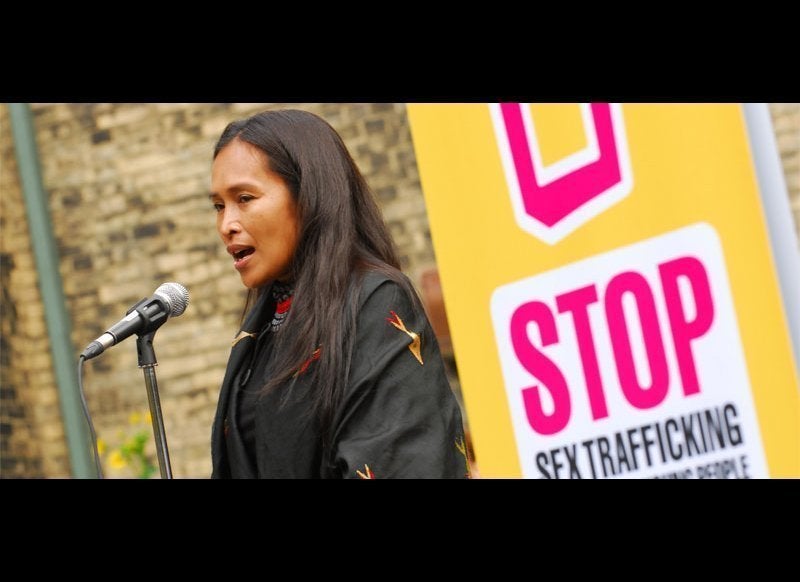 Support HuffPost
The Stakes Have Never Been Higher
Related
Popular in the Community