Travel luggage has come a long way over the years. We've gone from train cases and soft, zippered bags to hard shell sets and now, "smart" luggage. Some of these pieces come with neat features like GPS tracking, USB ports to charge your phones and laptops, the ability to lock the bag remotely with an app, and even luggage that you can ride through the terminal. But if you're looking to jump on the smart luggage bandwagon, beware: beginning this year, many airlines will be banning these bags from their flights.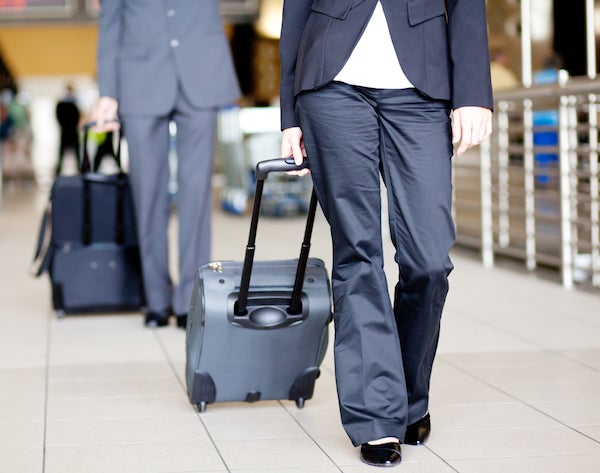 Technology is advancing, so it only makes sense that our travel suitcases has followed suit. The ability to travel with a bag that can charge our devices on the go – plus a slew of other neat features – is incredibly convenient, and it's easy to see the appeal (even with a higher price tag). However, this also means that most of these new smart bags contain non-removable lithium-ion batteries. And these are a major cause for concern for airlines.
The New Rules
Beginning on January 15, 2018, passengers can expect to see the first smart luggage bans go into effect. American Airlines kicked off the high-tech luggage ban with their announcement on December 1, 2017. Close on their heels were Alaska Airlines and Delta, who have also announced their bans for the 2018 year.
All three of the airlines who have announced bans thus far will implement their new smart luggage policies beginning on January 15. It's expected that United and Southwest will announce their own similar bans soon, with an as-of-yet-unknown date of effect.
The reason for the ban is a safety concern regarding potential fires in a cargo area due to the volatility of rechargeable lithium-ion batteries. If your luggage is checked and a battery combusts, it could pose a serious danger to the entire flight. Even though the ban is centered around the concern for fires in the cargo area, smart luggage carry-ons are also prohibited in the new ban. That prevents a smart bag from being inadvertently gate checked at the last minute, and placed in the cargo hold.
While there are no reports of smart bags' batteries exploding or causing fires since their inception, airlines seem to be taking a proactive approach. Not dissimilar to the bans on hoverboards and the Samsung Galaxy Note 7 phones, this onboard battery fire concern is one risk that airlines would rather mitigate early.
The Caveat
Been using your tech luggage for years or just got a nifty new smart bag for the holidays? Don't fret just yet. You may be able to carry your suitcase after all.
If you fly on American Airlines, Alaska Airlines, or Delta, you can still bring smart bags on the plane. The only caveat is that the lithium-ion battery pack must be removable. That will allow it to be carried in the cabin with you. If the battery isn't removable, you won't be able to fly with your bag on those airlines.
If the battery pack can be carried onboard, it limits the damage that a failed battery could pose. In the luggage hold, a battery fire would be difficult to detect and then reach in order to contain. If one were to break out in the cabin, though, flight attendants would have access to fire extinguishers and fire containment bags and could reduce the chance of serious injury or damage.
Which Bags Are Impacted?
Luckily, many smart luggage companies do offer bags with removable batteries. This neat feature is convenient, as you can replace the batteries when they (inevitably) wear out over time. You can also remove the battery pack and keep it with you. That way, you can use it during the flight to power your devices.
Here's a list of some of the most popular smart bags on the market today, all of which allow you to remove the lithium-ion battery pack. Each of the pieces below is compliant with the new battery regulations, so you can still fly with the bag.
LuggageRemovable Battery?:
Raden (A22 carry-on, A28 checked bag, etc.) Yes
Samsonite GeoTrakRYesHeys Smart Luggage® Yes (uses AAA batteries, not lithium-ion)
Away luggage Yes
Arlo Skye Yes
Barracuda Yes
TravelPro Crew 11 series Yes (power pack is sold separately)
G-RoYesBluesmart Series 2 Yes (Series 1 is not compliant)
Popular in the Community