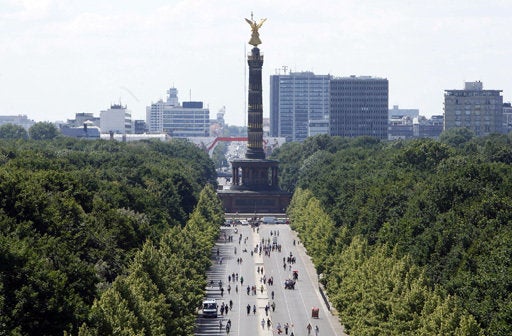 BERLIN — Check out that poster.
That's how Sen. Barack Obama's campaign is advertising his big speech Thursday night here in Berlin. The few residents I've chatted with since I touched down this morning were well aware of the event, which has been the buzz around the city for days and is getting a lot of play in the papers and on television.
A hotel staffer where I'm staying told me she was "very excited" that "President Obama" would be speaking just down the street, and mentioned her parents' emotions of love for the United States when JFK spoke there in the 1960s. My African seatmate on the hop across the pond said he likes Obama because he is "something new, something fresh."
Obama is in Jordan now, and CNN International is reporting this afternoon's tractor rampage was just outside the spot in Jerusalem where the senator plans to be this evening. No word yet from the campaign if this security scare will change today's agenda.
The Boston Globe's Sasha Issenberg curtain-raises the Obama trip from Jerusalem today, suggesting his visit to Israel may bring him the most "skeptical welcome" of his overseas tour. Lynn Sweet is having some fun photo blogging the trip.
On a personal note, it turns out when you're surfing the Web internationally, your bookmarks all default to that country.
I thought it was cute at first until I tried to do a Google search and all my results came back in German. If you're a tech wiz and can tell me how to fix this setting, please help!
Finally, I have a story in today's Plugged In Politics section about the veepstakes using the argument that running mates don't matter:
There will be breathless speculation, short lists and long lists as Democrats and Republicans in the veepstakes are vetted and weighed in the next two months. Yet the choice for the No. 2 slot rarely matters.

Pundits will analyze demographics and states that might just swing for one candidate with the right choice. Sen. Hillary Rodham Clinton can help Sen. Barack Obama win over women, they will muse. Florida Gov. Charlie Crist will make sure the crucial Sunshine State remains in the Republican column for Sen. John McCain, they will ponder.

For all the fuss over who the presumptive nominees will select next month, recent history suggests a vice presidential choice won't impact the results of race for the White House.

"This is not an open vote; this is a decision of one person," former Vice President Dan Quayle told The Washington Times in an interview.

Vice President [Richard] Cheney is fond of joking that President Bush chose him to deliver Wyoming's whopping three electoral votes.

Sen. John Kerry was applauded for choosing an optimistic Southern boy who could deliver states that usually go to the Republicans.

The reasons abound for why it didn't happen - John Edwards didn't even win his home state of North Carolina - but the fact remains that his presence on the ticket factored little when voters headed to the polls.
Read the full story here.
REAL LIFE. REAL NEWS. REAL VOICES.
Help us tell more of the stories that matter from voices that too often remain unheard.