If one is known to be a lover of fine books, one of the best times of the year is quite near. Most friends and loved ones have long ago despaired of finding the ideal gift for someone with tastes as unconventional as mine. And this is wonderful, since for the same price as a pair of wool socks from Bergdorf's, and for far less than an Hermes necktie, they offer me gift certificates for book shops and on-line booksellers at Christmas instead.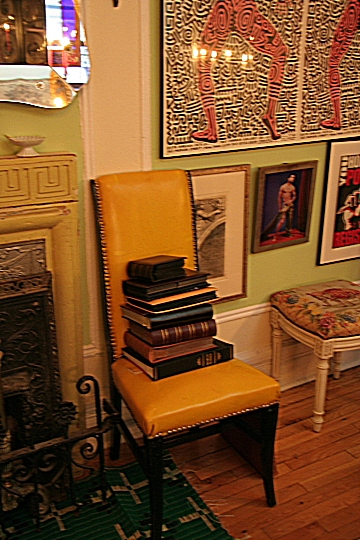 If times are tough during the 'Great Recession' for publishers too, it's fortunate, that like movie makers during the 1930's, many appreciate how entertaining and momentarily distracting books exploring the lifestyle and accoutrements associated with the rich can be.
How odd it is, that I, an avowed socialist-democrat, should grow ever more politically radical, and yet remain hopelessly beguiled by art, architecture, costume, ritual, jewels, cuisine and decoration, created for the elite. By way of excusing myself, I could observe that most of those who devise the rarefied environment of the most privileged among us, those who show the well-off how to most effectively live large, are people like me, creative, but of moderate means. So are most scholars who study haute décor, classical ballet, English country houses, Edwardian gardens, and Hollywood inspired couture.
Are we all like house slaves and other servants, suffering from Stockholm syndrome? One thinks this unlikely. For, if born without wealth, one is liable to find much of the use to which the rich most often put their advantages rather disappointing. At their best, quite pleasant in limited doses, in quantity, most rich people, tend to exhibit a certain false sense of proportion that, like some rich food, escargots, Château d'Yquem and pâté de foie gras, can induce queasiness if indulged in excess.
A would-be artist in youth, the notion of expending countless hours to produce something of beauty and value came naturally. If the aesthetic worth of much of what I and others most admire, strike some as having dubious merit, I'm convinced that their view is, at least in part, due to reverse snobbery. I mightn't like the oppression and outright wickedness that produced some of my favorite things and the grandest houses, but I don't hold it against these artifacts. Others abhor, as manifestations of evil, the exquisite trophies that disparate resources have made possible through the ages. Alas, once having provided models of graciousness that the rest of us emulated, today the well-to-do more often avidly imitate a base materialism derived from a 'hoi polloi' conception of glamour.
In any case, many who are richest, creating no noble buildings, commissioning no exceptional artwork, have little to admire, much less to envy, beyond mere money. Not so Jeanne Greenberg Rohatyn. She is as perceptive a collector as Isabella Gardiner was in her time. Certainly, as her palatial limestone-fronted, Louis Seize style abode on 94th Street attest, Ms. Rohatyn is, as some say, loaded.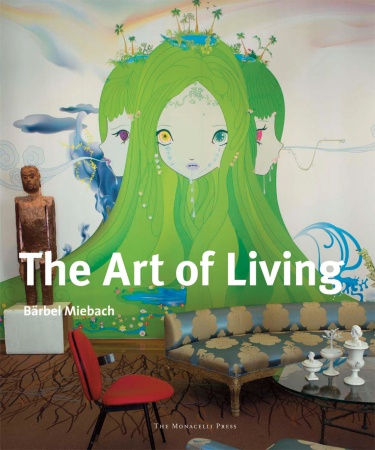 With vicarious pleasure, devoid of gate crashing, hangovers, substance abuse or guilt, one can enjoy to the full, Jeanne's sybaritic surroundings and those of 25 other internationally known art dealers, artists and designers, including Ellsworth Kelly, Catherine Malandrino, Benjamin Noriega-Ortiz, Andres Serrano, and Vivienne Tam. They are each featured in The Art of Living, by Claudia Steinber, with lovely photography by Barbel Miebach. Jeanne's imposing living room is shown on the cover.
Tall, capable, and driven, Jeanne Greenberg Rohatyn habitually wears dangling earings that resemble the tail of a shooting star. As I wrote in Ike Ude's aRude Magazine 5 years ago, "Amongst other things, without the benefit of either paint, camera or clay, she is an artist. And, her intriguing home--her self-portrait--is her most accomplished work." As this unique volume makes clear, one's home is often a canvas on which the resourceful project themselves, a testing ground for artistic impulses, a place to display inspirational objects and a venue for provocative but often endearing experimentation.
Sergei Diaghilev's Ballets Russes was this same sort of cultural phenomenon. From its start in 1909, permeating daily life wherever the company traveled, it left a lasting impact on dance, theater, and the visual arts. Moreover, it awakened among those desperate for a new aesthetic sensibility, previously dormant passions, making them receptive cognoscenti, not only newly aware of color, movement and music, but of illicit sensuality. If it is too much to say that the Ballets Russes caused Cole Porter, Cecil Beaton and Carl Van Vechten to come out, it is not excessive to say that their initial response to its opulent pageantry confirmed for them and many others, that they were 'homosexual'.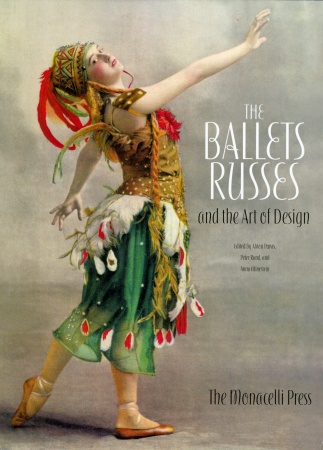 The Ballets Russes and the Art of Design wonderfully delineates how this company and Diaghilev's collaborators fused the most avant-garde, groundbreaking movements in dance, choreography, art, design, and costume into stylish and stunning productions. Their exciting work stretched the limits of the possible in art. Intense novel combinations of color, dramatic or exotic form, and materials in costume and set design, astonished audiences and provided inspiration for individuals as diverse as Coco Chanel, Louis Comfort Tiffany, A'Lelia Walker, and Pablo Picasso. Moving past old boundaries, this inspiration spurred them to bridge the gap between the tangible and abstraction.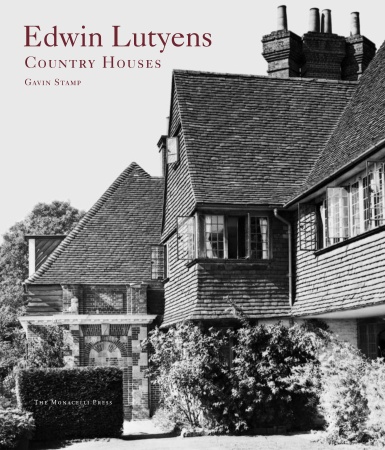 Today, often viewed, in error, as a reactionary, Sir Edwin Lutyens (1869-1944), perhaps the greatest British architect of the Twentieth Century, was in fact an inveterate innovator. Galvin Stamp's Edwin Lutyens Country Houses, carefully documents the designer's evolution, from the time garden designer Gertrude Jekyll, Lutyens' celebrated collaborator, introduced him to Edward Hudson, the founder of the great British magazine Country Life, through the close of his career. He first reconfigured vernacular Sixteenth and Seventeenth Century English cottages into well-crafted houses, like the masterful Deanery Garden, filled with surprise, and then gradually, via commissions like Middleton Park, explored elegant geometric equations implicit in neo-classism treated in the grand manner. Through it all we are treated to Lutyens' perennial magic-trick ability to reinterpret the old in new and unexpected ways.
For this book, two hundred photographs have been beautifully reproduced from the Country Life archive and, combined with Gavin Stamp's illuminating essay, provide a monograph that is the finest type of book one might imagine.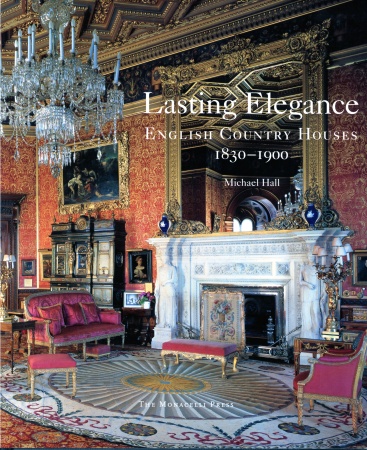 Also illustrated with a profusion of high quality photographs of unmatched clarity and depth drawn from Country Life's unrivaled collection, Lasting Elegance: English Country Houses, 1830-1900, by Michael Hall; is quite some book as well. Sometime a text is treasured, not for its superb scholarship, high production values or humor, but merely because one is happy that it alone documents a worthy subject, however imperfectly.
For anyone interested in experiencing, across the decades, the great English country house tradition as it reached its apotheosis in the Nineteenth Century, no qualifications mar this book's transformative facility. Famed throughout Europe and America for their luxury, technological innovation, and convenience of plan, houses depicted in this book, designed by all the most eminent architects of the age, were larger, more elaborate, and more lavishly furnished than ever before.
Yet for all this, Victorian-era country houses in England and Wales, as in the United States, were until quite recently, popular objects of scorn on account of their supposed egregious disregard of the dictates of 'good taste'. How well I recall the romantic spell flamboyant Harlaxton Hall cast over me in 1985. Fellow Attingham Summer School students, who had swooned at the story-book oriental artificiality of the Brighton Pavilion, were, strangely, wholly indifferent to its more convincing atmosphere of a mythic 'merrie olde England'.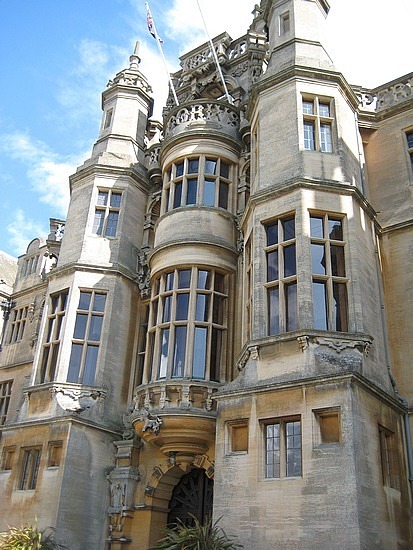 I, of course, already knew from Christopher Hussey's English Country Houses, Late Georgian, 1800-1840, of Harlaxton's animated façade, of the quixotic baroque cedar staircase and the Claude-like vista down the lengthy drive with Belvoir Castle perched on the horizon. Imagine my unbridled delight when the key to my assigned room revealed an enormous bow, flanked by 2 ordinary but large windows, focused on that very exultant view! The room was regally scaled and appointed with an heraldic mantelpiece.
How had I, a scholarship student in this program to study country houses, scored such choice lodgings? That it was perhaps a mistake occurred to me almost immediately. So, not bothering to unpack, I merely sat to enjoy the prospect. I hadn't long to wait for the appearance of the very grand and imperious Adrian Sassoon, a distant relation to the Queen by marriage. He claimed his room succinctly stating, "This is my room, you've got the wrong key."
The exchanged key opened a door on the floor above. My new room on the garden front, in fact, was not a real room at all, but rather a large dormer window along a passageway. During the tenure of a Jesuit Novitiate in the late 1940's, it was walled-in to become a cell. Far worse, following my too-brief possession of a spectacular position, was the chimneystack directly outside that completely screened any view.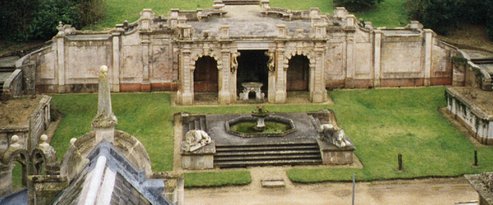 Or so I imagined at first. Inspecting the casement window more closely, I determined that it was possible to climb out onto a flat space behind the chimney that extended to the right behind a protective parapet. Here was revealed, beyond a splashing fountain guarded by recumbent lions , up a hillside, densely covered with dark confiners, a baroque grotto with exuberantly rusticated arches and athletic atlantes. How more sublime was this furtive and unknown outlook! Michael Hall's survey, presenting the fullest visual record yet published of houses formed as a result of the industrial revolution, readily conveys the nostalgia that both motivated their builders, and which, at Harlaxton Hall, utterly enchanted me.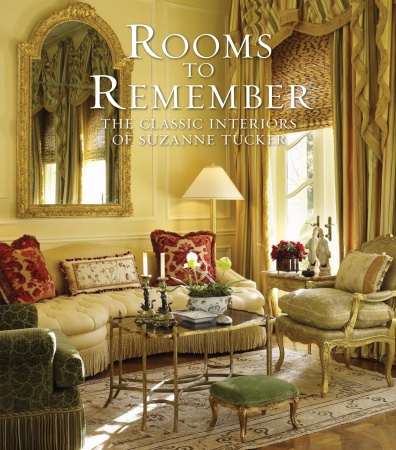 Providing a testament that it is both possible to accommodate contemporary requirements without abandoning a setting with a sense of continuity, is Rooms to Remember: The Classic Interiors of Susanne Tucker. In the work of this sensitive and knowledgeable interior designer, art and artifact collections are displayed to best advantage for the daily enjoyment of discerning owners and their fortunate guest.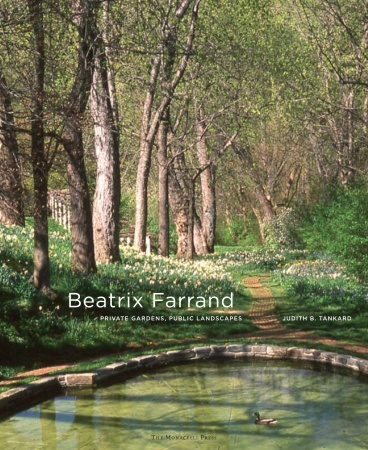 Beatrix Farrand: Private Gardens, Public Landscapes, by Judith B. Tankard, presenting the life and work of one of the foremost landscape designers of the early 1900s, is best appreciated in consultation with a book, from 8 years ago.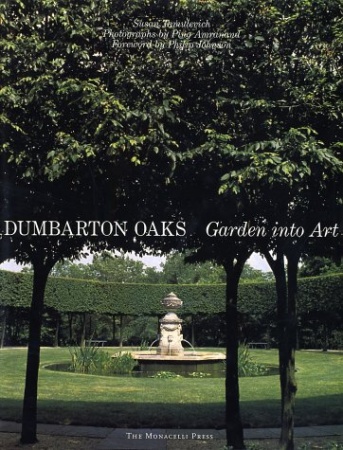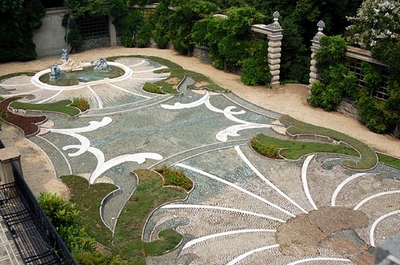 Dunbarton Oaks, Garden into Art, by Susan Tamulevich, with entrancing photographs by Ping Amranand, chronicles Farrand's most acclaimed extant work at the Bliss estate in Georgetown.
A series of 'outdoor rooms' covering a mere 17 and one half acres, due to its skillful design and careful planning, the property, now owned by Harvard, seems instead to be a boundless realm fresh with new enjoyment in every corner.
The niece of Edith Wharton, Farrand eschewed the traditional social life of Gilded Age debutantes to pursue the male-dominated profession of landscape architecture. Training with Charles Sprague Sargent of Boston's revered Arnold Arboretum recommended by friends and relatives, many of Farrand's early clients were members of the highest echelon of society with estates in Newport, the Berkshires, and Maine. In time, success with Rockefellers, J. J. Van Alen, Morgans and other exacting clients, led Farrand to become a consultant for university campuses, including Yale and Princeton, and for public gardens, including the Santa Barbara Botanic Garden and the Rose Garden at The New York Botanical Garden.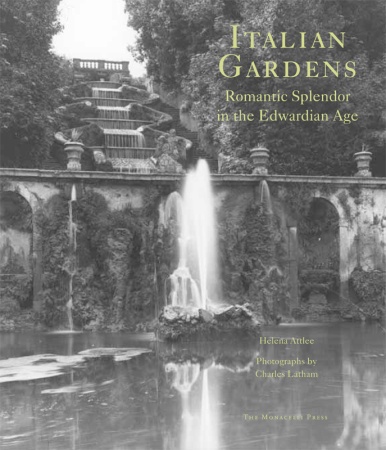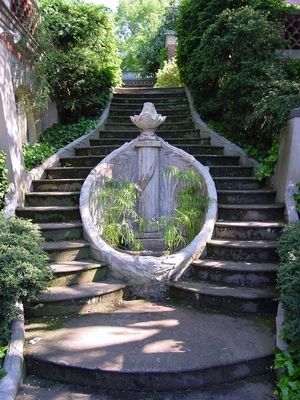 Comparing images from Tankard's wonderful text, to those found in the visually stunning, Italian Gardens Romantic Splendor in the Edwardian Age, by Helena Attlee, is instructive. For centuries the cardinals, popes, and rulers of Italy had devoted themselves to creating vast villa gardens that reflected their wealth and power. Through numerous exquisite photographs--taken during the Edwardian era for Country Life, when some of these gardens from the Renaissance were at their peak--it becomes abundantly clear how much designers like Beatrix Farrand took their teachers' advice to heart, regarding the application of suitable historic precedent. The same dappled arbors, shady grottoes, elaborate terraces, sparkling fountains, and antique statuary that amused high prelates were adapted at the start of the Twentieth Century to charm American 'rubber barons' and 'copper kings'.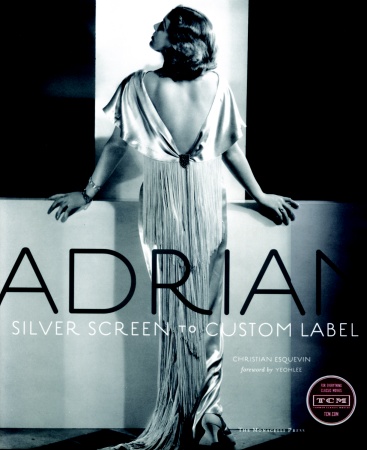 Adrian: Silver Screen to Custom Label; by Christian Esquevin, highlights the sophisticated fashions designed from the 1920's through the 1950's by an acclaimed Hollywood designer. On-screen and off, attire he invented for men and women, as well as his interior design efforts was impeccably classic without being staid. A gay man in tinsel town, Adrian's life with Janet Gaynor was novel, but tasteful as well.
In life, none of us, rich or poor, can ever have all that we desire. But, thanks to this short list of selections from Random House's Monacelli Press, whoever we are, we can happily enjoy some of life's finer pleasures.

Calling all HuffPost superfans!
Sign up for membership to become a founding member and help shape HuffPost's next chapter