Instagram influencers are a dime a dozen these days, but there's a new crop of individuals invading the platform. They're just as beautiful, they have thousands of followers and they're blurring the line between real life and the virtual world.
The creepiest part? They're not even human.
One such influencer is Shudu, a black supermodel reminiscent of beauties such as Alek Wek and Grace Jones, with clear, luminous skin and smizing skills that would make Tyra Banks want to crown her "America's Next Top Model" in an instant.
She's stunning. And she's 100 percent not real.
In fact, Shudu is a digital 3D rendering of a human created about a year ago by London-based fashion photographer Cameron James Wilson. Shudu, he said, was largely inspired by Princess of South Africa Barbie doll and was meant to be a creative outlet "that was free from the input of other people" and "an exploration of [his] own views and exploring [his] creativity."
"Just as if I had created a picture or drawing," Wilson said. "It's adding. We need more pictures, more art, more of everything adding towards representation, not taking away. That's how I feel."
Wilson said his ultimate goal for Shudu is to eventually have her collaborate with upcoming designers from emerging economies and underrepresented countries.
"I think that's very, very important to her core," he said, adding that he is a strong believer in top-down representation. "If we can develop artists and creatives and designers to be the next CEOs or casting directors or creative directors, diversity will come naturally."
While he might be a supporter of diversity, Wilson has faced some criticism from people who see his creation of Shudu as problematic, largely because she is an idealized image of a black woman created by a white man.
Minh-Ha T. Pham, an associate professor at Pratt Institute, called Shudu a result of "racial plagiarism." Others have argued that Wilson should support diversity by working with real black models instead of creating one that fits his image of beauty.
Shudu has over 95,000 followers on Instagram; obviously, people are fascinated by her. Or, perhaps one could argue that people are fascinated by the idea of her and the other digital influencers gaining popularity on Instagram.
"We need more pictures, more art, more of everything adding towards representation, not taking away. That's how I feel."
Shudu's bio notes that she is digital, but that information isn't always noted in other accounts we highlight below. As a result, many of the people who comment on these accounts are left speculating whether or not the people they're looking at are real.
The most prominent figure in this class of uncanny valley-like digital creations is Lil Miquela, who has over 885,000 followers and whose origins are much foggier than Shudu's. (We do know that her first photo was posted in 2016, when she didn't look nearly as human-like.)
According to her Wikipedia page, Lil Miquela is a Spanish-Brazilian-American from Downey, California, whose real name is Miquela Sousa. She's a hyperrealistic woman who is often placed in real life situations and expresses her own political views. She also happens to be a musical artist.
Then there's a male-presenting digital creation named Blawko, who admittedly doesn't look as real as his female counterparts. Blawko looks like a character straight out of a video game. His feed consists of a mix of memes, gaming clips and images of him, almost always with his face obstructed in some way.
Just recently, we found the account of Lil Wavi, who is supposedly a model and a contributor to VFiles, an online platform for creatives to connect and collaborate. Wavi is clearly a digital rendering, yet his presence on the photo sharing app is fascinating just the same.
While we've noted that these digital influencers/models are blurring the lines between reality and the digital world, human influencers like Kylie Jenner do the same thing in a sense, with their equally flawless-looking skin, cool clothes and perfectly curated lives posted through filters. The presentation and standard of beauty on Instagram are becoming extremely homogenized. Influencers are, quite frankly, all starting to look the same.
Wilson makes the claim that these manufactured digital influencers are "more genuine than real people."
"I think we are, as ourselves, becoming more virtual in our everyday lives," he told HuffPost. "Everything we experience is kind of through some kind of virtual network now. So, it wouldn't surprise me if [digital models] became more popular and more standard. I think it's quite surprising that someone like Shudu can look more realistic than some of the real influencers out there. We kind of live in this shocking time where 3D people are more genuine than real people. I think that's kind of more scary in my eyes."
Before You Go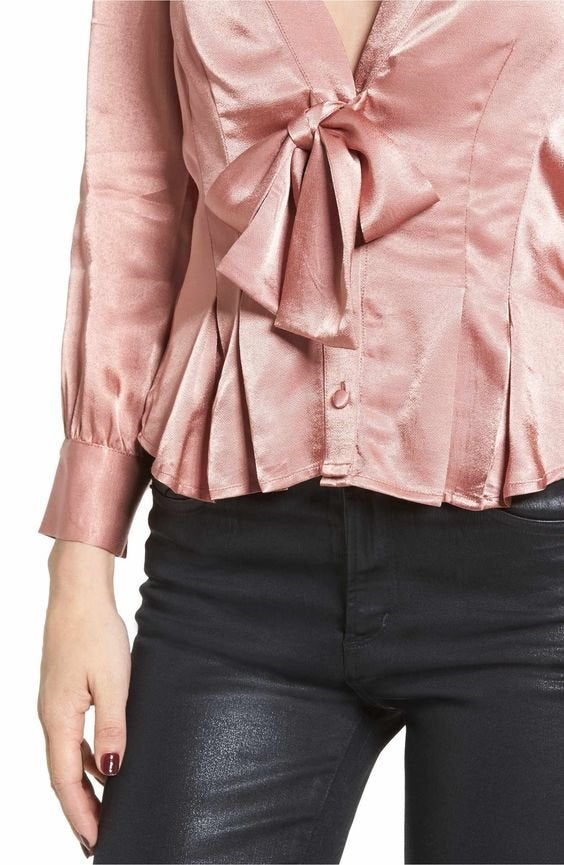 2018 Spring Fashion And Beauty Trends, According To Pinterest