"Aren't you thinking about leaving Greece?" the Greek-American university lecturer asked me over dinner, corroborating his suggestion with tales of young Greeks who excel abroad, having managed to build a "real" future, at a moment when, back in Greece, most of their peers see none for themselves.
A few years ago, I would have winced at the question, desperately trying to justify my choice of staying here and struggle to make at least some of my 2009 dreams come true.
I don't wince anymore.
I have come to appreciate the chance that the Greek crisis presents to me as a citizen and as a human being, to rise above circumstances, to get to know things I would have never known otherwise: about human nature, about personal strength, about communities, about the darkness and the light in our individual and collective choices in times of hardship, about finding beauty where fear and gloom threaten to destroy all of it, about navigating long-held beliefs, family relationships and questions of disillusionment and meaning, about what a "real" future looks like for each one of us.
And it is not just me.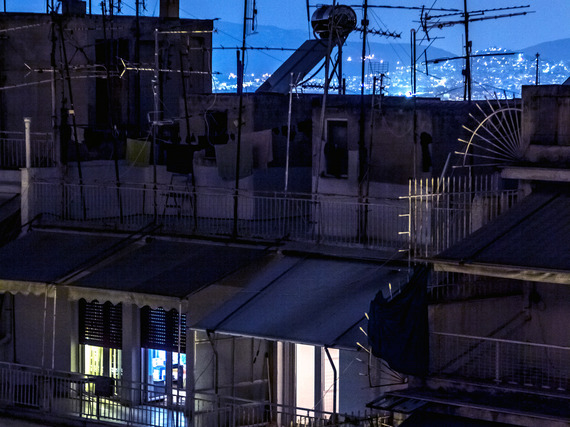 Apartment Culture: The Athens Brand

It's hard not to be disheartened. The friends anguish over the possibility of having to move out of the apartment so they can sublet it on Airbnb as an income generator; among the lounging friends, the leaseholders sound like psychopaths: they instruct newcomers to mind where they put their feet and avoid spilling lager on the furniture. Then they get exasperated with themselves, with the fact that they have to curb their instinct for unconditional hospitality.
Despite all this, the apartment is the only place where the friends feel at home, and not only because it is their home. It is alive with nostalgia and reality. It is the place where Friday and Saturday nights have been happening for longer than the friends care to remember, a haven of impromptu festivities, relaxed giving, taking and sharing, uncomplicated or complicated sexual encounters of whatever orientation. Is it possible that some of them never married so as not to have to leave the apartment?
In all of my fellow Letters from Greece writers' and photographers' work, there's common thread running through our experiences of current reality.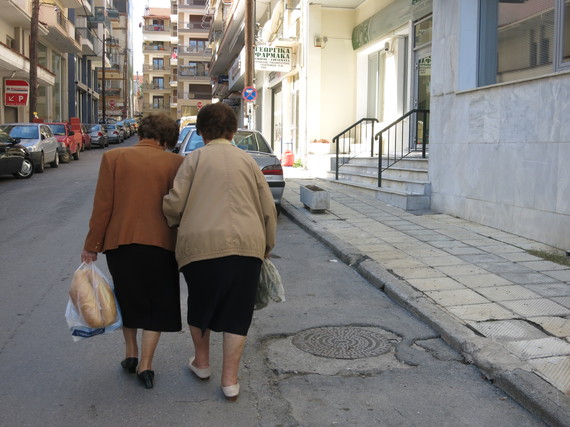 Florina: Where Greece Begins

Our family's whitewashed house was a sugar cube that sat on a small hill. Papou dug its foundation with an old shovel. The blade brought up pieces of bone, white and smooth. Human remains; the bones of Jews, he was told. Our neighbours lived in multi-storey polikatikeia flats that reached for the heavens. Long sharp fangs rudely squeezed out of the gums of the earth by 1970s developers in search of a drachma. By contrast, our ancestral home was in near original condition. It was something that drove Christos crazy. He still needed to chop and burn wood in a combustion stove to prepare dinner or to heat water for a shower. With its porthole windows and low ceiling, the kitchen was tiny and impractical for both cooking and entertaining. When the cornerstone was laid in 1923, Papou had cut the throat of a cock and let the blood spill on all four corners of the house, starting with the eastern one first. Three orange trees stood in the front garden; they had been grown from seeds he had found on the road to Florina using soil he'd carried in a bowl from Anatolia.
Reading mine and others' accounts of how it is to be living here (from falling in love to politics to the secrets of Greek apartments to being a mother to making it as a writer in a flailing country) you cannot help but considering that living in 2015 Greece is interesting.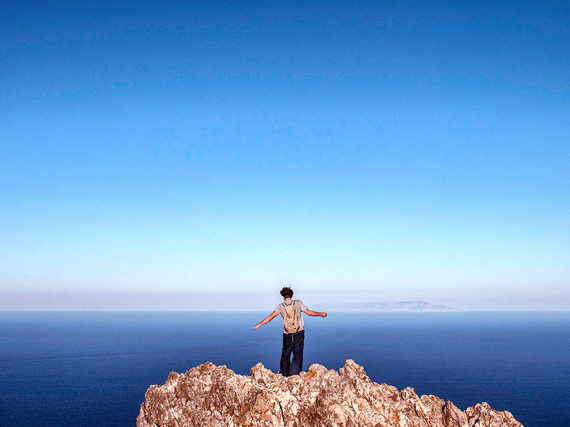 Athenian (Gr)Exit:A personal chronicle of escape

It's becoming too much. She needs to get away, turn the voices off. What if she left the flat, went for a walk around the neighbourhood? But at cafés, bus stops, everywhere, people are talking about the crisis and arguing over the EU. There's an indoor smoking ban, but people smoke indoors. Outside it's hot. Inside it's air-con cold and smoky. The cafés are full of people - old people, young people, retirees and unemployed people, each with an in-depth analysis and attitude to match. Music is playing, TVs are constantly on, people kill hours over one cup of coffee, one glass of beer. They can't afford more. It's all talk, talk, talk, sip. And smoke.
What she misses most is a sense of the ordinary, people talking about movies, about their work, about their dreams, about relationships, about football. It's June, but there's no talk of holidays; everything's on hold. Love's on hold, sex is on hold, talk of love and sex is on hold, and everyone's hunched over the day's newspapers, glued in front of a TV screen - shush!
Living in 2015 Greece is conducive to growth -maybe not of the external, obvious, career variety, but definitely of the internal, totally subjective one.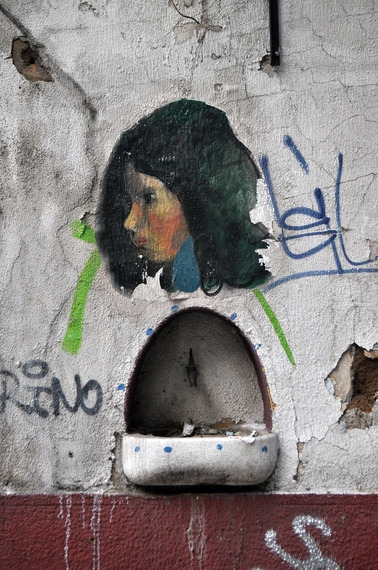 Will Write On Computers For Money

It was January, 2000, a dreadful time to invest billions of drachmas on Internet content in Greece. Less than ten per cent of the population had access to the damn thing, and there was no web advertising demand or supply. Our site ended up employing about thirty writers and journalists, another thirty in sales and yet another thirty in IT and design. It was ugly, clunky, useless and slow, and it never found a meaningful audience. The advertising revenue was meagre. We scraped by for about eighteen months, at which point the parent company finally decided to pull the plug. Today nothing survives of that Potemkin village of a web property beyond the hazy memory of a ridiculous and needless redistribution of money.
Those eighteen months had a profound effect on me, however. During that time, I earned money writing Greek words on a computer. This I found astonishing and intoxicating. I wanted to keep doing it. Screw the biology degree. Writing about stuff that I cared about on a computer was what I wanted to do, forever.
It has worked so far. Sort of.
It's like running a marathon full of hurdles -you get to know your limits.

Paperchase
By Rachel Howard

Hunched and handcuffed, the woman in court was hard to reconcile with the matronly, chain-smoking confidante I visited in a dingy basement office near the Athens law courts. Frosso, as everyone knew her, was usually found wedged behind her desk, spilling ash down her giant bosom as she flicked authoritatively through a jumble of ledgers and papers. Every two months, I dutifully brought my own bulging file of receipts, along with my blokaki - my 'little book' of invoices, which had to be signed, stamped and submitted to the tax office, along with VAT and income tax on whatever I had earned.
Often, I would have to wait an hour, maybe two, passively smoking and eavesdropping on another client's tribulations with the taxman. Eventually, my turn would come. After a lengthy preamble of grumble and gossip, Frosso would sift through my papers then tot up my dues. I would sigh theatrically and count out the cash, with a little extra for one of her long-suffering minions, who would traipse off to the tax office to collect more stamps and signatures on my behalf.
I never once received a receipt for Frosso's services - and I never dared ask for one - but I certainly didn't suspect this dowdy, Dickensian character of industrial-scale corruption. The truth is, I blindly followed Frosso's financial advice without questioning it. If something seemed dubious, I preferred to turn a blind eye rather than grapple with the arcane Greek tax system. I like to think I followed the law to the letter. But when I saw Frosso break down in court, I felt guilt by association - an accessory to a crime I had unwittingly condoned.
It's like yoga on a slippery mat -you get to practice stretches and binds you never thought were possible before.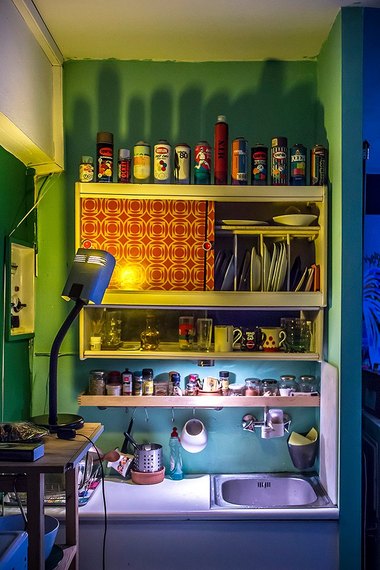 How to be a mother in the age of capital controls

I am curious to know what our girls will think about all this when they reach the age of childbearing and perplexing decisions. For now, though, I see the increase in unemployed mothers as the strongest indication of a growing trend, within Greek society, to legitimise women's downshifting and romanticise the return to domesticity. Well-educated and creative women who wouldn't otherwise have dreamt of relinquishing their financial independence are now touting staying at home as the best way to finally discover and enjoy the simple life. And the idea that the joys of paid work are in no way comparable to the pleasures of family and kids is suddenly making an improbable comeback. In Greece, a woman's ambition and careerism are increasingly viewed as symptoms of her distorted (family) values. What does she need? A good slap in the face - in the form of a redundancy.
It's like a tough university course that you choose to take, without knowing what sort of accreditation it will grant you or whether it will help you land a better job, but suspecting that it will get you to a whole new level of understanding things, even though you cannot help hating the teacher.
The Letters From Greece project -which I am also part of- is a serialised anthology about life in Greece in the crisis and beyond, curated by The Pigeonhole. Here, a host of talented writers and photographers try to capture the essence of daily life in Greece, staying as far away as possible from popular myths and stereotypes. The excerpts above have been included here with permission by The Pigeonhole and by individual Letters from Greece contributors.
Photos by Dimitris Karaiskos and Peter Papathanasiou.
You can read more here.
REAL LIFE. REAL NEWS. REAL VOICES.
Help us tell more of the stories that matter from voices that too often remain unheard.