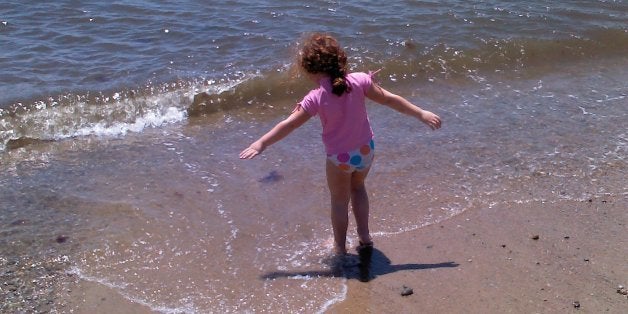 In the Talmud, a set of ancient rabbinical teachings, Jewish parents are instructed to teach their children three core things: the Torah, a trade, and how to swim. I'm not sure how well we are doing on the first two, but we've taken that last piece to heart.
I found myself reflecting on this as I watched them in the pool this morning. It was their second to last swim lesson before the new school year started. The progress they've made in the pool over the past few months is remarkable. They are eager to try new strokes, eager to learn. They soak up knowledge and readily apply it in the pool. And their hard work is showing. Dylan confidently jumps in and can swim multiple strokes with a fairly high degree of skill for nearly the entire distance of an Olympic sized pool. At just 3-years-old, Ruby wastes no time jumping in as well. She shows no fear in nearly 5 feet of water, carefully keeping herself afloat as she watches her brother and begins to move her arms, the primitive beginnings of her own crawl stroke.
It was one of those moments when I saw my kids. I mean really saw them. Saw how much they'd grown up even in just one summer. They weren't babies. They weren't just keeping themselves afloat. They were really swimming. They were scanning the pool for my approval and thumbs up, not for my arms to encircle them and hold them up.
This seems right. Especially for Dylan who begins kindergarten in just two weeks. While I know that I will be an emotional mess on that day, I have no doubt in mind that he is completely ready for this next chapter: a new bus, new school, new classmates and teacher. There will be a whole host of challenges and I can just see how ready he is to dive into it, ready to soak it up. I'm not worried. I'm perhaps a little nostalgic. But I have no hesitation about his ability to not just meet any challenges but even to embrace them; to struggle, to pull himself up for air. I know now he can do it.
For Ruby too, she is beginning a new year of preschool. Yet again she will surely be the youngest in her class which from a social and emotional perspective will almost certainly be daunting. But as I watch her in the pool, I see her readiness to go farther, a little deeper. She is not scared. I am, but she is not. At a lake that she had never been in yesterday, I watched as she ventured well beyond my reach. But I stayed close. I knew I could get to her in an instant if I had to. But I wanted her to try. To feel confident and free to go farther than she'd gone before. We were all out of our comfort zone. She flailed and floated and kicked and glided. She proved herself and all of us wrong and swam right on by.
Whether literal or figurative, the Talmud commands us to teach our children to swim. Regardless of the interpretation, I know we've made significant strides this summer to do just that. And in the process, they have taught us something about their ability to achieve and learn and progress through dogged determination, to readily exceed baseline expectations that I think we tend to set somewhat arbitrarily low for kids simply based on their young age. Our job as parents is to keep them safe. One way in which my husband and I are trying to do this is by reminding them of just how strong and capable and resilient they truly are, both in and out of the water. As we move forward out of our long wet summer and into a new school year, our wish for them is that they continue to go still deeper into the waters, testing, pushing, thriving. We will be there, not to hold them up but to encourage them to go farther than they've gone before, all the while cheering them on.